How Weekly Free Bet Clubs Work?
In most cases, betting sites offer one-off promotions such as reload bonuses, cashback or risk-free bets to customers on an individual basis or bet boosts/risk-free bets around a particular sporting event, to all customers.
The idea here is to reward a customer as a one-off for something they've already done or something they might be about to do.
Free bet clubs work differently. Rather than focusing on a short time period or a specific event, the free bet club operates on an ongoing basis, until further notice.
Customers have the chance to claim free bets every week if they fulfil the requirements of the promotion.
The requirements could be: placing a certain number of bets, placing a certain type of bet (Bet Builder, Multiple), wagering a particular amount, betting on a particular sport or other variations. These requirements will generally need to be met over a certain time period or by placing bets on a specific day. But in some cases, there are no time restrictions.
In return, the customer will receive free bets, which vary in nature, and which can be claimed every week.
Quite how the Weekly Free Bet Club offers work, varies from one bookie to another.
What are the best bookmakers for Weekly Free Bet Clubs?
Some offers are universal. By that we mean they work in pretty much the same way, whichever betting site you're playing at.
An example of that is the Best Odds Guarantee promise. All bookies offering it guarantee that they'll pay out on UK and Ireland winning horseracing bets at either an early price, or the industry Starting Price, whichever is bigger.
Not so with free bet clubs for existing customers. Which is one of the reasons why they're so interesting. Each site offering Weekly Free Bet Clubs has different requirements and different rewards.
Here's a run-down of the best free bet clubs out there and how they work.
Unibet In-Play Free Bet Club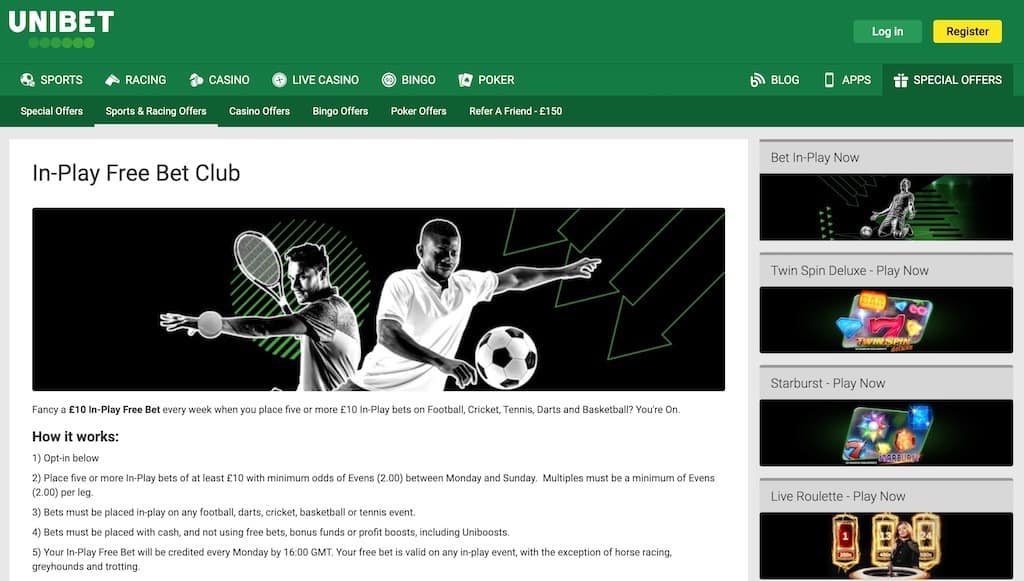 How it works:
Place five or more bets for £10, as singles or accumulators, between Monday and Sunday night.
In both cases, the bets must be at odds of evens (2.0) or greater.
Only bets placed on the following sports are eligible: football, cricket, tennis, darts or basketball.
Bets must be placed using cash and not bonus money, or as free bets.
An in-play free bet for £10 will be awarded the following Monday by 16:00 GMT.
The free bet cannot be used on the following sports: horseracing, greyhound racing or trotting.
What we like about Unibet free bet club: A good way to start the week in style with the free bet awarded on a Monday.

Betway Free Bet Club

How it works:
Opt in. You'll only need to do it once, not every week.
Place £25 worth of bets as multiples before 23:59GMT on Friday.
The multiples can be split into as many bets as you like but must always be at odds of at least 3.0 (2/1) and must contain at least three legs.
Bets on esports are excluded.
You'll be awarded two £5 bets; one on Saturday at 10:00GMT, one on Monday at 10:00GMT.
The free bets can be used however you like. You have 30 days to use them.
What we like about the Betway Free Bet Club: The fact your free bets are divided into two bets means that you get two bites of the cherry and two chances at winning money on them, possibly on both. Better still, getting free bets for a value of £10 for bets placed totalling just £25 is a promo giving you extremely good value.

Betfred Promotions: Fred's Greyhounds Bet Club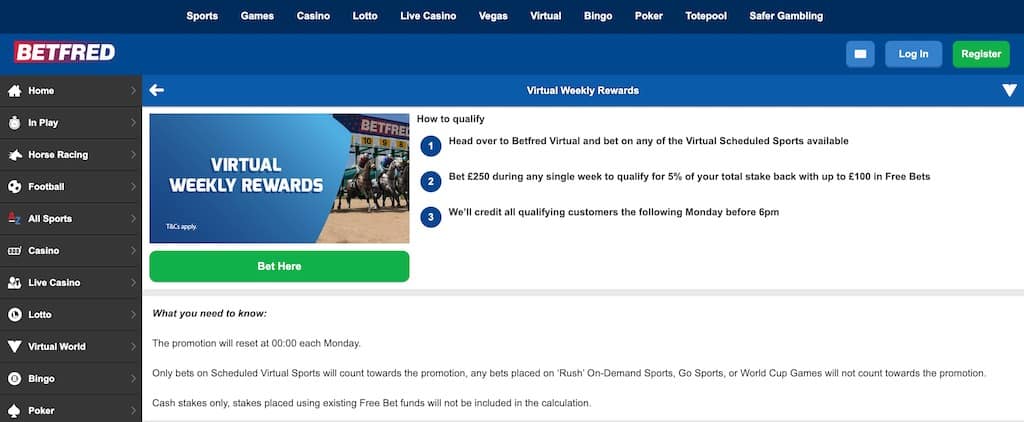 Here's how it works:
Place three bets on greyhound races across Wednesday and Thursday (up till midnight) at odds of at least 1.5 (1/2).
You'll be awarded with a free bet to your average stake, up to £10.
So, for example, if you placed three bets each for £10, your free bet would be for £10. If you placed bets for £10, £8 and £6 respectively, the average value of the bet would be £8 and that would be the amount of your free bet.
The free bet will be awarded within 24 hours of the end of the qualifying period.
What we liked about the Betfred Free Bet Club: It's perfect for fans of greyhound racing, who don't normally have specific greyhound offers to look forward to but certainly get a good one here.

BetVictor – BV Loyalty Club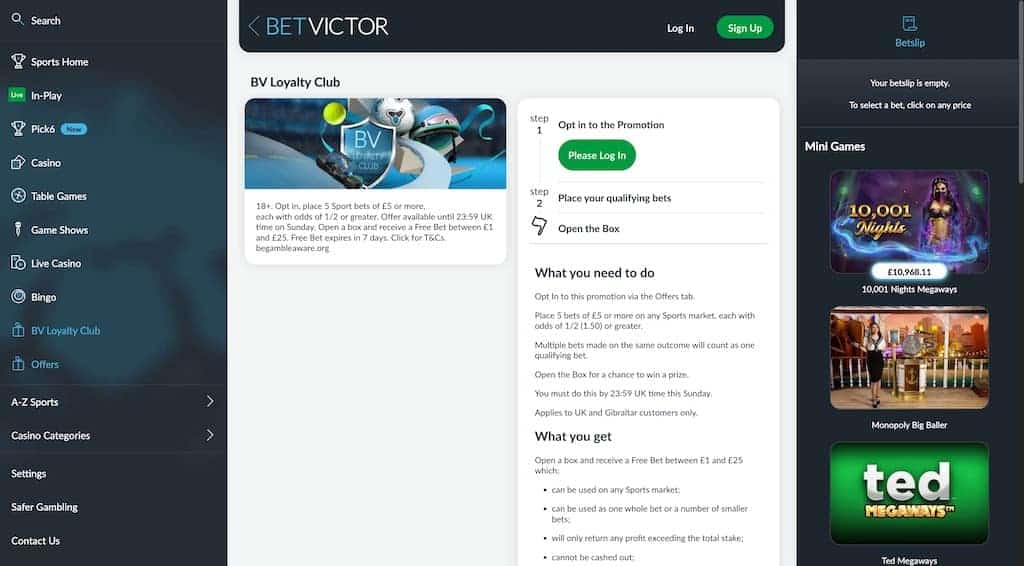 Here's how it works:
Opt-In to this promotion via the Offers tab.
Place 5 bets of £5 or more on any Sports market, each at odds of 1/2 (1.50) or greater before 23.59GMT each Sunday.
Open the Box to receive a free bet for between £1 and £25.
Use the bonus as one bet or spread it across several bets on any sport.
What we like about the BetVictor Weekly Free Bet Club- There's an element of excitement to opening the box and the chance to win free bets up to £25, which is a lot.

BoyleSports Acca Loyalty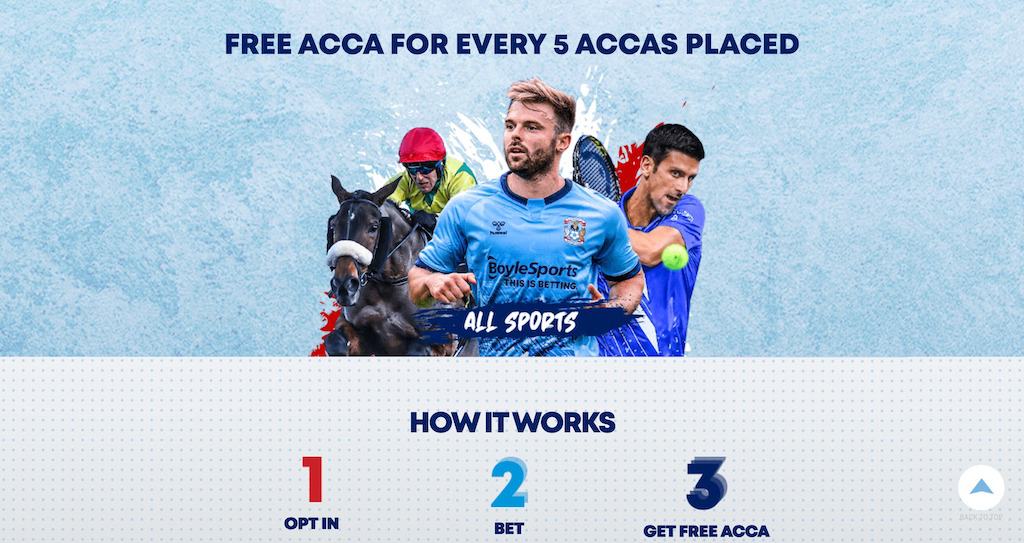 Here's how it works:
Opt-in to the promo.
Place an acca made up of whatever sports you like, with at least 5 legs, at odds of at least 4.0 (3/1). You'll receive an Acca Loyalty Stamp after the bet is settled.
Place four more accas as per above. You'll receive another stamp for each of the qualifying accas you place, until you have five.
You'll receive a free acca bet for £5 to use on whatever sport you want.
What we like about the Boylesports Free Bet Club: There are no time restrictions relating to the Weekly Free Bet Club offer, meaning that customers can place the qualifying bets whenever they wish, without being dictated by time periods.

Advantages of a Free Bet Club
So, that's a summary of the best free bet clubs on the market, what's on offer and what you need to do to claim the free bets. But let's take a step back and remind ourselves why Free Bet Clubs are a great idea to begin with for customers.
The gift that keeps on giving- A welcome offer can only be claimed once, while most other betting offers are available for a limited amount of time or focused on a specific event. Not so these Weekly Free Bet Club offers; customers can claim them every week, meaning they're receiving an unlimited amount of free bets. Unless of course the betting site stops offering it; but there's no reason why they should.
You can win on your qualifying bets and still get the free bet- Other promos like cashback offers or risk-free bets are dependent on customers losing one or more wagers, for the offer to kick in. With Free Bet Clubs, you can win on one, several, or all your qualifying bets and still get the free bet, as well.
A second chance without needing to reload- Of course, the reverse might be true, and the cash used to place those qualifying bets might be the last cash you currently had in your account. And if those bets went on to lose, then it really would be the last funds you had. You could of course make another deposit, but the awarding of a free bet gives you the chance to place one or more bets without having to do so. And if it/they win, you'll have more money to play with, meaning you might not have to reload at all.
Greater flexibility than other offers- A lot of other offers are very specific in terms of what you can use your free bet/risk-free bet on. Maybe it needs to be on a particular football game or has to be placed as an acca, or something. At most Free Bet Clubs, the free bet(s) can be used on any sport, whether pre-match or in live betting and can be placed as a single, acca or often, also sometimes as a Bet Builder.
They're available to everyone- Some offers are only available to specific customers. These betting offers may exclude customers who are winning customers or who aren't particularly active. The tell-tale sign that these offered aren't available to everyone is that you only know about them when logging into your account or when you receive an e-mail or SMS about them. Rather than them being on the betting site's homepage or promotions page, Free Bet Club offers are (almost) always available to all customers, without 'discrimination'.
How to Claim a Weekly Free Bet Offer?
In the section above where we looked at some of the best free bet clubs, and we explained how they worked. Like any offer that's available at multiple betting sites, it's not 100% a case of 'one-size-fits-all' in that the process is exactly the same. But in general terms, here are the steps you need to follow:
Read the terms and conditions of the Weekly Free Bet Club offer. We know it's a bit boring and laborious to do but you'll need to know how each one works at each betting site to be able to claim your free bet(s).
Opt-in, if required by, clicking on an 'Opt in' button or a similar Call to Action.
Place the necessary qualifying bets, paying special attention to a) any time limits they need to be placed within b) minimum odds c) any sports that are excluded from the offer d) the minimum amount per bet and e) the type of bet you can/must place e.g. Single, acca, Bet Builder etc.
Use your free bet. You can normally place it on anything you like but there may be time restrictions determining how long you have to use it. E.g., 30 days.
Summary
Free bet clubs are one of the more recent ways of betting sites giving something back to active customers, in this case, in the form of free bets.
We've given you four top-quality betting sites who offer them, explained what you get, and highlighted what you need to do in order to get them.
For the record, we particularly liked the Betway Free Bet Club where not only do you get two free bets to use (rather than one) every week but where you get £10 in free bets for placing just £25 of them (40% in free bets in relation to what you wagered). Which is extremely generous.
We've mentioned the advantages of Weekly Free Bet Clubs, in particular the fact that they can be claimed every week (the clue is in the name) and that they're flexible in terms of what you can use them on. And are generally available to all customers.
Disadvantages, or cons? There aren't many at all, other than the fact that you don't generally get free bets for more than £10 and that in certain circumstances the qualifying bet or free bet can't be used on a particular sport.
Weekly Free Bet Clubs are a form of loyalty rewards, but most betting sites have VIP Programs that go well beyond this.
They offer more rewards such as: other free bets, cashback, personalised Account Managers and trips to sports events. The general rule being that the more you play, the more you get in return.
888Sport, Bet365 and Betway are three of the best ones for VIP Programs.