Our list of the very best football betting sites in the UK wasn't simply thrown together at random. Oh no. Instead, it was the result of extensive testing and analysis, carried out according to a clear set of criteria.
Here are some of the most important examples.
Licensing and Safety
Every brand we've recommended here has at least one betting licence, preferably with the prestigious UK Gambling Commission. This means you can rest assured that the bookie is verified for both security and fairness.
Competitive Odds
If your odds are unfairly low, there will always be a cap on your potential winnings. This needn't be a concern with our recommended sites, all of which provide prices that offer a fair reflection of the actual probabilities.
In-Play Betting
The days of being limited to pre-match wagers are long gone. Nowadays, kick off signifies a whole new range of betting opportunities opening up. We analysed all the bookies we came across for the quality of their in-play tools, live odds, and live betting market variety.
Wagering Requirements
All football betting offers will come with terms and conditions attached, and it's imperative that you read this small print before committing to any. The wagering requirement is arguably the most important, and we checked that it wasn't unfairly high, and therefore didn't damage the overall value of any sign up bonuses.
Live Football Streaming
Actually watching the action unfold has two main benefits. Firstly, it informs your in-play betting. Secondly, it's simply more fun. That's why we prioritised brands with live streaming services, and – where those were present – tested the streams themselves for reliability and quality.
Welcome Offer and Ongoing Promotions
A high quality welcome offer can give your football betting a great kick start. Ongoing promotions should continually reward your loyalty to a brand. In both cases, we looked at both the headline figures being offered, but also the T&Cs to gauge the underlying value.
Payment Methods
The more payment methods a sportsbook offers, the better, since it will then be suitable for a wider range of punters. We gave boosts in our rankings to bookies with more options here, and took points off those with slow payouts or which charged annoying transaction fees.
Available Betting Markets
This is another case of 'the more, the better'. All bookies will let you bet on the top competitions. What distinguishes the best of the best, however, is providing depth in the betting markets for those tournaments, and supporting you if you want to branch out into other contests.
Cash Out Tool
Placing in-play wagers is only one half of live betting nowadays. Cashing them out – whether to lock in early profits, or help reduce your losses – is also important. That's why we also looked at the cash out tools for our chosen sportsbooks, assessing them for both responsiveness and the quality of cash out prices being offered.
App and Mobile Usability
Many punters prefer to wager on-the-go nowadays, rather than on their laptop or desktop computer. To that end, we made sure to test the apps and mobile sites for all the sportsbooks we reviewed, analysing them for usability, special features, reliability, and more.
Additional Features
Last but not least, we checked what else all of our eligible sportsbooks had to offer. This included simple quality of life improvements (customisable interfaces, support for different odds formats, and so on), and those which have a sizable impact on your experience (like the customer service options).
Your options for football betting sites in the UK are basically endless. Dozens upon dozens of these will also serve as perfectly decent platforms… but that's not what we're interested in here. What we're looking for is the very best of the best, and the bookies listed below are some of the few that fulfil that criteria.
Bet365
Bet365 is one of, if not the biggest bookie in the UK for football betting. Football fans here get access to not only a massive range of markets, but also plenty of live streaming options from around the world, plus a fantastic Two Goals Ahead Early Payout offer.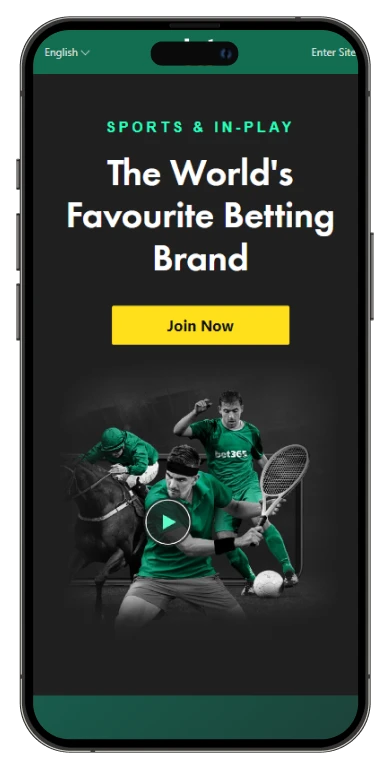 Betway
Betway is an international brand, albeit one which focuses on both the UK, and on football specifically. Its top-notch betting apps are definitely a highlight. The calling card here, however, is Betway's famous Free Bet Club, which can give you a free bet for football every single week.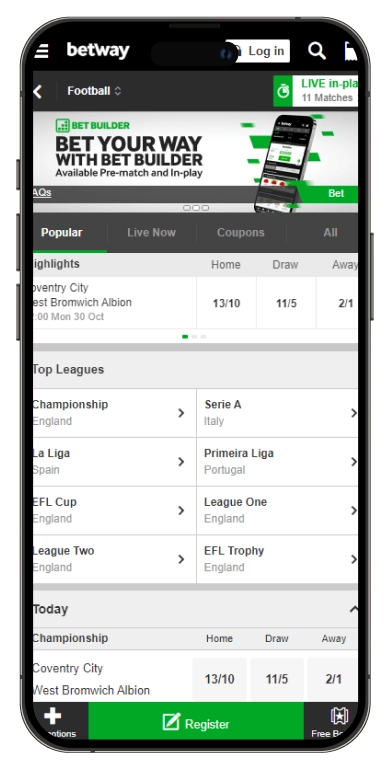 Coral
Coral is one of the oldest bookies in the UK, but still one of the best. It features a user-friendly interface, on both mobile and desktop devices, and an excellent welcome offer. There's also a handy bet builder, plenty of bet boosts, and a Bet Bundles deal for football.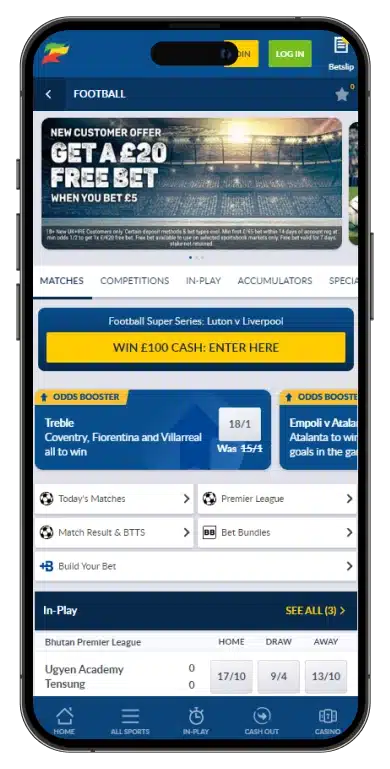 Fitzdares
Fitzdares is very much a premium sportsbook, even marketing itself as 'the world's finest bookmaker'. It offers a fantastic range of pre-match, in-play, and outright betting markets for football fans. There are also some great promos, including a Money Back Bore Draw deal, and a cashback offer for build-a-bet wagers.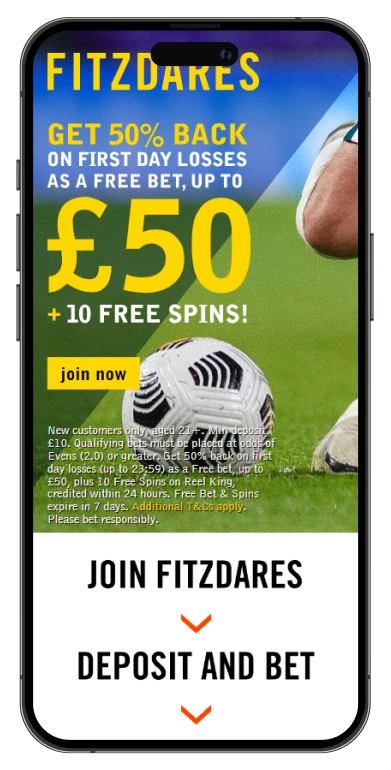 888sport
888 is one of the world's biggest betting brands. The mobile app here is fantastic, and both this and the website have an enormous range of football markets. You can also claim a £30 bonus for signing up, and get a £5 free bet each week via the Acca Club.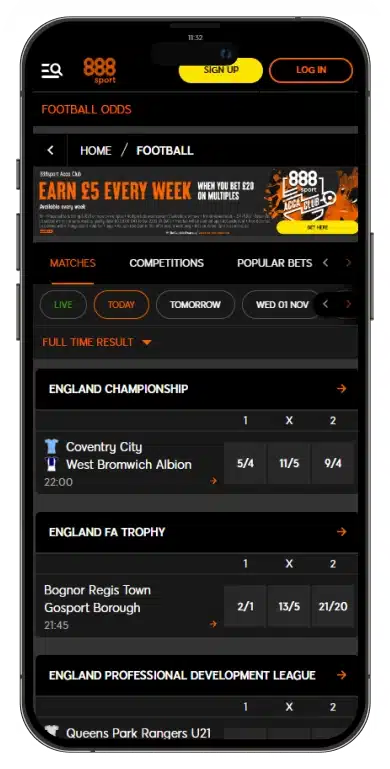 SpreadEx
Compared to the other brands on this list, SpreadEx offers something completely different. You can place regular fixed odds wagers here, but the focus is on spread bets, in which your profits are decided by 'how' right or wrong you are. Both sections of the site have strong welcome offers.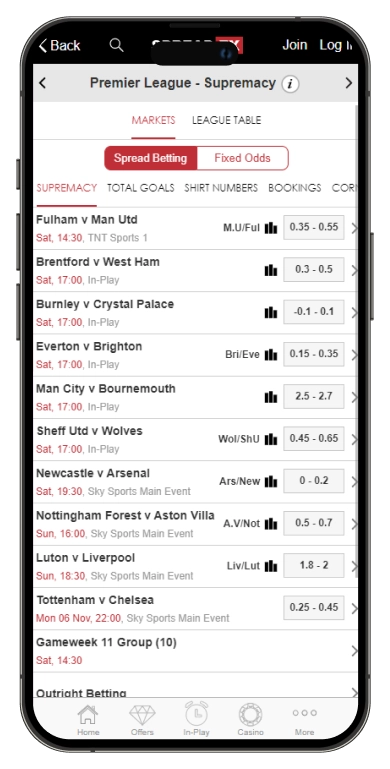 BoyleSports
BoyleSports is Ireland's biggest independent bookmaker, and has a fantastic track record going back decades. Football bettors can expect excellent customer service here, and the peace of mind that such a proven brand gives you. Amongst the many highlights here are big-time price boosts, and a free bet club.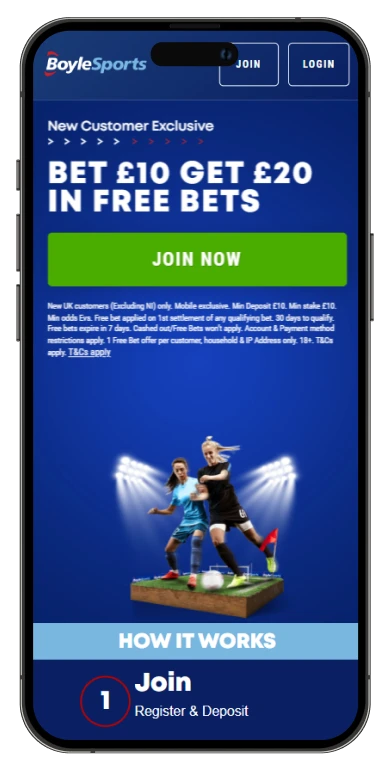 Grosvenor
Grosvenor might be more famous for its casinos, but its online sportsbook is also fantastic. Most notably, it features some of the best odds you can find on football betting. The regular prices are already strong, but users can take them to another level with the Double the Odds promo.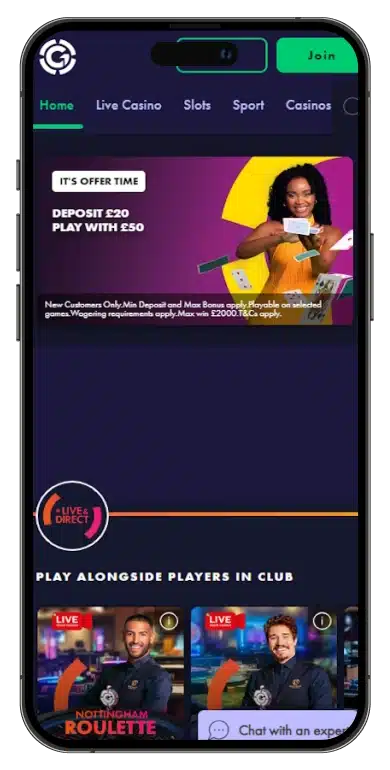 LiveScore
The LiveScore brand has been popular in other areas for a while, and the sportsbook definitely lives up to this reputation. It features a range of great deals for football bettors, including multiple free bet deals. The live betting tools are also extremely impressive, being particularly fast and responsive.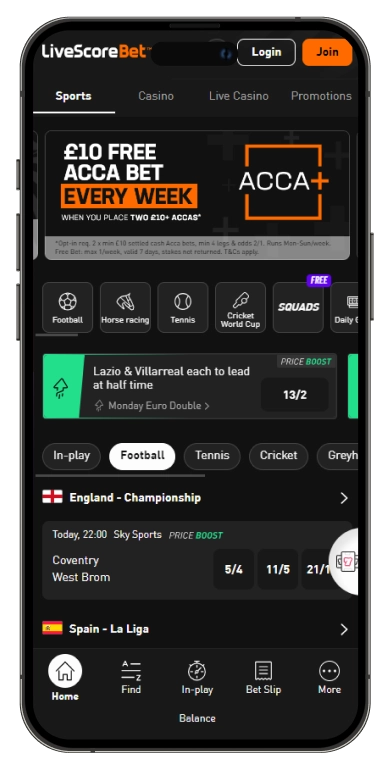 Ladbrokes
Ladbrokes is one of the most experienced, famous, and popular sportsbooks in the UK. Football betting has long been a backbone of its success, and this continues to be the case. The biggest appeal here is definitely the acca tools, with edit, boost, and insurance options available.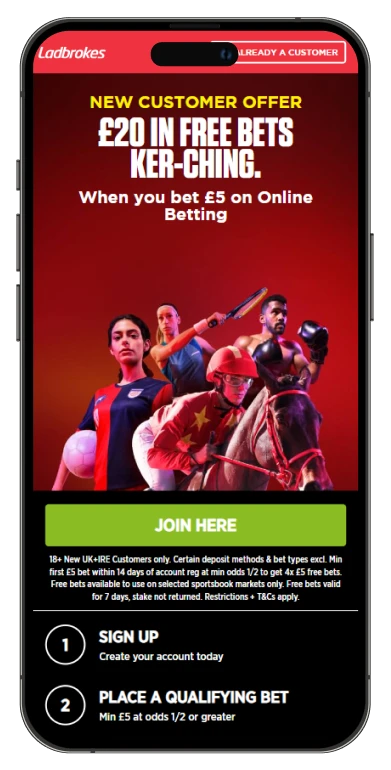 PariMatch
PariMatch has been operating since 2000, and only continues to get better. It provides football bettors with a user-friendly interface, top-notch support, and high quality betting apps. It also has some of the best cashback deals around for football, which really can help you to cut down on your losses.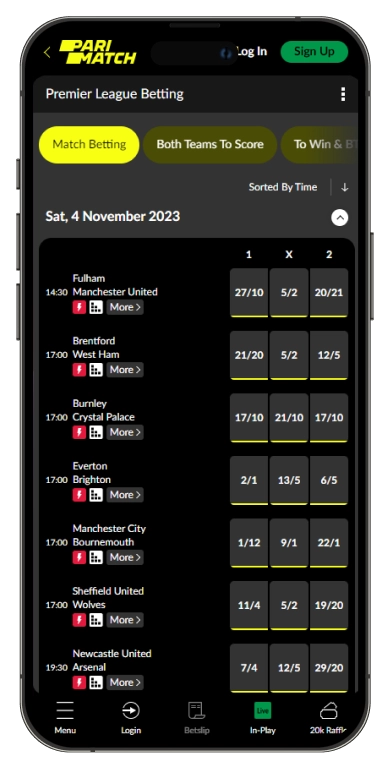 To a large extent, all of our recommended UK football betting sites are all-rounders. Each one will provide you with a safe, modern, and enjoyable experience. That being said, these brands obviously still excel in different areas, and you can see each bookie's strongest suit below.
Bet365 – Best Overall Football Sportsbook
Betway – Top Free Bet Club
Coral – Best Track Record
Fitzdares – Best for High Rollers
888sport – Best Mobile Betting Apps
SpreadEx – Best for Spread Betting
BoyleSports – Top for Free Bets
Grosvenor – Best for Odds Boosts
LiveScore – Best for Live Betting
Ladbrokes – Best for Accumulator Betting
PariMatch – Best for Cashback Offers
Your football betting options nowadays are basically endless. Even middling sportsbooks will let you wager on domestic, continental, and international football from all around the world, and even at various age groups. With all that said, for many punters the betting calendar will be dominated by a select few events, with these being the main highlights.
FIFA World Cup
This is the biggest football event there is. It might only roll around every four years, but – when it does – the betting world lights up. You can wager game by game here, group by group, or place outright bets on the likes of Top Goalscorer and Overall Winner. Whether you're a betting novice or veteran, it's a thrilling experience.
Euros
Like the World Cup, this illustrious competition only happens every four years. With a two year break between the two competitions, you'll just be in the mood for a big international tournament to wager on when the Euros does begin. Again, this is an extremely exciting betting experience, whether you go game by game or take the outright long view.
UEFA Champions League
This is the top competition in club football. It might happen each year, but the games – especially in the knockout rounds – still feel like special occasions every time. The group games tend to provide wider odds swings, with bigger teams often matched up against underdogs. Making your picks in the latter stages, however, is a riskier (and more exciting) challenge.
See all the offers for the Champions League
UEFA Europa League
The days of being seen as the Champions League's little brother are long gone. The Europa League nowadays is a hugely popular competition in its own right, and – particularly in the knockout stages – invariably features some of the biggest and best teams in Europe. Many bookies will even offer valuable Thursday night specials bets for the bigger matchups.
UEFA Conference League
The newest competition on this list, the Conference League is the third-biggest continental tournament in Europe. It doesn't have the prestige of the other two yet, but this will change over time. Also, since the likes of the Premier League and La Liga have such strength in depth, you still get to wager on some top teams throughout the tournament.
Premier League
The Premier League remains the biggest domestic competition in the world, and the gap is arguably still getting bigger. Bettors on the EPL have a constant stream of big-time matchups, with games regularly taking place three or four days a week. Your betting options here are unrivalled, with single matches often having hundreds of different wagers to choose between.
La Liga
While not at its strongest point, La Liga still holds plenty of appeal. Matches featuring Barcelona and Real Madrid dominate the viewing figures and the betting action, but several other Champions League and Europa League-calibre teams are in action every weekend. With only two sides in genuine contention most years, this is also a relatively easy league for outright betting.
Bundesliga
Between the passionate crowds and the quality of the football, the Bundesliga is easily one of the best domestic viewing experiences in football. As such, it's a particularly fun option for both live betting and streaming, and several top sportsbooks will let you pursue this course. It's also the safest league around for an outright pick, thanks to Bayern's dominance.
Serie A
The quality of football isn't as high here as in the EPL, but there's far more competition at the top. The Serie A trophy changes hands regularly, making this one of the more volatile – and potentially profitable – leagues to bet on. That applies for both outright wagers, and the unpredictable week-by-week matchups, both of which tend to have strong odds.
Ligue 1
As in the Bundesliga, the actual league title is basically a one-horse race most years. That might not suit football purists, but it's actually pretty handy for football bettors. PSG's dominance makes them one of the safest outright picks in Europe each season. It also makes them a smart inclusion in any pan-European accumulator bets you place at the weekend.
MLS
The actual footballing quality in the MLS is much lower than that of the aforementioned competitions. Punters don't necessarily need to care though, since the MLS represents an intriguing and different proposition for betting. This is primarily down to the conferences and playoff-based system, which presents a very different – and very fun – challenge for making your gambling picks.
Over the years, online bookies have constantly added more and more ways in which you can bet on football. Nowadays, you can basically enjoy an unparalleled amount of flexibility in not only which football matches you bet on, but how you bet on them. No other betting market gives you such a degree of choice.
Here are the most popular types of football bets, which can prove profitable for veterans and newcomers alike.
Match Result (Money Line)
Usually known as the Match Result market, this is the most straightforward football bet you can place. You're simply predicting the overall outcome of the game, and therefore have a mere three options: Home Win, Draw, and Away Win (i.e. 1/X/2). Despite its simplicity though, this wager is still a cornerstone of many punters' betting strategies.
Points Spreads
Most football wagers are fixed odds, with your potential profits and losses pre-determined. Spread betting is a very different proposition. Here, you're basically given a range of potential outcomes (the spread), then either Buy it (take the over) or Sell it (take the under). Both your profits and losses subsequently depend on how right or wrong you were.
Accumulators (Parlays)
The acca might not be the most sensible bet out there, but it's definitely one of the most exciting. Rather than wagering on one outcome, you're bundling multiple selections here into the same big bet. If all the selections win, you'll usually make a tidy profit. If even one of them fails, you lose, making this a high-risk/high-reward proposition.
Props
There are two types of props. Team props involve wagering on one of the teams to do something, like score a certain number of goals. With player props (which are more popular), you bet on a particular player. That can be to score a goal, get a yellow or red card, have a certain number of shots, and so on.
Over/Under Goals
This is a popular and straightforward alternative to the Match Result wager, which is extremely beginner-friendly. You simply take a number of goals, and bet on whether the total number that are scored will be higher or lower than that total. Take the Over 2.5 Goals market, for example, and you win if at least three goals are scored.
Half-Time/Full-Time
This is a more difficult (but more profitable) twist on the Match Result market. To triumph, you need to not only predict the winner of the match, but who will be leading at half-time. If one side is a famously slow starter but strong finisher, for example, you might take them to lose the first half but win the second.
Scorecast
This is a high-risk, high-reward same-game multiples bet. There are two parts. Firstly, you must predict what the final score will be, which is already a challenge. In addition though, you must make a correct goalscorer wager, which will usually specifically be on the first player to score. Your odds for nailing a scorecast tend to be very good indeed.
Both Teams to Score
Both Teams to Score is a classic wager, and one of the safest and most straightforward bet types around. As the name suggests, you're simply betting on whether both sides will score in an individual matchup. There are literally two options – Yes and No. The odds won't usually be the best in either case, but it's an extremely approachable market.
Outright
There are two main ways in which you can bet. The more common option is to go game-by-game. You can also place longer-term wagers though, which are collectively referred to as Outrights. These tend to cover whole competitions, with the most common examples being Outright Winner and Top Goalscorer, although you can also wager on teams to be relegated.
Final Thoughts
Football is the biggest spectator sport in the UK. Betting on it can both enhance the excitement of watching the beautiful game, and help to deepen your knowledge and understanding of it. Best of all, because it's such a big deal, there are endless resources to help you make your picks and enhance your betting skill, including this website.
After reading this article, you have all the information you need in order to start betting on football for yourself. The quickest and easiest way to do so is to pick one of our recommended bookies, create an account and grab its welcome bonus, then simply start having fun.