Best esports Betting Sites in the UK
Let's kick things off by looking at some of the best esports betting sites in the UK when it comes to esports betting. Each of them has a unique selling point that sets them apart from the rest.
In all cases, the betting site offers markets on the following games unless stated: League of Legends, Dota 2 and Global Strike Counter Offensive. And in all cases, they will offer betting markets on at least the match winner market and handicap markets.
Betway – The home of esports content
We all know about Betway, the sports betting site. They sponsor Premier League teams like West Ham and cricket T20 events such as the CPL and the Betway SA20, and are one of the best betting sites out there. But away from traditional sports, they've embraced esports like few others. They sponsor major teams such as BIG, Invictus Gaming and Ninjas in Pyjamas and have a dedicated blog focusing just on esports. It includes the latest news, interviews with top players and in-depth previews of esports betting events.
Add this great content to an extensive array of Betway esports betting markets with competitive odds and it's very much a one-stop shop for esports gambling fans, making it one of the best esports betting sites around.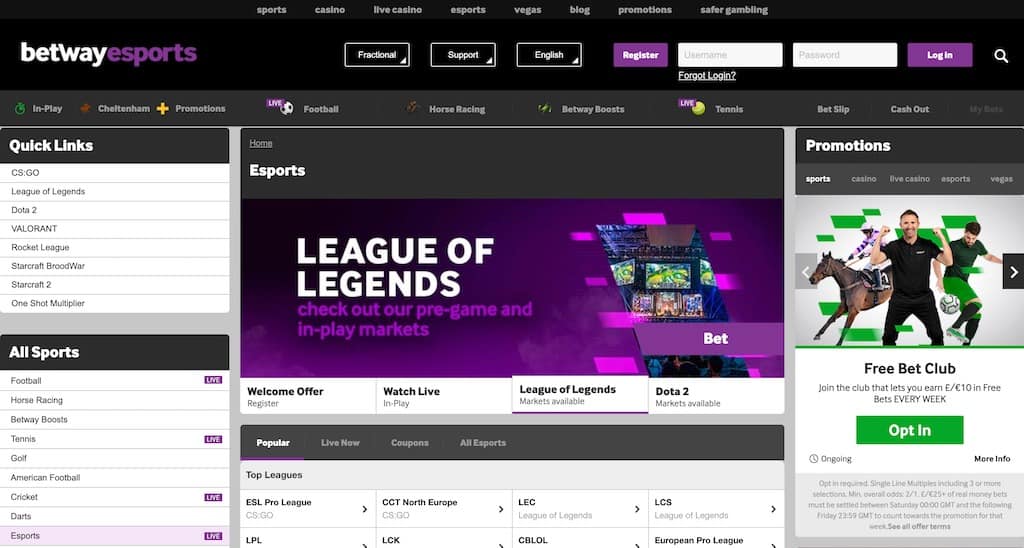 Pros
Superb blog keeps you up to date with all the latest developments in the form of unique content covering all the major esports betting talking points.
Selected esports odds boosts on popular markets offered on a daily basis.
Esports video content and quizzes provide extra entertainment for the diehard fan.
Sponsorship of some of the best and best-known esports teams in the world proof of their commitment to esports.
Sponsorship of West Ham football team means Betway often features video content of world-class footballers playing esports.
UK and Malta gambling licenses are an assurance that you're in safe hands.
Cons
You can't currently deposit using cryptocurrencies.
Free bet welcome offer expires after just 7 days.
Free bet welcome offer has 1x wagering requirements; at most other betting sites there are 0 wagering requirements on your welcome offer.
Unibet – Leading the way for livestreaming
A bit of a veteran of the online gambling industry, having been around since 1997, Unibet are one of those reliable betting operators who have traditionally done everything pretty well but rarely do things considerably better than anyone else. But they're certainly trying to change that by being one of the best esports betting sites, at least when it comes to livestreaming.
They've decided to make livestreaming their number one priority when it comes to esports gambling by having a live Twitch stream available to their customers during games. The result is that fans of Unibet esports betting can watch all the major tournaments, for free, with world-class quality streaming directly from the site.
That means they can watch and bet on esports all in the same place, also assisted by real-time live stats on the games in progress. In this case you do admittedly need to leave Unibet and do so on the Sportsradar website. But it's easy enough.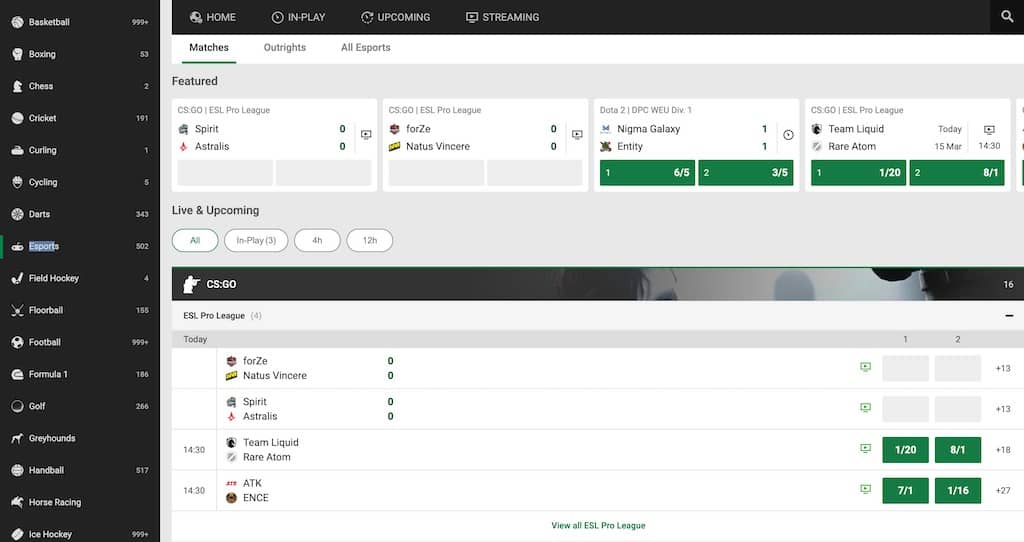 Pros
Livestreaming allows you to follow the action closely and make better-informed Unibet esports betting
Real-time Sportsradar statistics give you further insight into the action.
High-class betting app gives you notifications about available bonuses you can claim.
Company has been around a long time and staked a reputation as one you can trust.
Website design is crisp, clean and clear allowing you to navigate with ease.
Unibet community section allows customers to discuss relevant topics among themselves, including matters relating to esports betting.
Cons
Only tend to cover the major tournaments and not all esports events.
Generally only offer three esports gambling markets per game; other esports betting sites offer plenty more.
Their esports odds are competitive, yes, but rarely higher than at some of the best esports betting sites.
Parimatch – Best for FIFA
Whereas other betting sites have decided to focus their energy on the most popular esports of all such as lol esports betting and csgo esports betting, Parimatch have decided to create their own niche. Whereas they also offer betting on those games, they've tried, and succeeded, to become the home of FIFA betting.
Compared to the competition, they offer betting on more FIFA tournaments, more live betting matches and give customers the chance to wager across more different betting markets.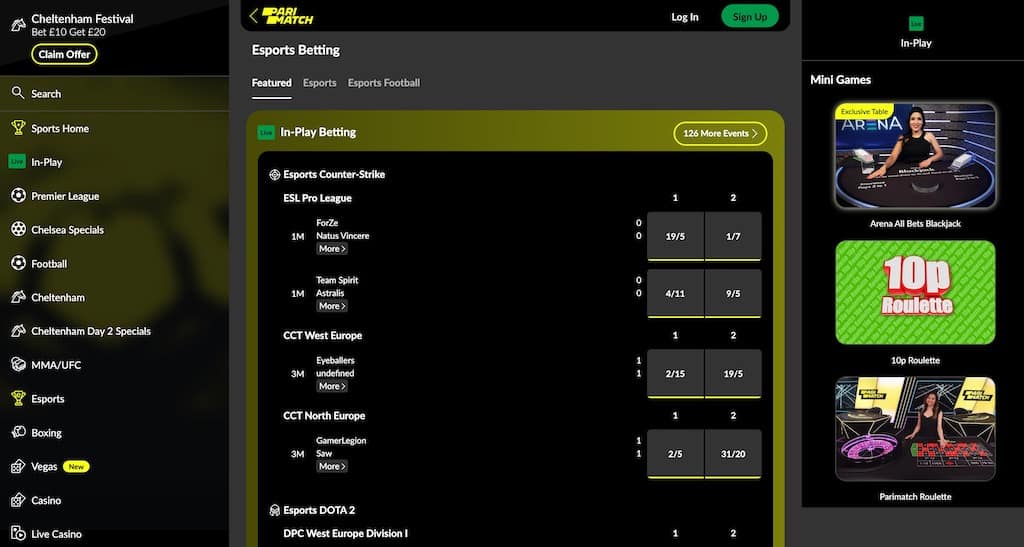 Pros
Have created their own Ukranian Esports Battle solely dedicated to FIFA, meaning more daily FIFA matches for betting on than just about anyone else.
Greater number of FIFA markets than other sites.
More in-play matches and markets than other esports betting sites.
Have a specific Esports welcome offer.
FIFA-playing stars like Honey and Mazario take part in the Esports Battle.
Lots of ongoing social media competitions for customers to take part in.
Blog provides interesting content across numerous sports.
Accept cryptocurrencies.
Cons
KYC verification process is unusually lengthy.
Not available in many languages.
Live betting on sports and esports a bit slower than other sites.
BetVictor – Best for Counter-Strike Global Offensive
They cover the full range of esports betting including Counter-Strike, Dota 2, League of Legends, StarCraft II and King of Glory. They may be one of those bookmakers who have been around for a while but they've understood the value of a good esports betting product these days and have obviously invested time, money and effort into it.
But it's Counter-Strike Global Offensive they've really focussed on and if it's csgo esports betting that floats your boat, then BetVictor is the esports betting site for you.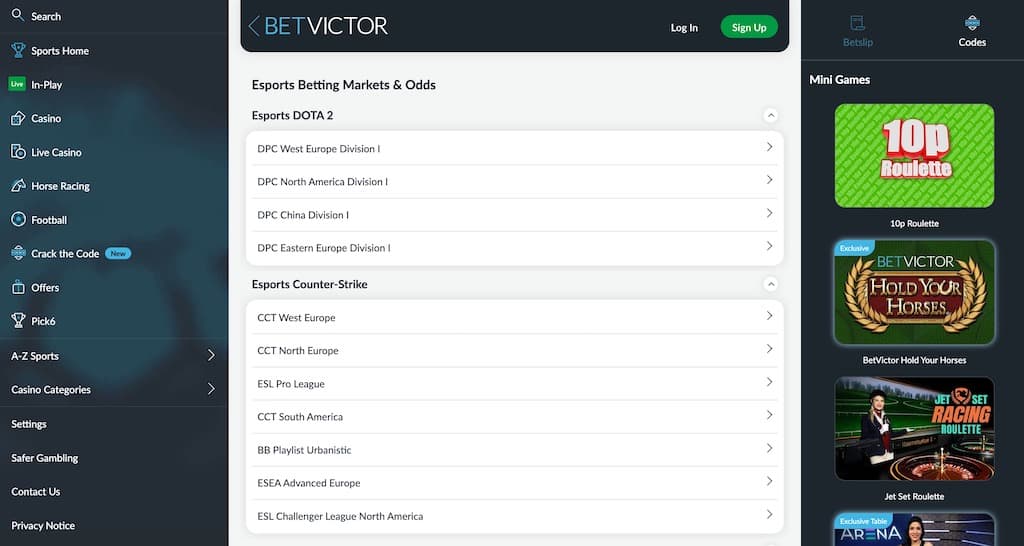 Pros
Possibly the best in the business when it comes to Counter-Strike.
Can place esports bets as multiples in addition to singles.
Lots of innovative markets beyond just the match winner one on Counter Strike including: Rounds Handicap, Total Rounds, 1st Pistol Round Winner and 2nd Pistol Round Winner.
Trending Bets feature lets you see what other esports customers are betting on.
Cons
Below average for betting on FIFA.
Livestreaming available only to active bettors.
KYC process unnecessarily fussy and complicated.
Bet365 – Best-in-class for pre-match odds
It's not to be taken lightly that Bet365 are arguably the best esports betting site around when it comes to pre-match odds. Other sites have focused on other aspects of esports betting. But the company who can probably claim to be the best-known bookmaker in the world, has focused on that old-school but priceless value that is being generous with pre-match odds.
So, for the betting value-seeker wanting to keep things simple, this is the one for them.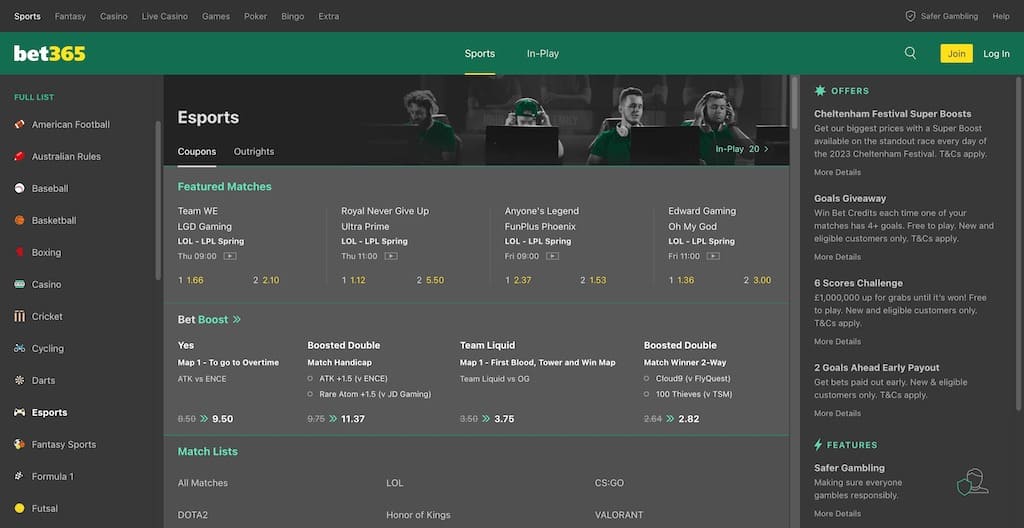 Pros
Consistently offer higher pre-match odds on esports betting compared to the field.
Offer betting on games such as Starcraft, King of Glory and Rainbow 6 that most others don't.
Livestreaming available on most major esports tournaments
Guaranteed quality as one of the top bookmakers in the world.
Endless choice of payment options.
Available in over 20 different languages.
Cons
No specific esports promotions.
Odds not always as good on regular sports as on esports.
William Hill – Perfect for esports betting beginners
Mastering esports gambling takes time, just as mastering football or cricket betting does. So, if you're a bit new to all this, you might want to find your feet with some William Hill esports betting.
They provide good written content at the bottom of their esports betting markets explaining the history of esports betting, the games you can bet on, the markets offered and other important details. So perfect for beginners. They display their esports betting markets in a clear and simple way and it's easy to see which events are coming up next.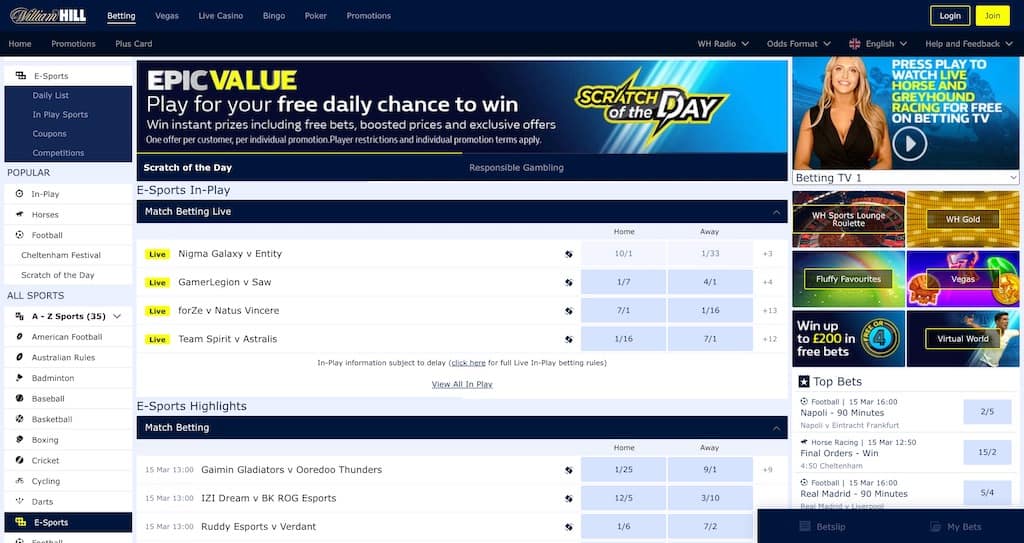 Pros
Extremely useful esports guide-for-beginners.
Strong general reputation as a bookmaker.
Tick most boxes for betting on league of legends matches.
Quick depositing times.
Cons
Other sites offer better pre-match odds.
No esports livestreaming.
Not great for FIFA.
Ladbrokes – The place for tournament winner betting
The betting company that needs no introduction is wise to the fact that esports betting is already big business and is only going to get bigger. They do cover the full range of popular esports games for betting on including offering Dota 2 bets, League of Legends betting, Counter-Strike Global Offensive and Fortnite, plus most of the other big-name ones.
Where they stand out from the rest is when it comes to tournament winner betting. Not all esports betting sites offer outright betting on who will win the tournament as a whole but they always do, and at decent odds.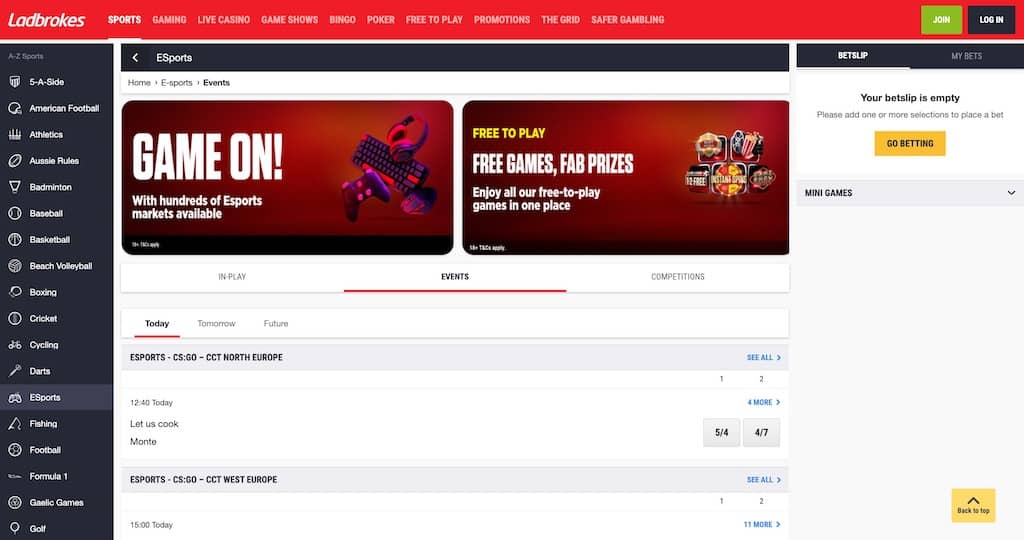 Pros
Tournament winner betting on offer whereas others don't always have it.
Plenty of cs: go events and different markets on them.
Excellent all-round experience as a betting company.
Huge choice of payment options.
Big emphasis on responsible gambling.
Cons
Don't cover all FIFA tournaments.
Weak on esports content with Ladbrokes blog not covering it.
Boylesports – The place for NBA2K
If every site so far has a unique selling point, then the Boylesports esports gambling one is that they offer betting on basketball-themed game NBA2K. That may sound like a relatively small fish compared to the likes of Dota 2, League of Legends, Counter Strike, FIFA and so on. But if it's hoops you like, then you'll be glad to know you can bet on it here.
Aside from that, they do offer esports betting on the bigger-name games just mentioned as well, plus livestreaming on them. But it's their inclusion of the NBA game that sets them apart.
Pros
You can bet on NBA2K.
Livestreaming on most major tournaments.
Odds altered to green and red on the match winner market every time they change in live betting, so you can see when they've been updated.
Competitive pre-match and live betting on esports betting
Betting app is fast, intuitive and easy to use.
Cons
NO VIP program for sports or esports bettors so limited rewards for loyal customers.
Deposits using Neteller exclude you from receiving bonuses.
Most Popular Esport Games
The world of esports betting isn't quite as diverse as that of sports betting. And by that we mean that there aren't dozens of esports for punters to bet on. Instead, most betting sites offer odds on the same handful of games, which predictably are the ones that attract the most interest from fans and betting customers alike.
These are the ones you'll find at most of the best esports betting sites.
League of Legends (LOL) esports betting
Published by Riot Games, it's a sort of spin-off of a segment of the Warcraft III game and ever since being introduced to the market in 2009, has been free-to-play, accessed via Microsoft Windows and macOS.
It sees two teams made up of five players each control a character per player, known as a champion. The champions can become more powerful by collecting experience points, earning gold, or purchasing items.
The object of the game in its main mode, Summoner's Rift, is to push through the enemy's base and collect their Nexus, which is a large construction within the base, at which point the game ends.
In addition to the match winner, popular betting markets include: Team to score a Quadra Kill, Team to score a Penta Kill, which team will score most kills on Map 1 and Team to Draw First Blood on Map 1.
Dota 2 esports betting
Like LOL, it's also a multiplayer online batting arena game, it's also played by two teams of five players each and it's also a case of conquering the enemy's prized construction (in this case called an 'Ancient) within the enemy's base in order to win the game.
This time round the characters are called Heroes and they can also become stronger ahead of player v player combat by collecting experience points and items that will help them in battle.
Made by Valve and around since 2013, it's generally considered harder to master than LOL and more complex in many aspects than its rival.
Aside from the match winner market, punters can bet on which team will destroy the next Tower and which team will kill the next Roshan on a map-by-map basis, among others.
Counter-Strike (CS GO) esports betting
It's worth pointing out that Counter-Strike refers to a series of multi-player tactical first-person shooter games, with this one, Global Offensive, the best-known and most popular of them.
It's the fourth of the series and can be played on a number of devices, including Playstation 3, Windows, OSX and XBOX 360.
There are nine different game modes with all of them revolving around one team acting as terrorists and the other as counter-terrorists.
The most popular modes involve the terrorists wanting to plant a bomb or taking hostages, while the anti-terrorists attempt to stop them from doing so, in a classic Good v Evil scenario.
In addition to the match winner, other betting markets are on the final correct score, or which team will be the 1st or 2nd Pistol Round Winner on a map-by-map basis.
FIFA esports betting
For years and years FIFA and Pro Evolution Soccer competed for the right to be the world's most popular football computer game but over the past few years, there's only been one winner.
With gameplay that mirrors real-life football games in minute detail and features computerised versions of the world's top footballers, it's also emerged as the most popular sporting esports game in the world. So much so that it entered the World Guinness Book of Records when in 2014 over 2.5 million gamers from around the world competed to win the FIFAe World Cup.
For the purposes of esports, players generally compete on the latest edition of the game.
Starcraft II esports betting
This one is a science fiction real-time strategy video game that's a sequel to the original Starcraft, released a few years earlier.
In it there are three different types of species: the Terrans (humans), the Zerg (a super-species of assimilated life forms), and the Protoss (a technologically advanced species with vast psionic powers).
At the heart of it all is a hard-drinking and cynical mercenary called Jim Raynor, who takes on different fighting jobs for hard cash, using the money to pay for additional units and upgrades.
It's a non-linear game, meaning it doesn't have to be played in the same timeline. Like many of the others just mentioned, it's considered one of the greatest video games ever made.
How to bet on esports?
Do you follow esports closely and want to try and convert all that knowledge and experience into winning real cash on esports betting sites? Cool. This is how to go about doing it.
Read the section above carefully about the best esports betting sites and choose one or more that feel right for you and your needs.
Open an account by providing a few personal details. This shouldn't take more than a couple of minutes.
Make a deposit using the payment method of your choice.
Pass your KYC (Know Your Customer) check so you don't have to do it at a later date and are ready to withdraw any winnings when you're ready to.
Claim any available bonuses you like the sound of such as a deposit bonus, an esports free bet or free spins, to use on slots.
Navigate to the site's esports section. In some cases, esports can be found in a stand-alone section. In other cases, they're listed on the Sportsbook like any other sport.
Choose the individual game or tournament you want to bet on.
Choose the market you want to bet on. Eg. Match winner, Round Handicap, Total Rounds.
If using a free bet for a set amount (e.g. 5GBP) make sure you tick the box that allows you to use the bonus rather than your own cash. Or enter a bonus code where relevant.
If not using a free bet, choose your stake and process/confirm the bet.
Major Esports Events in 2023
For fans of esports betting, there are some seriously big events coming up in 2023 to look forward to. Here are some of the best of them.
Starcraft II esports betting
Held between May 2 and May 21.
Almost all of the world's top LOL players will be there.
First time that it's staged in Europe since 2018.
First time ever that it's staged in London.
13 teams qualify for the tournament.
Nine winners of the LOL regions automatically qualify as spring champs.
Runners-up from North America, Europe, China and Korea will also be there.
Royal Never Give up are defending champs.
Korea's T1 fancied to go well based on 2022 results but first need to qualify.
IEM Cologne CS: GO
Held July 25 to August 6.
A who's who of Counter Strike Global Offensive players will be in action.
Known as 'The Cathedral of CS:GO and a huge event in terms of csgo esports betting.
IEM Katowice and Paris Major winners automatically qualify.
24 teams in total.
1 million Us Dollars in prize pool on offer.
League of Legends World Championship
Also known simply as 'the Worlds'.
Arguably the biggest event on the LOL esports calendar.
Likely to be in October or November but exact dates yet to be confirmed.
22-team tournament.
Double-elimination play in first stage.
Swiss style format for main tournament.
DRX defending champs after surprisingly beating T1 in last year's final by 3-2.
Esports Live Betting
Again, esports betting mirrors traditional sports in that customers can place bets after the match has already started. Also known as live betting.
As the match progresses, so the odds on the different markets are constantly being updated by the betting site to reflect the chances that the player or team has of going on to win, on the match winner market. Or the chances that there will be x number of rounds based on how many rounds there have already been on the total rounds market.
In some cases, esports bettors may need to be a little patient because the esports betting sites may suspend the market for a few seconds while they work out what the updated odds should be.
Esports gambling sites offering in-play betting will always have the match winner market available in live betting. But which other markets are available, may vary.
Some of the best esports betting sites offer livestreaming of the matches. Where that's the case, those betting live are well-advised to follow the action via livestreaming to help them make better choices based on what's going on.
Esports in the UK
So far most of what we've looked at the best esports betting sites in the UK, what they offer, which games are the most popular and some of the key esports events around the world to look forward to in 2023.
But what about the esports market as a whole in the UK? Here are the main takeaways about where it's at and where it could be in the future.
The UK is the fifth biggest esports market in the world after China, USA, South Korea and Germany.
The UK accounts for roughly 8% of the global esports market.
Out of a population of roughly 68 million people, over 36 million play video games on as regular basis.
The UK video games industry is worth £9 billion, employing 27,000 people.
Despite this, there are currently just over 100 professional esports players in the UK, which pales in comparison to the likes of China and the USA.
As of 2023, the UK has 13 professional esports teams.
The British esports Association was only founded in 2016, while other countries had equivalents much earlier.
There are currently no all-female esports teams in the UK.
Sponsorship and advertising is currently the biggest money generator in the UK, followed by publisher fees.
Esports in the UK is currently divided into two leagues: the ESL's National Championship and the United Kingdom Esports League.
The most popular esports games in the UK as of 2022 are, in order: Counter Strike Global Offensive, Dota 2 and League of Legends.
Esport Betting Tips From Our Experts
One of the themes of this article on esports betting is that in many ways, it's no different to betting on any of the more traditional sports, like football or cricket.
Just because players or teams are competing on video games isn't to say that many of the same concepts don't apply to sports that have more of a physical element to them.
Both in terms of the competitors and those betting on them. So, with that in mind, here are some esports betting tips that are worth taking into account.
#1 – Research thoroughly with the best sources
Bookmakers do their own research on esports games ahead of pricing up their markets. But they have limited time to do so because they have to offer odds on numerous different esports, played by hundreds of different players.
You, however, have all the time in the world to try and know more than they do. The likes of Reddit, sites solely dedicated to esports, or players' Twitter or Instagram accounts have endless amounts of priceless information on them.
This allows you to find out how confident players and teams feel ahead of a big tournament, whether they have ongoing personal or physical issues to deal with, or how hard they've been practicing.
Make use of all this info to identify betting angles the bookies may not know about.
#2 – Choose your esports niche
Any professional sports punter will tell you that it's impossible to be an expert on too many different sports. They tend to stick to one or two and master those, rather than trying to be all-rounders who bet on six or seven different ones.
It's the same with esports. Decide which esport you know the most about and are best at predicting the outcome of.
If you're much better at placing Dota 2 bets than lol esports betting for example, then focus on betting on Dota 2, because you're likely to enjoy far better results in the long run. Try to keep your esports gambling niche to no more than two esports.
#3 – Find the esports betting site that's best for you
Most sports betting sites these days are also esports betting sites.
The first point to make is that some are better than others in general. Some may only cover the biggest esports tournaments while others cover all tournaments. Some may focus just on the biggest ones like League of Legends betting, while others cover 10 or 12 different esports. Some offer far better odds than others.
The second point to make is you need to pick the esports betting site that's right for you individually. If you're all about betting on esports in-play, then bet with sites who have the best esports in-play product. If you're an expert csgo betting, use a site who focuses strongly on that.
And don't just use the same bookmaker for esports betting that you generally use for sports betting, out of convenience. They're very different things, so treat them as such.
Our guide of the best esports betting sites should help you decide which are best for you.
#4 – Make use of Odds Boosts and other bonuses
Esports betting sites have increasingly started to offer odds boosts on esports games just like they would ahead of a big Premier League or NFL match. If you were going to back a particular player at 2.5 to beat another at FIFA, then you'd be silly not to take an Odds Boost on that player at 3.0, instead, if available.
Getting bigger odds than usual on a particular bet you were going to place anyway will make a significant difference to your betting balance in the long run.
You can also look out for the odd free bet or other bonuses on esports by asking to receive notifications on your mobile app, or by regularly visiting the site's promotions section.
#5 – Head-to-head record is 'game'-changing
No pun intended! But let us explain. Take tennis, for example. Sometimes you get two players of similar rankings with similar ability but one of them has a 10-2 record against the other.
Why? Because Player A's game may be perfectly suited to beating Player B much more so than Player B's is at beating Player A. Or Player A's game may be better suited to beating Player B, than other players of a similar level.
The same could happen in esports betting on a game like FIFA. Maybe the chosen team or tactics Player A uses helps them beat Player B on a consistent basis.
If you can find players with a particularly strong record against another which the bookies haven't caught up on, there lies an opportunity for you.
Bottom Line On Esports Betting
10 or 15 years ago, no-one could have predicted the boom in esports and the knock-on effect of that in terms of interest in esports betting. But now that it's here, it's here to stay.
Just about any UK betting site offers esports gambling already. And the choices of what you can bet on, both in terms of the number of events and different markets within those events, will only rise. As will the number of customers actively betting on esports.
As will the number of live-streamed events, the content available on esports betting sites about it, and the general profile of it.
Given that sports like snooker or rugby have somewhat stagnated over the past few years in terms of betting interest, it's not unthinkable that esports betting may overtake them in the near future in terms of the number of bets placed and money wagered on them.
It's also very possible that we may have a new generation of pro esports bettors! After all, if people make a living out of betting on football or racing, there's no reason why the same can't apply to esports.