Editors' Pick: 6 Best Greyhound Betting Sites in UK
Bet365
BetVictor
Ladbrokes
Coral
Betfred
888
Bet365 Greyhound Betting
Pros
Covers all races, inc. ante-post
Bet boosts and best odds guaranteed
Trap challenges, specials and My Greyhounds feature
Cons
Odds could be slightly better
More non-standard markets would be nice
Welcome bonus: bet £10 and get £30 in free bets
Greyhound bet bonuses: best odds guaranteed, My Greyhounds
Bet365 covers all the usual greyhound betting markets, as you'd expect. From night races at Romford to daily specials, trap challenges, and action from Australia, there are dozens of different markets each day. However, the reason it's ranked among the best greyhound racing betting sites is My Greyhounds. This feature allows you to build a virtual kennel by adding greyhounds to your list. You then receive updates and offers specific to your dogs.

BetVictor Greyhound Betting
Pros
Live streaming
Covers all events, inc. St Leger and English Greyhound Derby
One-touch race filter option
Cons
Not many special markets
Could have more features
Welcome bonus: bet £5 and get a £10 free bet
Greyhound bet bonuses: best odds, loyalty club
BetVictor might not have as many features as some online sportsbooks, but it certainly offers one of the slickest dog racing betting apps. Why? Because the one-touch race filter allows you to call up current and future events from tracks around the world with ease. Add to this live streams, competitive odds, and win or each-way markets, and you'll never be short of a greyhound bet at BetVictor.

Ladbrokes Greyhound Betting
Pros
Plenty of specials
Live streaming
Nice quick reference stats
Cons
Could cover more international races
Often slow at showing future odds
Welcome bonus: bet £5 and get £20 in free bets
Greyhound bet bonuses: best odds, boosts
Ladbrokes doesn't cover as many international races as some of the top greyhound betting sites. However, when it comes to showdowns in the UK and Ireland, it not only has the best odds guaranteed, it offers more specials than most. Add to these things a constant stream of odds boosts, as well as live streams and regular greyhound racing betting tips, and Ladbrokes has everything you need.

Coral Greyhound Betting
Pros
Regular greyhound betting tips
Virtual dog racing betting
Make multiway bets in seconds with bet builder tool
Cons
Doesn't focus on many international races
Could be more greyhound betting promos
Welcome bonus: bet £5 and get £20 in free bets
Greyhound bet bonuses: best odds, boosts
Dog racing betting is all about specials at Coral. Much like its sister sportsbook, Ladbrokes, Coral primarily focuses on races in the UK and Ireland. This allows its team of oddsmakers to set the best possible lines and, in turn, cover a variety of markets. That means you can place a greyhound bet on single races, the Derby and trap challenges.

Betfred Greyhound Betting
Pros
In-app greyhound racing radio station and live streams
Ante-post and trap challenge odds
Two types of virtual dog racing betting markets
Cons
Could cover more events
Software could be better
Welcome bonus: bet £10 and get £40 in free bets
Greyhound bet bonuses: best odds, tricast bonuses
There are top-rated greyhound racing betting sites that cover more events than Betfred, but that doesn't mean you'll be short of action with this app. As well as covering races in the UK and Ireland, this sportsbook has not one but two virtual dog racing betting features. Other notable features for those who want to get more from their time online are live streams, a greyhound racing radio station and the PickYourPunt (PYP) personalised bet builder.

888Sports Greyhound Betting
Pros
Personalised betting suggestions and offers
Great selection of markets, including specials, ante-post and virtual
All greyhound racing products in one place
Cons
No best odds guaranteed pledge
Could be more greyhound racing promos
Welcome bonus: 100% first deposit bonus up to £200
Greyhound bet bonuses: odds boosts
888 is one of the best greyhound racing betting sites when it comes to accessibility. Why? Because all of its dog racing odds, offers and features are housed within a single lobby. Other dog racing betting sites scatter their products across multiple tabs. 888sport puts everything together, which means you can easily move from the latest greyhound racing betting odds to specials, virtual races and the "popular bets" tab.

How Does Greyhound Racing Work?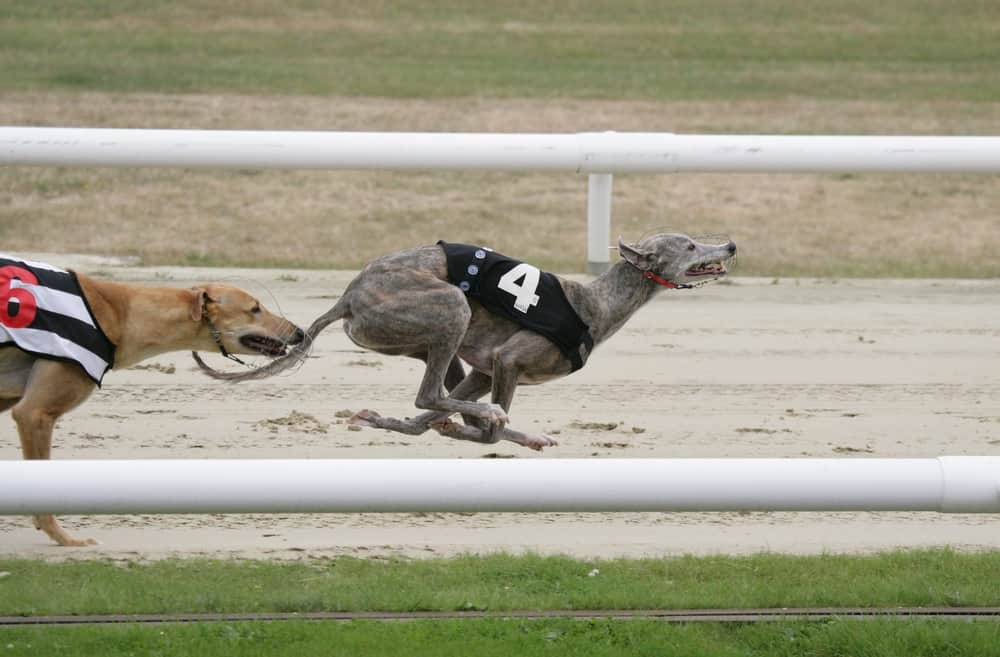 Greyhound racing involves up to six dogs and, as you'd expect, each one is vying to cross the finishing line first. Whether or not the dogs know they're in a race is up for debate, but what's certainly true is that they're all chasing a pretend hare around the track.
Your job, as a punter, is to predict which dog is going to win. Of course, there are other ways to bet on greyhound racing. Just like horse racing, you can make each-way bets which allow you to pick a dog and get something back if it finishes first, second and, in some cases, third.
Other types of greyhound racing bet you can make are:
Forecast: you choose the dogs you believe will come first and second in the exact (i.e. correct) order e.g. trap 2 to finish first, trap 5 to finish second.
Reverse forecast: you choose the dogs you believe will come first and second in any order.
Tricast: you choose the dogs you believe will come first, second and third in the exact order.
Exacta: these greyhound racing bets are the same as forecasts but have a £2 minimum stake and the payouts are based on a Tote (i.e. betting pool) dividend.
Trifecta: these greyhound racing bets are the same as tricasts but have a £2 minimum stake and the payouts are based on the Tote.
Of the greyhound bets you can make, each-way picks have the shortest odds because you've got more ways to win. Straight bets are the most common way to bet on dog racing and you'll find that almost all of the top greyhound betting sites have best odds guaranteed pledges. Finally, if you want to shoot for the best returns, combination bets (e.g. forecasts etc) have the longest odds because you need to make multiple picks.
Our recommended dog racing betting sites offer secure ways to speculate on races from the UK, Ireland and abroad. You'll be able to create accounts using our links and claim special welcome bonuses. Once you've registered, make a deposit using a safe payment method such as Visa or PayPal and you're ready to go.
Betting on greyhound racing starts from less than 10p and you make picks by following these steps:
Create an account.
Log in, go to the cashier and make a deposit.
Go to the sports betting menu and tap "greyhounds".
Scroll through the latest greyhound racing betting markets.
Find a race and choose a bet type.
Make your pick.
Tap the odds next to your pick.
Go to the bet slip and input your stake.
Confirm your bet and wait for the result. (wins are automatically credited to your account balance)
Live Greyhound Betting
Live greyhound racing betting isn't as common as pre-race and ante-post betting, but it's possible. Live in the context of sports betting means in-play i.e. when an event is in progress. The best greyhound racing betting sites give you the ability to open live markets and place bets before a race ends.
There are two main benefits of making live greyhound bets:
Ever-changing odds: live greyhound betting odds are never static because the dynamics of a race are constantly changing. Therefore, in-play greyhound bets are exciting because you never know what's going to happen next. Not only that, you've got the chance to get some exceptional value.
Instant information: pre-race bets allow you to study the form and get tips based on expert views. However, all of this information is speculative. Only once a race is in progress can you see which dogs are performing well. Therefore, live greyhound race betting is a great way to get instant information and make decisions on the fly. This doesn't mean it's easier to pick winners. However, you can see what's happening in real-time.
Live greyhound betting can be fun and, if your picking skills are on point, potentially profitable. However, you shouldn't assume this is a risk-free way to wager money on dog racing.
There are some things you need to consider before you make picks:
Impulse betting: seeing live odds change is exciting and this can cause you to make rash decisions. Don't bet impulsively just because there are odds available.
Split-second timing: live greyhound bets can be tricky because the odds change quickly. Therefore, if you don't jump on a potentially profitable bet instantly, it can lose its value. Again, however, this doesn't mean you should bet impulsively.
Assuming you take into account the positives and negatives of in-play odds, live betting can give you more options when you follow the dogs online.
Top Greyhound Racing Events
What are the biggest events in greyhound racing? Almost all of the biggest greyhound races take place in the UK and Ireland. However, the sport is also popular in Australia, which means the best greyhound online betting sites will cover events from around the world.
See more: GBGB (Greyhound Board of Great Britain) official site
In terms of the sport's most popular events, these are the five biggest greyhound races to bet on:
English Greyhound Derby
This is the most prestigious competition in greyhound racing. Dating back to 1927, the English Greyhound Derby consists of six rounds. Entrants score points in each of the 500 metre races taking place between April and May. The winner gets £100,000.
Irish Greyhound Derby
This is the Irish equivalent of the English Greyhound Derby. So as not to clash with its English counterpart, the Irish Greyhound Derby takes place between August and September at Shelbourne Park. Races are run over 503 metres and the best overall performer takes a purse worth €140,000.
Northern Irish Derby
The Northern Irish Derby was held between 2011 and 2014 at Drumbo Park. The aim was to establish a Northern Irish equivalent to the Irish and English Greyhound Derby. A series of 550-metre races took place over a number of weeks and the top performer out of 36 dogs won the £25,000 top prize.
The Melbourne Cup
The biggest greyhound race outside of the UK and Ireland takes place in Australia at Melbourne's Sandown Park. Known as the Melbourne Cup and first run in 1956, this greyhound race is the finale of a three-week "Superdogs" series which has an AUD$1 million prizepool.
The Oaks
This is one of the biggest greyhound races of the year for bitches. It typically takes place in December and, since it was first run in 1927, it has been held at various tracks. Dogs have to qualify via a round structure to compete in the English Oaks final. The winner gets £15,000.
Greyhound Racing Glossary
Walking the walk means knowing how to bet on greyhounds. Part of that process involves learning the lingo you'll hear down at a track or among online bettors. So, with this in mind, here's how to talk the talk in greyhound racing:
Ante-post: a bet made before an event has started, usually after it's just been announced and a few days before it starts.
Box: another term for trap (see below).
Dead-heat: a race where two or more dogs can't be separated by a photo-finish.
Forecast: a type of greyhound bet where you pick two dogs to finish first and second.
Going: the track conditions i.e. the speed of the track based on its consistency
Grade: dogs are categorised into grades based on their speed, breed, age and results.
Jolly: the favourite in a race.
Open race (OR): an open race that any dog can enter – this is a top-tier race.
Place: the top two finishing spots in a race.
Puppy: dogs aged two or younger.
Rag: the race outsider.
Tricast: a type of greyhound bet where you pick two dogs to finish first, second and third.
Trap: the boxes in which dogs start a race.
Trial: a race used to grade dogs – you can't bet on trails.
Tote: a pool betting system.
Top 5 Greyhound Betting Tips from Our Experts
How do you win greyhound bets? The simple answer is that it's not easy. If it were, bookmakers wouldn't exist. However, with a little bit of logic, careful planning and some good fortune, you can win. Five tips that could help you improve your picking skills are…
1. Position matters
Tracks are oval-shaped, which means dogs have to run around bends. Some dogs prefer to run wide, some like the middle and others hug the rail. Try to establish which position best suits a dog and whether or not their trap matches their preference i.e. if a dog has an outside trap and likes to run wide, it could be a good thing.
2. It's all about the finish
Lots of dogs start strong, especially when they're running in packs. Therefore, you need to focus on greyhounds that have strong finishes as this can often determine the result. Search through the latest greyhound racing betting tips to find strong finishers.
3. Speed is essential
There are some greyhound betting tipsters who value speed over all other metrics. While there are certainly other nuances to consider, speed matters a lot. Most greyhound races take place over short distances (relatively speaking compared to horse races). Therefore, the quickest dog should win most often. Look for speed data on a race card to compare runners.
4. Check the conditions
The track's condition can impact the result. For example, let's say it's raining heavily. Under normal conditions, the fastest dog should (in theory) win. However, the weather has slowed the pace of the track and made it harder to run. This could give other dogs a chance to win.
5. Bet conservatively
You won't always make a winning greyhound racing bet. Even with top tips and a solid strategy, things won't go your way every time. Therefore, you should bet conservatively to avoid going broke. Do this and greyhound racing will not only be less stressful but more enjoyable.
Try Greyhound Betting Today
Horse racing is known as the sport of kings, but greyhounds are for everyone. As long as you're old enough, the top greyhound betting sites have odds and offers to suit all preferences. From straight wins with short odds to combination bets offering major payouts, you'll never be short of options.
In fact, when you use our recommended bookmakers, these betting options are flanked by a wealth of features, including live streams, odds boost and expert tips. So, if you want a comprehensive, enjoyable and potentially profitable experience, try our top-rated greyhound betting sites today.