Sports betting and sports betting apps have been around for over two decades. Social betting apps on the other hand are a far more recent phenomenon in the world of online sports betting and have really shaken up the way punters go about their sports betting.
Combining the concept of sports betting and the ever-increasing use of social media, they're a novel way of punters sharing ideas, tips and working together.
To not only make the whole experience more enjoyable, but also as a method to finding the best bets out there in an attempt to beat the bookies.
What is Social Betting?
As is the case with any very new concept, social media betting is yet to have one, unique definition of what it actually is. To further muddy the waters, not all social betting sites are the same in terms of how they work, what they do and what the whole concept entails. But here are the three definitions that best sum up what this is all about.
The use of social media in any form to promote, discuss or highlight betting markets or bets with a view for the betting site to promote their business, or customers wishing to share bets, wins or opinions.
Social betting sites specifically set up with the sole intention of allowing customers to place bets among themselves, or to pool their resources together in order to place bets on something together.
The setting up of a betting site or a section of a betting site to allow customers to share tips, take part in competitions with leaderboards or tipsters displaying stats on how their bets have performed on a short or long-term basis.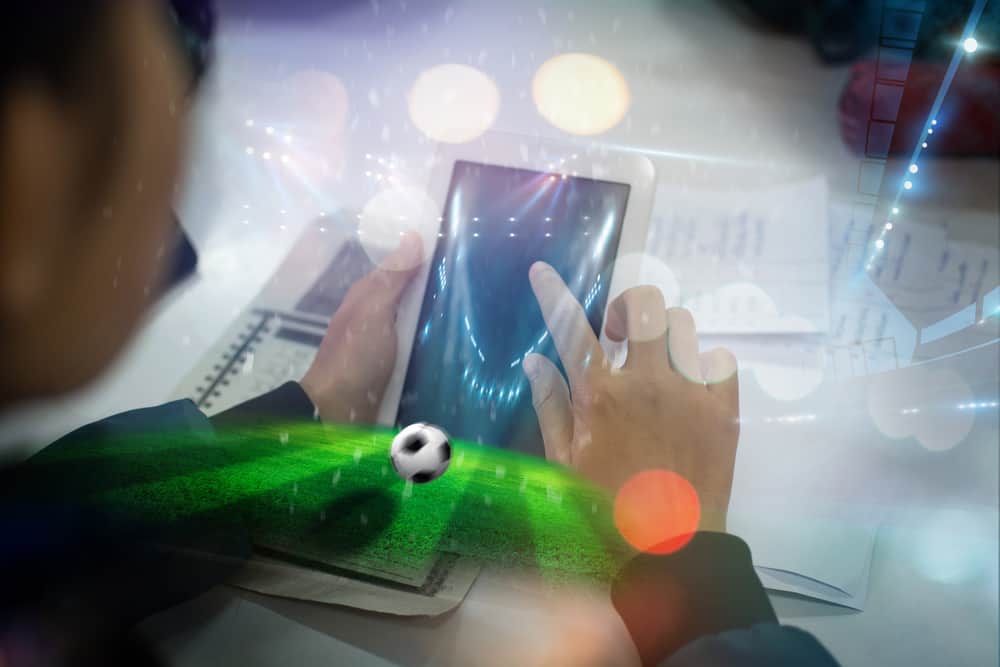 How does Social Betting Work?
The above definitions are the three most common ways of explaining the concept in a nutshell. But here's a more in-depth explanation of each of them and what you can get out of them.
Integrating social media into betting
Peer-to-peer or communal betting
Sharing of information
#1 – Integrating social media into betting
This is the wider definition of social sports betting.
Following the Twitter account of a betting site is an example of this, as is punters re-tweeting Tweets sent out by the bookmaker. Or replying to Tweets, or even customers posting a new Tweet of their own about a particular betting market, promotion or just their thoughts on a particular sports story or topic, with a betting angle to it.
Yet another example would be in a marketing sense where social betting sites Tweet about a competition that can only be entered via social media, inviting customers to predict what minute the first goal of a particular match will be scored, with bonuses or other prizes on offer for the customers who get it right.
One more example is that of betting sites posting screenshots of betting slips that have won at unusually high odds. Like 10-way accas or huge bets that were placed that also returned huge pay-outs when winning.
But of course, this doesn't have to come from the side of the betting site.
Another form of social betting is to give power to punters by allowing them to request betting markets that aren't available yet or to request new runners in a particular market.
Irish betting giants Paddy Power for example, invite customers to use the #WhatOddsPaddy hashtag to do just that. Rather than customers requesting markets or runners via e-mail or a phone call, they use Twitter. It's an easy way of the punter doing so and a win-win way for Paddy Power to increase engagement with its customers.
Or to put it another way: free publicity.
A customer placing their own screenshot of a betting slip (whether they tag the name of the operator or not), and whether it won or lost, is also an example of social betting.
The ever-colourful and outspoken US boxer Floyd Mayweather is a big advocate of this, often posting screenshots of winning betting slips sometimes going into the millions of dollars as a way of letting his followers know what he's been up to in terms of betting.
Or to put it another way: showing off his wins.
#2 – Peer-to-peer or communal betting
The second definition involves customers placing bets against each other with the betting sites acting as an intermediary. or middle man.
For example, a group of four friends may constantly be trying to one-up or outsmart each other when it comes to predicting who will be the first goal scorer in a football match.
They can set up a competition whereby they each make 3-4 unique guesses as to who might score the opening goal in Chelsea v Liverpool.
The social betting site, let's call them PeoplePunters, will organise everything, hold the money and then pay out the agreed wager once the result is known, to the winner.
PeoplePunters will then charge a small commission for setting the whole thing up. In this sense, they act in a way similar to a betting exchange in that they have no interest in the final outcome or hold a liability; they just take a cut for their troubles.
Why is this appealing to punters? The most obvious reason is that it ensures that losers pay up and that winners get paid what they deserve. Other reasons include adjudicating on disputes or the fact that the group of friends may not live close to each other and may not be in a position to settle the wagers.
Then there's communal betting.
The same group of friends may decide that each one has the chance to nominate a particular bet once a week and that they'll each back it for 10 GBP, whatever the bet is.
The social betting site will then take care of placing the bet with an operator and distribute the winnings accordingly if it comes good. The four friends will obviously need to fund the account among themselves in order for the bets to be placed.
#3 – Sharing of information
There are no shortage of tipsters out there who are happy to share their thoughts on whatever sport or sports they like to bet on. That could be because they like to be part of a community, or perhaps more pragmatically, as a way of trying to win a particular tipping competition against other users.
The tipping competition's prizes could be sponsored by the betting site or it could be the case that each customer taking part in the competition pays a fee to enter.
The nice thing about tipsters sharing tips, with whatever motive, is that there's great transparency.
Whereas Floyd Mayweather may only share screenshots of his winning bet and not his losing ones, social media betting sites will track every tipster's bets and display their stats. So everyone can sort the wheat from the chaff in terms of who can be trusted.
Top Social Betting Sites in the UK
Here are some of the best social betting apps to be aware of.
SBK
Finding all the best tips from a team of experts on football, horseracing, tennis, cricket and other top sports on a social betting app is of course, a good example of social betting. And one SBK are very good at.
In addition to just the plain tips, there's also expert insight that explains the reasoning behind the tips, through stats or other means.
But there's another reason why SBK's app is one of the best social betting apps out there: it usually has better odds than those at any other Sportsbook because the prices are taken from the Smarkets exchange.
Because as we know, betting exchange prices are almost always bigger than those on Sportsbooks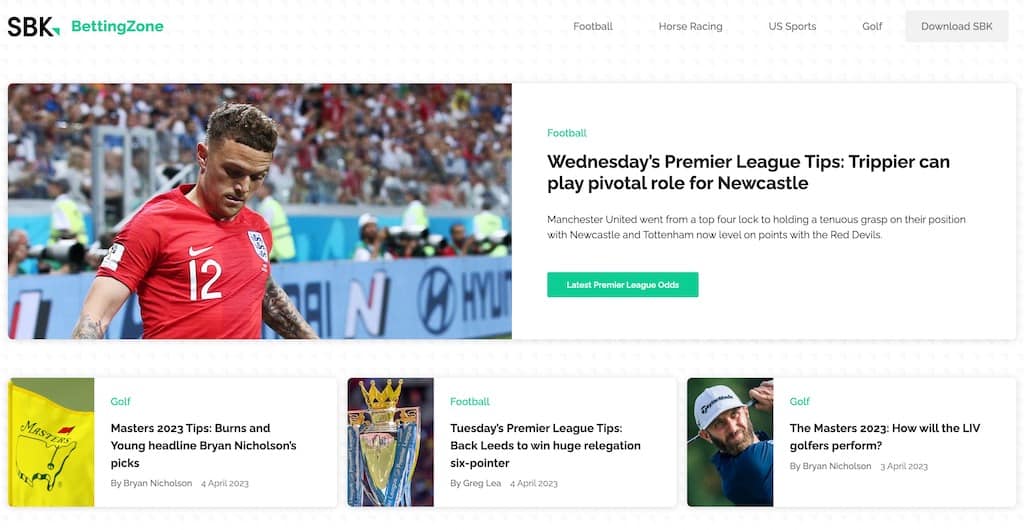 Paddy Power
We've already mentioned the fact that customers can request their own betting markets or bets using the #WhatOddsPaddy hasthtag.
Another cool thing Paddy Power do is let customers compete against each other at Fantasy Sports in their Daily Fantasy Sports Game which includes NFL, football, NBA and golf betting website. Customers enter a competition ahead of a particular game or tournament, pick their team, compete against others and the winner is paid out accordingly.
So rather than just competing against your mates at Premier League Fantasy Football for example, you can take on the world (or at least other Paddy Power customers) for big money.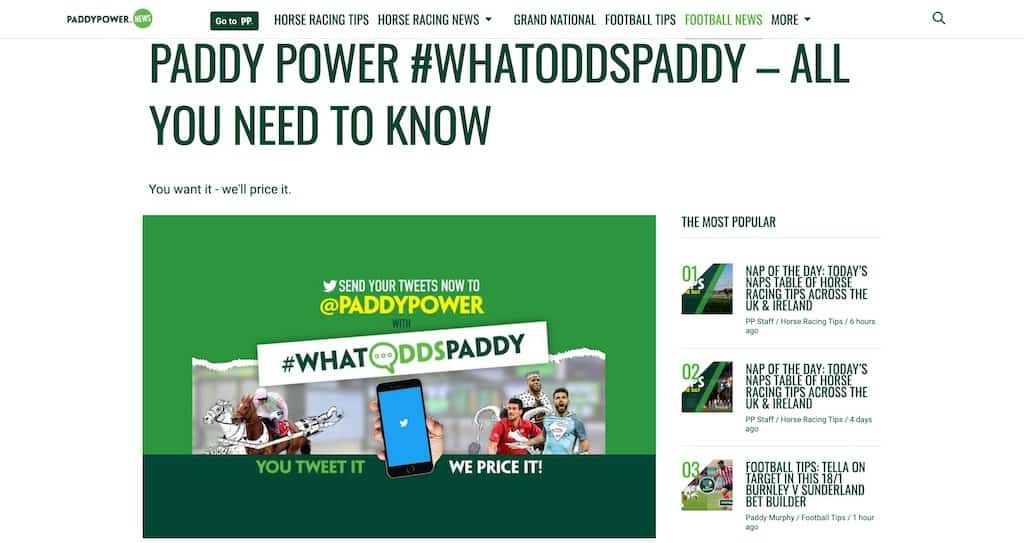 Betfair
In a bid to increase engagement, not to mention increase their number of Twitter followers, Betfair are rewarding customers who perform a particular task and then Tweet, Retweet or share a post on the @Betfair Twitter account.
There are rewards, more precisely bonuses, on offer.
For example, sending a screenshot of you listening to their Football…Only Bettor podcast could have resulted in you winning a 25GBP free bet to your Betfair account if your name came up in a draw.
On other occasions, they select a particular horserace and followers who post their selection by responding to Betfair's Tweet and see the horse romp home, will be in a draw to win, you guessed it, a 25GBP free bet.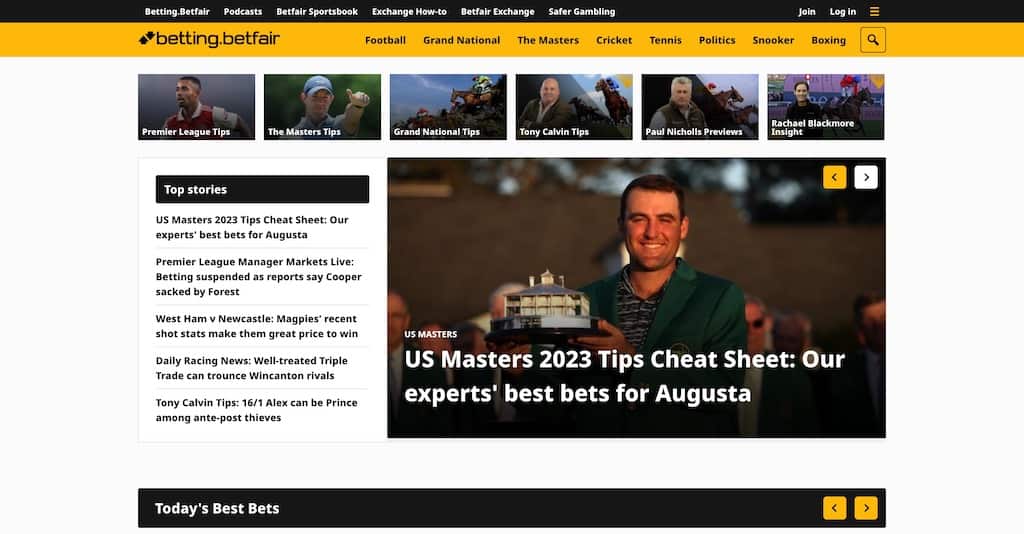 Ladbrokes
Ladbrokes are very active on social media and that includes the chance to win prizes such as tickets to football matches or boxing fights, just for re-Tweeting a Ladbrokes Tweet.
Then there's their Uber-popular 5-a-Side social game where you compete against other Ladbrokes customers.
Verified customers enter a tournament for just 50p ahead of a particular football game.
They then select a formation, pick 5 eligible players and then get awarded points for each contribution their players make.
Like scoring a goal, making a tackle or keeping a clean sheet.
Just like with Fantasy Football, the better their players do, the more points they get and the higher up the Leaderboard they go. The higher up, the better the prize.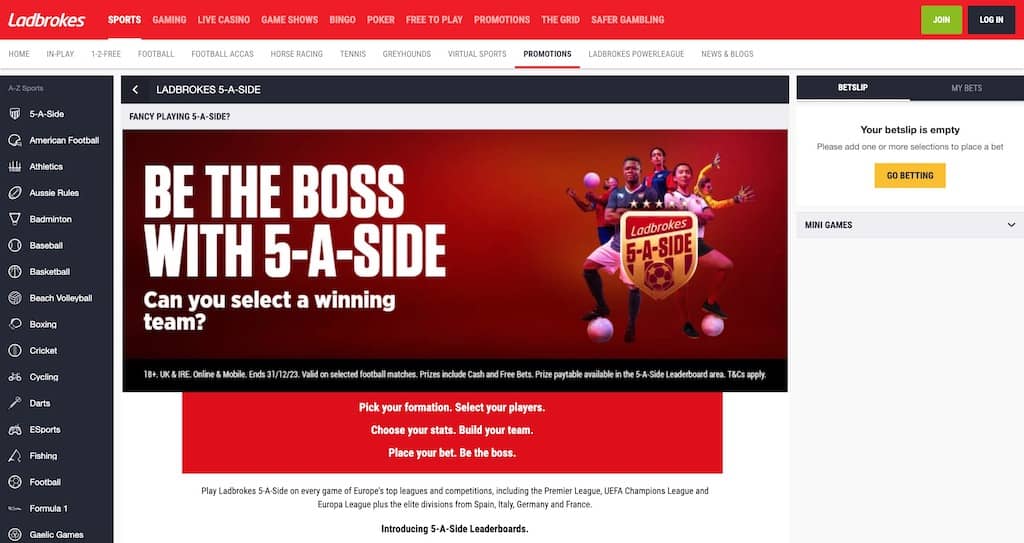 Unibet
Every day Unibet will select a featured Bet Builder on football carefully put together.
They'll then Tweet the selection displaying the different bets making up the Bet Builder.
In addition to followers having access to the selection, Unibet will very often apply a Bet Boost to the selection as an added bonus.
So, whereas the Bet Builder may come to odds of 12.0 (mathematically), they'll boost it to 13.0.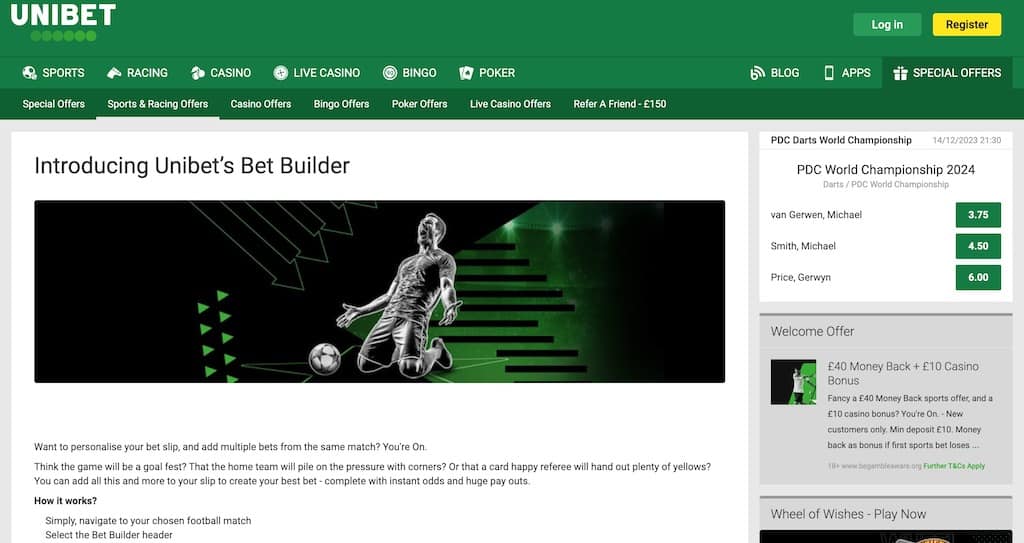 Betway
With online betting, speed is (sometimes) of the essence. This is particularly true when it comes to betting in-play.
So Betway customers can be thankful for the # BetYourWay builder.
In addition to working the same way as it does at other social betting bookies in that you can request single bets and Bet Builders, it allows other customers to see bets that have been requested by other customers.
So, you can see the bets requested by others and bet on them directly in real-time. Meaning you don't run the risk of the odds drastically changing in the time you took to put your own Bet Builder together.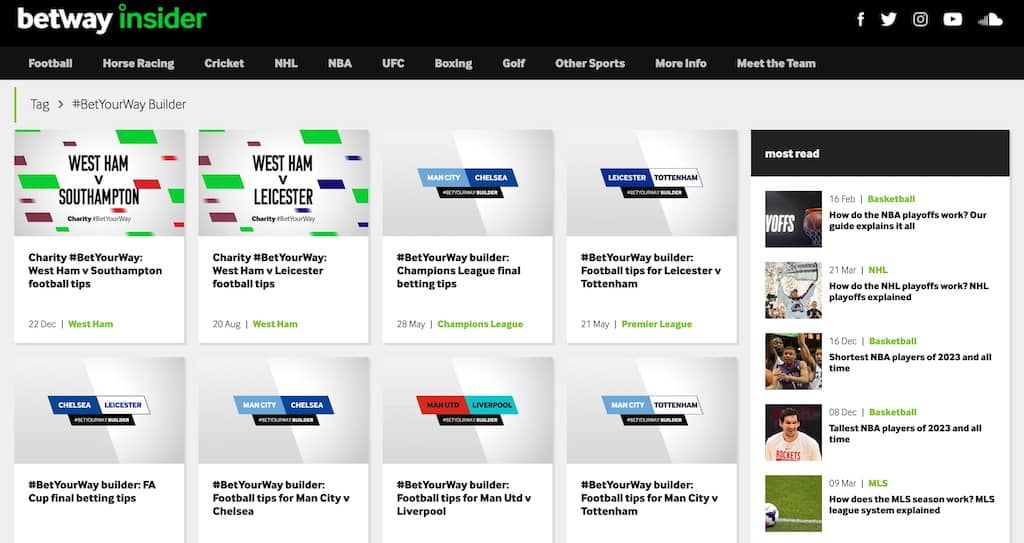 Benefits of Social Betting
There are lots of advantages to social betting. Here are some of the big ones.
Sharing of knowledge can only be a good thing- The more like-minded people there are out there giving their thoughts, insights and tips on social media betting sites, the better. Then it's up to you to decide who you think is worth listening to, or not.
Some tipsters are the real deal- Some tipsters have outstanding records and show healthy profits year after year. Find one or two who consistently win in the long run, and you can enjoy their success yourself.
Tipsters' results are transparent- Bragging about your wins and forgetting about the losses is very convenient. And dangerous. For you. But at the top social sports being sites, every tipster's recommended bets are monitored and recorded. Their tipping stats don't lie, so you can see who's a champ and who's a fraud.
You can play for free– If you're on a tight budget, you'll be glad to know that on several social betting apps, you can take part in tipping competitions and leaderboards for free, with real-money prizes available.
Bonuses are available- Just like they would be on a traditional sportsbook. So making a small deposit will see you rewarded with some decent bonuses to get you going.
Play Fantasy Sports for serious money- If your mates are only keen on playing Fantasy Sports for pennies, remember it doesn't have to be that way. At the likes of Ladbrokes, you can play several different Fantasy Sports against thousands of other customers with big prize pools on offer.
It's fun- Betting should never be about just money. Far from it. Exchanging thoughts and tips, whether they win or not, is far more fun than doing it all on your own.
Potential risks of social betting apps
And now to some of the possible downfalls of social betting…
Danger of betting too much- A Twitter or Instagram account filled with other people's selections on endless games on endless sports may tempt you to bet on too many things. Or at least more than you'd normally bet on. This could lead to losing too much in the short term, or addiction in the long run.
Trolling-Excessive use of social media in any capacity can lead to trolling which may make you feel insecure or worthless. Posting too many (losing) bets or betting-related comments that others don't agree with could lead to trolling, just like it could when using social media for anything else.
Safety– All the bookies listed here can be trusted and are safe and secure. We know that for many reasons, including the fact that they all hold the UK Gambling Commission License. But lesser social media betting sites may not hold a license at all, are therefore unregulated and could lead to trouble.
How can I download social betting apps?
Let's remember that a social betting app is no different to a sportsbook betting app. Or any app for that matter. So the process to download it is the same as ever.
Downloading Android Betting Apps
Choose a social betting site from our list of recommended ones that have Android betting apps.
Open the Play Store on your chosen mobile device – either smartphone or tablet.
Use the search bar to find the betting app – e.g. Type in Betfair, in order to find it.
Once you've found the one you want, hit the green 'Install' button to start the download
Pick the Android device you want to download it to e.g. Your phone.
It will proceed automatically, with the app downloading and installing itself. This shouldn't take more than 30 seconds.
When the app has finished downloading, it will appear in the device's list of apps.
You can change the location of where to find it so it's easier to get to.
Open the social betting app and use your betting login details to get up and running with mobile betting.
Downloading IOS Betting Apps
Choose a betting site from our list of recommended ones that has an Android app.
You may receive a notification while on the site to download the app. If so, just click on it to do so.
If not, go to the section on the site where you can download betting apps.
Choose the IOS/iPhone app.
You will be redirected to the App Store.
Install the IOS app like you'd install any other app on your iPhone by following the simple instructions.
Re-order the location of your IOS betting app so it's easy to find.
Conclusion
Social betting is only going to get bigger. After all, both online betting and social media are growing by the day, so you can bet your last dollar that when merged, its popularity will just keep on rising.
Exchanging thoughts about betting is fun, insightful and helpful. Some tipsters can help you make money. Requesting bets via social media is fast, free and efficient. Taking part in free-to-enter competitions can see you reap rewards, with no risk. Being part of a betting community can be comforting and rewarding, if done the right way.
So, there are plenty of benefits to it as long as you don't overdo the whole thing and as always, keep your betting stakes sensible.