Ladbrokes Boxing Betting
Although football and horse racing betting probably spring to mind when you think of Ladbrokes, in terms of boxing betting sites, it has seen bettors flock to them in its droves.
The homepage is slick and as far as boxing is concerned, you can locate all upcoming fights and bouts taking place in the future in a matter of a few moments. Bettors can fill in a betting slip, and if you want to keep abreast of the latest developments, there is a comprehensive blog supplying the latest news.
Ladbrokes is conducive for mobile, and aside from a cash out feature, new customers will receive a £20 free bet when they make an initial deposit of £5. Our table highlights some of the core features.
| | | | | | |
| --- | --- | --- | --- | --- | --- |
| Sportsbook | Welcome Offer | In-Play Betting (Yes/No) | App (Yes/No) | Live Streaming (Yes/No) | Other Features |
| Ladbrokes | Bet £5 Get £20 in Free Bets | Yes | Yes | No | Bet boost, Cash Out, Request a Price |
Pros
Fully serviced blog with news and tips.
Exciting welcome promotion.
Request a Price feature for unusual markets.
Cons
More odds are needed for boxing section.
No live streaming available.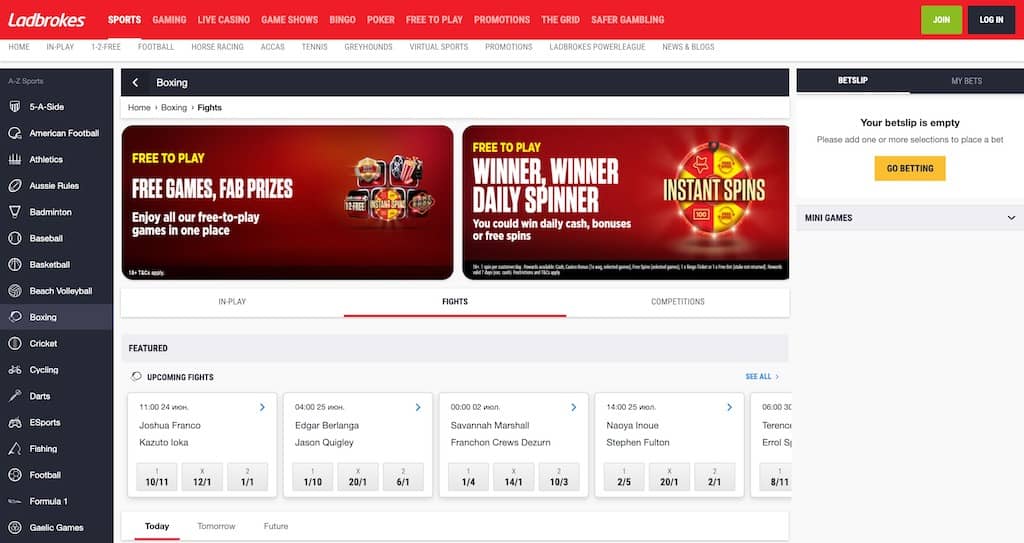 BetVictor Boxing Betting
One of the undisputed kings of bet building, BetVictor has also garnered a positive reputation for being able to place a boxing bet online.
While you will find competitive odds for the undercard and maincard for any given fight, you might also like the 'Potential Fights' section which highlights odds for potential bouts for any given year.
The in-play betting section is rigorous as you won't experience a delay when placing bets as the action rolls between rounds, and weekly free bets are a staple for existing customers. The welcome offer mirrors that of Ladbrokes.
Above all else, the site is highly secure, utilising the latest SSL (Secure Sockets Layer) measure to protect players while they are wagering online.
| | | | | | |
| --- | --- | --- | --- | --- | --- |
| Sportsbook | Welcome Offer | In-Play Betting (Yes/No) | App (Yes/No) | Live Streaming (Yes/No) | Other Features |
| BetVictor | Bet £5 Get £20 in Free Bets | Yes | Yes | No | Loyalty Club, Cash Out |
Pros
Highly secure.
Super boxing betting app.
Strong welcome offer.
Cons
Could offer quicker withdrawal times.
Bet builder is not available for boxing.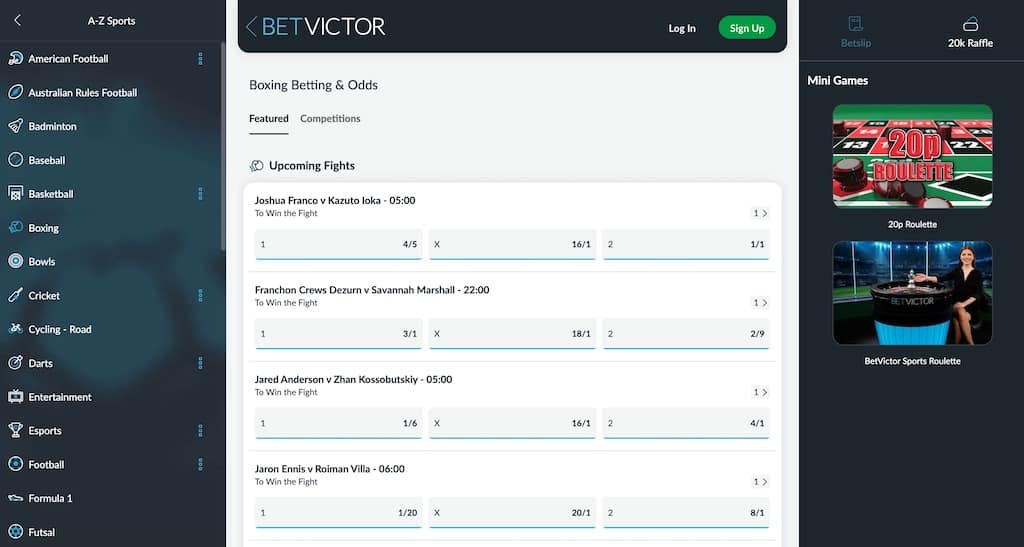 888Sport Boxing Betting
888Sport has its fingers in many pies, and that includes boxing. No stone is left unturned, and you will find plenty of outright markets available for the biggest showdowns which range from the heavyweight to bantamweight divisions.
You may like the 'Made for You' section which refers to specifically designed markets that are tailored to your preferences.
888Sport is rather distinctive in appearance with the orange and black trim for the desktop site, and it is well rated as an app for iOS and Android players.
On the promotion front, 888Sport provides a £30 free bet as well as an additional £10 casino bonus when you place a £10 wager, and it also claims to have the best odds guaranteed.
| | | | | | |
| --- | --- | --- | --- | --- | --- |
| Sportsbook | Welcome Offer | In-Play Betting (Yes/No) | App (Yes/No) | Live Streaming (Yes/No) | Other Features |
| 888Sport | Bet £10 Get £30 in Free Bets + additional £10 casino bonus | Yes | Yes | No | Made for You, Bet feed including new bets, Cash Out, Acca Club |
Pros
Best odds guaranteed.
Solid opening offer for new customers.
Free boxing bets as part of the 'Acca Club' promotion.
Cons
Customer support could be better.
Desktop version looks rather outdated.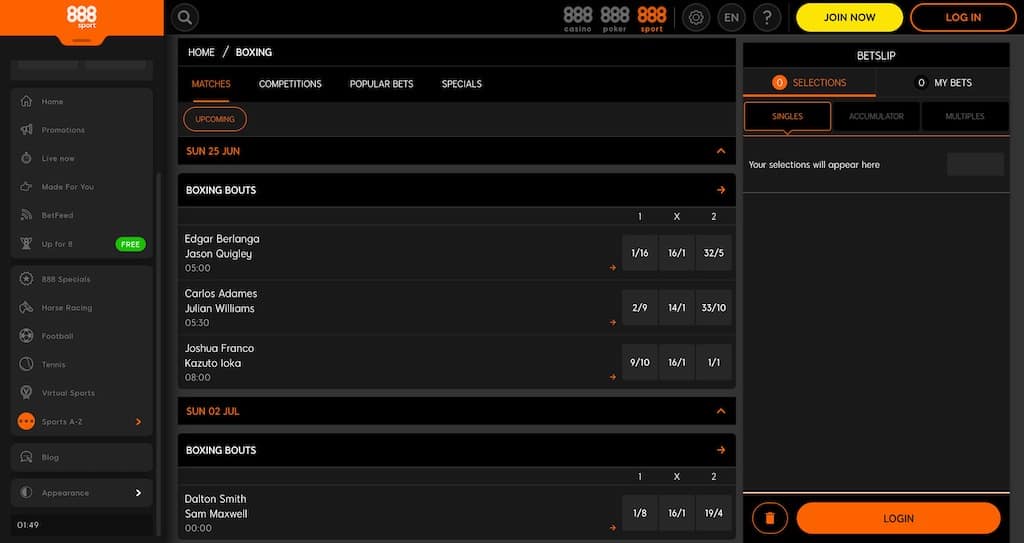 SBK Boxing Betting
SBK is unique as it is the sole mobile-only boxing operator on this list. As such, a lot of thought has gone into producing a boxing betting app that players can be proud of.
As such, SBK is designed with the modern-day bettor in mind, and while it is not as prestigious as the likes of Ladbrokes and bet365, it is slowly starting to make waves.
A raft of boxing markets are available, and new customers can tap into a Bet £10 Get £30 in free bets style offer upon joining the site.
One thing that stood out apart from the competitive odds was the community betting tips which is a forum for bettors to share their thoughts on an upcoming bout and provide insights for fellow gamblers.
| | | | | | |
| --- | --- | --- | --- | --- | --- |
| Sportsbook | Welcome Offer | In-Play Betting (Yes/No) | App (Yes/No) | Live Streaming (Yes/No) | Other Features |
| SBK | Bet £10 Get £30 in Free Bets | Yes | Yes | No | Cash Out, Auto Acca, bet builder |
Pros
Brilliant for mobile betting.
Competitive odds.
Community betting tips section.
Cons
Not well received in terms of app reviews.
Can't get 24/7 customer support.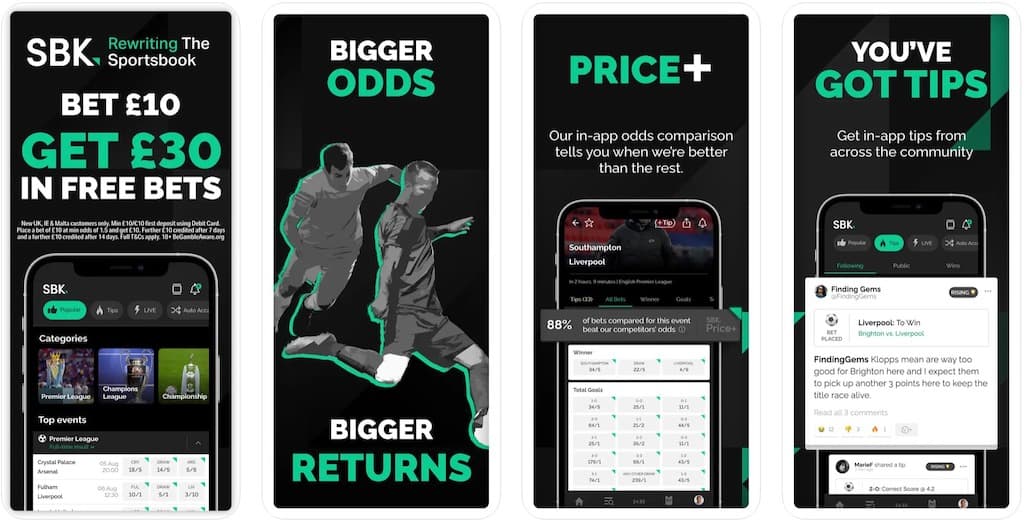 BetUK Boxing Betting
Contrary to its name, BetUK doesn't just cover British pugilists. Rather, BetUK is one of the most comprehensive boxing betting sites in terms of scope of coverage, and you can find odds for prices all over the world.
The site is quite simplistic in terms of appearance, but that arguably gives it an uncluttered feel, providing a seamless experience for bettors.
In-play betting is available, and for those scrambling for a last-minute bet, you will notice a 'Starting soon' segment of the site which will be useful if you are after a quick wager.
You will find some specials floating about on the odds front, and the Bet £10 Get £30 in Free Bets meets the industry standard. Available on iOS and Android devices, BetUK is licensed by the UK's Gambling Commission ensuring a safe experience.
| | | | | | |
| --- | --- | --- | --- | --- | --- |
| Sportsbook | Welcome Offer | In-Play Betting (Yes/No) | App (Yes/No) | Live Streaming (Yes/No) | Other Features |
| BetUK | Bet £10 Get £30 in Free Bets | Yes | Yes | No | Cash Out, Starting Soon |
Pros
Starting soon section.
Industry standard welcome offer.
User-friendly site.
Cons
No live streaming
Could have more options for deposits and withdrawals.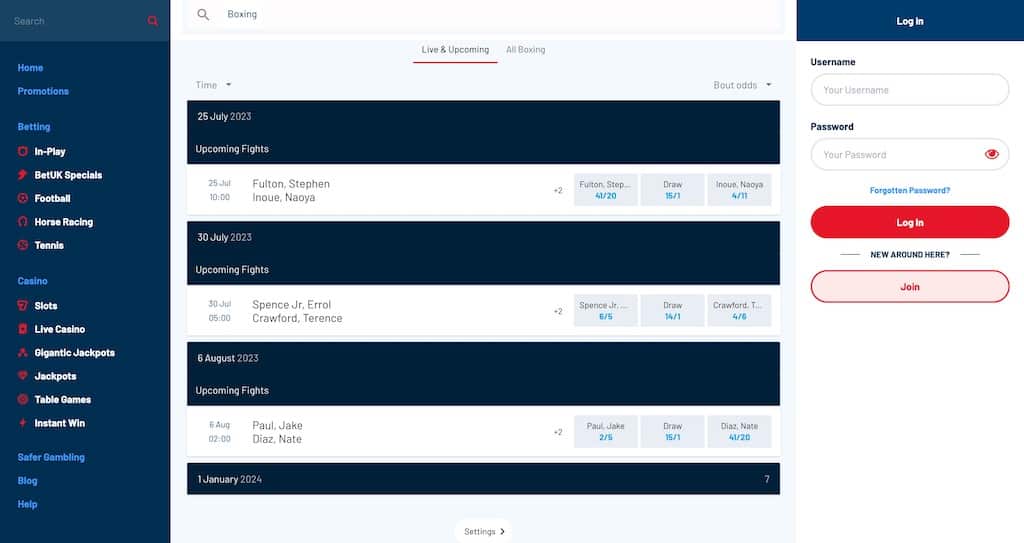 Spreadex Boxing Betting
Spreadex stands out as it is the only sportsbook on this list that doubles up as a sports betting site and financial trader. Therefore, when it comes to the best boxing sites, Spreadex is worthy of a mention.
In-play betting is available here and aside from fixed odds, you can enjoy spread betting which adds a different dimension to gambling on boxing.
In many respects, Spreadex has a lot going on in terms of content, and usually you will get at least four markets per any given bout.
Live streaming is only available for horse racing, but the welcome bonus is very generous — Bet £25 and get up to £50 in bonuses. Spreadex goes the extra mile and customers will appreciate it.
| | | | | | |
| --- | --- | --- | --- | --- | --- |
| Sportsbook | Welcome Offer | In-Play Betting (Yes/No) | App (Yes/No) | Live Streaming (Yes/No) | Other Features |
| Spreadex | Bet £25 and Get up to £50 in bonuses | Yes | Yes | No | Cash Out, blog, Refer and Earn loyalty scheme |
Pros
More sophisticated boxing betting site.
Very generous welcome bonus.
Multiple markets per bout.
Cons
Cluttered in its appearance.
Basic in-play betting experience.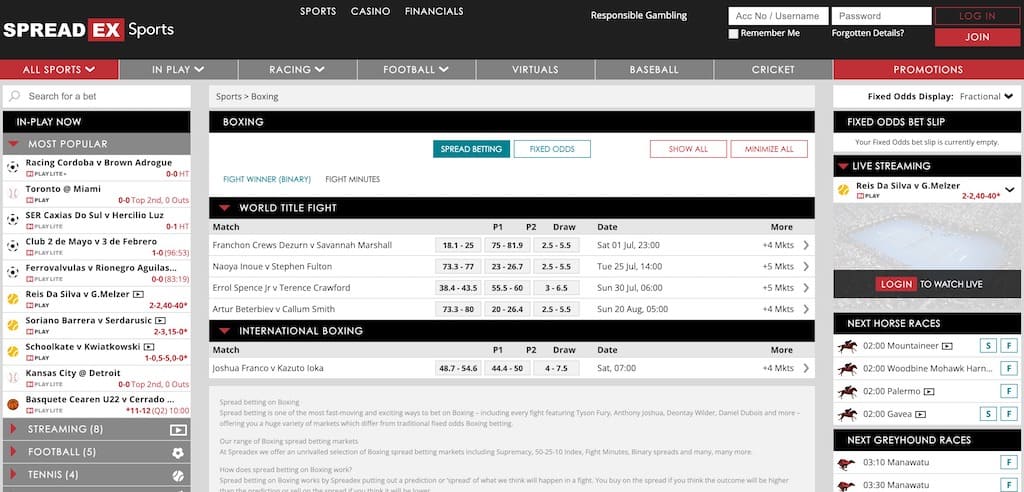 What to look for when choosing a boxing betting site?
If you want to sign up for top boxing sites, there are a few things you need to take into consideration when conducting your research. Below, we have made things easier by highlighting the critical factors to be aware of before proceeding.
#1 – Odds
The quality of odds available is sacrosanct. The sites we work with provide competitive odds, and some will have price boosts to give you more value for your wager/s.
#2 – In-play betting
Live betting has been a gamechanger, and all sportsbooks should have in-play markets available, so you can track the odds and change tack accordingly, such as cashing out early.
#3 – Live streaming
Sites worth their salt will have a crisp and reliable live streaming product that will allow bettors to keep tabs on the action and ensure they don't miss a round if they are unable to watch an event on TV.
#4 – Bonuses
Bonuses and promotions should be a selling point for boxing betting sites, and the ones that will appeal most will be replete with free bets or require a small minimum deposit to be activated.
#5 – Banking options
Aside from the traditional banking methods, such as debit cards, the best boxing betting sites will have a wide range of options for making deposits and withdrawals, including e-wallets, such as PayPal, and you won't incur extra charges in the process.
#6 – Mobile betting
Apart from having a presentable desktop version, there should be an emphasis on the mobile betting product. This means a boxing betting app should be responsive and there should be no buffering issues if using a live stream.
#7 – Licensing & Security
Boxing sportsbooks should have the latest security measures installed, and they should be approved by an official gambling body, whether that be in the UK or overseas. You need to be armed with the full facts of a betting site before signing up.
Popular Boxing Betting Markets
The best boxing sites will be brimming with a plethora of lines for fans to sink their teeth into, and we have outlined some of the most popular.
Winner/outright – This is the simplest form of wager as you just have to predict who will win the contest. Like football, there are three outcomes available, as you can also place a wager on a draw.
Over/Under betting – In men's professional boxing, fights will consist of 12 three-minute rounds, and you can guess how many rounds the contest will finish in. If you side with the Under 7.5 rounds line, for example, the contest must be concluded in seven rounds or fewer.
Method of Victory – A boxing bout can be concluded in several ways, and boxing betting sites will offer a variety of options, such as TKO (Technical Knock Out), KO (Knock Out), or stoppage.
Futures – Punters can take a much longer term perspective with their betting, and you could find markets for who will be crowned WBO or WBC cruiserweight or heavyweight champion in 2024, for example.
Go the distance – If you think there is little separating two fighters, you can locate lines for the fight to go the distance and last the full 12 rounds. After that, the winner will be at the mercy of judges' scorecards, who will mark the contest as they see it.
The most important belts in professional boxing
For boxers in the upper echelons of the sport – the four main world title belts per division are covered by the following organisations:
Within that, fighters may hold multiple titles simultaneously. So, for example, there is the lineal champion, which is determined by the world-famous Ring magazine until a challenger comes along and dethrones him.
A unified champion, meanwhile, will hold two or more sanctioned titles from the aforementioned organisations, while the undisputed champion will hold all four major belts (IBF, WBA, WBC, WBO). Lennox Lewis, who ended his heavyweight career with an outstanding record of 42-1-1 (32 KOs), falls into the celebrated category of British undisputed champions.
Boxing Jargon – Terms You Need to Know
Boxing, like most other sports, is filled with jargon that may be unfamiliar to some punters. Below is a mini glossary of some of the most popular terms which are accompanied by short descriptions for each:
Beat the count – When a boxer is floored by their opponent, the referee will give the fighter a count to 10, and while a boxer may pick himself up from the canvas, the referee will check to see whether he is fit to continue or the fight will be stopped.
Bob and weave – These are defensive tactics used to evade a punch. A fighter will be told before the start of a bout to protect themselves at all times.
Canvas – The stretched flooring in a boxing round. It will be covered with a layer of padding to top the metal or wooding platform.
Clinch – A fighter will lock arms with their opponent and it is a tactic used to prevent a punch from being thrown.
Going the Distance – The contest will go the full 12 rounds and the ringside judges will inform the match referee of who won the contest by what they have noted on their written scorecards.
Jab – A straight-up punch, which for orthodox fighters, will be with their left hand. It will usually be thrown as part of a devastating combination.
Saved by the Bell – This is when a referee when a boxer takes a bit of a battering in a round, but the brutality is stopped by the bell being rung ringside. A fighter's team will try to repair any cuts and provide water to hydrate their wounded star.
Stance – This is the way a fight will set up during a contest. The two styles adopted will be orthodox and southpaws, and southpaws can be slippery customers.
6 Tips and Insights for successful boxing betting
To maximise the enjoyment of placing a boxing bet online, you ought to take advantage of the following tips to generate more successful wagers:
#1 – Keep up-to-date with pre-fight news
To stay in the know, make sure you read up to see how pre-fight camps are going. Sometimes, boxers can pull out due to injury, so make sure you are in the loop before placing a wager.
#2 – Read news and tips
While you shouldn't take a writer's word as gospel, they may give you things to consider such as stats and other pearls of wisdom that you should mull over before you place a boxing bet online. Also, bear in mind the individual styles of boxers.
#3 – Fade public opinion
Sometimes, it can be too easy to follow the general consensus. Instead, use your head and let your research dictate who you should back for a contest.
#4 – Take advantage of bonuses
The best boxing sites will usually have a wealth of bonuses which you should capitalise on to make your betting experience more enriching.
#5 – Gamble responsibly
Set yourself a budget for each given match, and don't bet more than you can afford. You should always gamble responsibly.
#6 – Search for value
The outright markets don't always provide much value as the favourite will carry very short odds. Expand your horizons and seek out lines that will bolster your bankroll significantly with a win.
Bottom Line On Boxing Betting
Boxing betting should never be done in a vacuum. While it is inherently popular in the UK, it requires time and patience to master it, and of course, plenty of research needs to be carried out before placing a wager.
The best boxing betting sites will throw up ample lines for you to bolster your winnings, and in-play betting has been a gamechanger in terms of thrusting punters into the heart of the action.
Performance metrics are critical for measuring the finest boxing sites, and bet365 should be your first port of call for betting on boxing. Aside from possessing a robust live streaming product, it is clean cut and works perfectly for mobile devices. It provides a hassle-free experience, so check the site out today and deliver some telling blows with your boxing betting slip!