Editors' pick: Best PayPal Betting Sites in the UK
It's now time to run through our six favourite operators in the UK for online betting with PayPal, and we explain what makes them tick. Our mini reviews should give you the confidence to sign up for one of these sites if PayPal is your preferred payment method.
Ladbrokes
Arguably one of the UK's most established bookmakers, Ladbrokes is also a reliable PayPal betting site. Available for making deposits and withdrawals, our table illustrates typical payout times.
| Payment Method | Minimum withdrawal amount | Completed withdrawal time |
| --- | --- | --- |
| PayPal | £5 | Within 8 hours |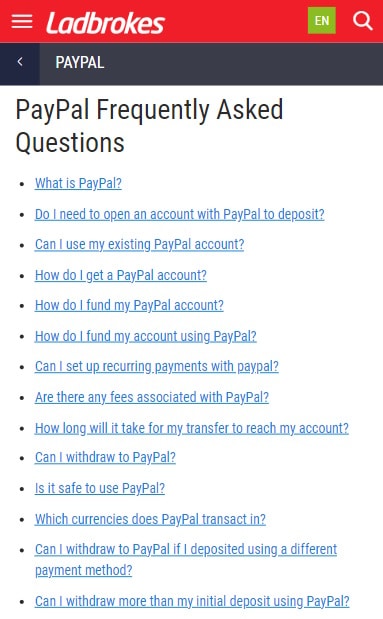 Pros
Simple to set up an account at Ladbrokes.
Well optimized for mobile betting.
Abundance of in-play betting markets.
Small minimum withdrawal amount required.
Cons
Takes up to 8 hours to complete withdrawals.
Complicated terms and conditions.
bet365
bet365 is one of the biggest PayPal betting sites and the most innovative too. Making deposits and withdrawals is seamless, as illustrated by our tables.
| Payment Method | Fee | Process Time | Min | Max |
| --- | --- | --- | --- | --- |
| PayPal | Free | Instant | £10 | £5,500 |
| Payment Method | Fee | Process Time | Min | Max |
| --- | --- | --- | --- | --- |
| PayPal | Free | Within 24 hours | £5 | £2,000 |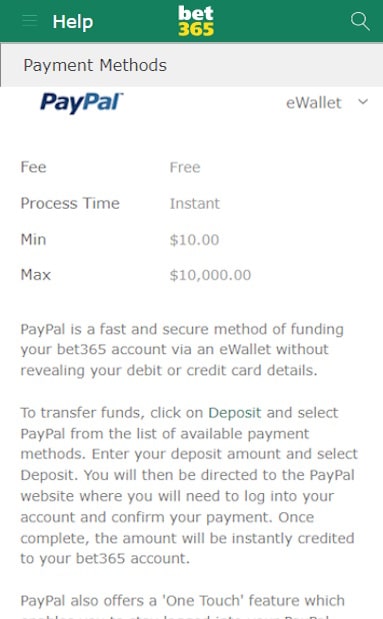 Pros
No additional depositing fees.
High maximum amount for making deposits.
Accessible for betting on a variety of markets.
Live streaming.
Cons
Delay on live chat.
No VIP program.
Coral
Coral bears similar traits to Ladbrokes in terms of betting sites that accept PayPal. Navigation is straightforward on desktop and app, so let's look at the typical deposit and withdrawal process.
| Payment Method | Min Deposit | Processing Time |
| --- | --- | --- |
| PayPal | £10 | Instant |
| Payment Method | Min Withdrawal | Completed withdrawal time |
| --- | --- | --- |
| PayPal | £5 | Within 8 hours |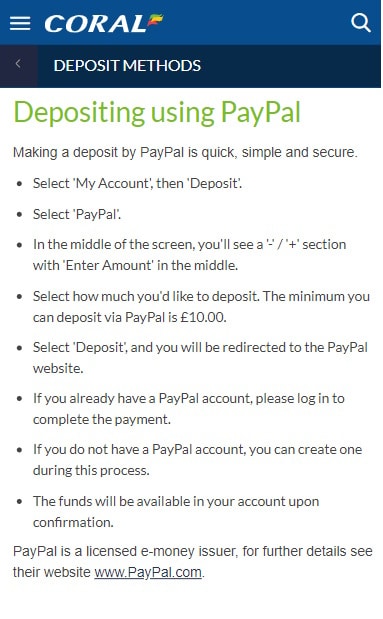 Pros
Instant processing times for depositing.
Cash Out function.
Can use PayPal for bet builders.
User-friendly registration process.
Cons
No VIP program.
Desktop needs a revamp.
888Sports
With its orange and black design, 888Sports is very distinctive, and it is also one of those distinguished bookmakers that accept PayPal for deposits and withdrawals. Our tables explain more.
| Payment Method | Min Deposit | Processing Time |
| --- | --- | --- |
| PayPal | N/A | Up to 10 minutes |
| Payment Method | Min Withdrawal amount | Processing Time |
| --- | --- | --- |
| PayPal | N/A | 2-3 days |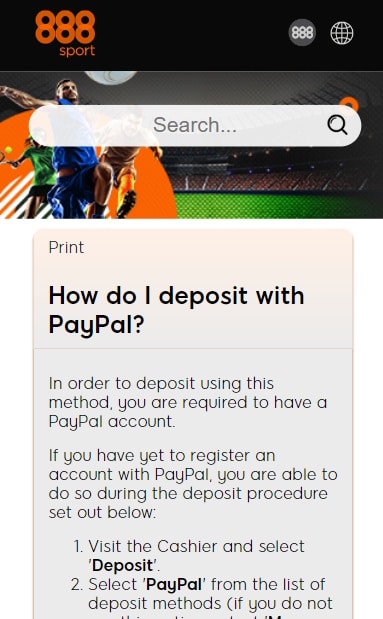 Pros
Deposits are processed almost instantaneously.
Good welcome offer.
Competitive odds.
Cons
Can take up to 3 days to process withdrawals.
Live streaming limited to horse racing.
10Bet
One of the sleekest operators around, 10Bet is aimed with the modern bettor in mind. It is also one of the best PayPal betting sites as our tables attest.
| Deposit Method | Min Amount | Fee | Processing Time |
| --- | --- | --- | --- |
| PayPal | £10 | Free | Instant |
| Withdrawal Method | Min Amount | Fee | Processing Time |
| --- | --- | --- | --- |
| PayPal | £1 | Free | 1-2 days |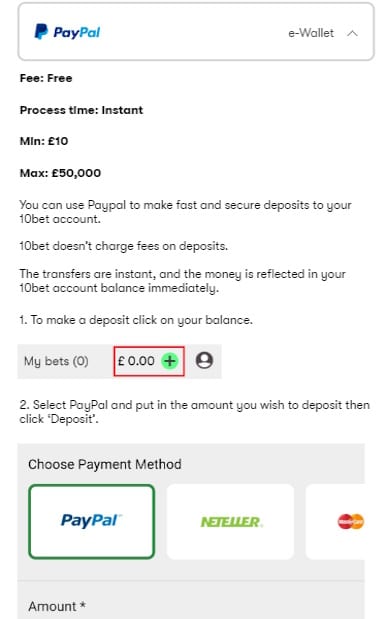 Pros
Can withdraw for as little as £1.
No additional fees for depositing or withdrawing.
Well-designed bookmaker.
Cons
Odds could be better.
High rollover requirements for welcome bonus.
How does Betting with PayPal Work?
To get started with PayPal, there is a bit of admin for you to deal with first. New customers will have to create a PayPal account that will be separate from their betting account. You will have to deposit funds into your PayPal account before logging back into your betting account.
It boasts robust security measures and it is a safe way to make transactions. As you will see, making deposits and withdrawals should be hassle-free. Let's now break down the deposit and withdrawal methods for PayPal, as well as fees.
General info
PayPal, more generally speaking, is designed to simplify your life and you can use it to send and receive money. As far as sports betting is concerned, PayPal is extremely popular, and you will usually find a drop-down menu where you should see PayPal listed as a payment option.
Make sure you read the terms and conditions fully, and check to see if you can deposit and withdraw using PayPal, otherwise, you may be ineligible for the welcome bonus. Oh, and check if there are any additional fees.
Deposit with Paypal
Making deposits at PayPal sports betting sites should be a breeze. At most operators, you can do so by following this simple step-by-step guide.
Select PayPal as your payment method.
Insert the amount you wish to deposit.
Click the button to confirm your amount.
Verify the transaction on your PayPal account.
Authorise payment.
Once approved, you can bet as you wish.
Withdrawals
When playing at PayPal bookies, you need to make sure you have enough in your account to make a withdrawal. And like depositing, the process is straightforward.
Select withdrawal and click on PayPal.
Enter the amount you wish to withdraw.
Click the 'Withdraw' button.
Confirm amount and wait for clearance.
Fees
Typically, fees will be minimal when using betting sites that accept PayPal. Usually, these will be stated in the payments section. Either they will be free or there will be a small amount that will be levied. This could be as little as 0.2%, but make sure you are aware of this before signing up.
How to set up a PayPal Account
If you are looking to play at some of the top PayPal betting sites we have listed on this page, you will of course need to set up a PayPal account. We have run through below in bullet points how you can do this, and have outlined any necessary documentation you require.
Select your account type by ticking the appropriate box.
Fill in the registration form.
Create a strong password.
Provide additional requested details (you will need a passport or ID at this point in the process).
Link your credit card or debit card to your betting account.
Verify your email address to complete the process
How can I deposit and withdraw with PayPal?
You may be wondering, you may be wondering at this point how to deposit and withdraw with PayPal. Let's show you how you can do so using one of our recommended UK PayPal betting sites — 10Bet.
Making a Deposit
Make sure you're logged into your 10Bet account.
Head over to the cashier page.
In the top right-hand corner, click the "+" button for PayPal.
Then, hit the "Deposit" button.
Enter details, such as account number and expiry date.
You'll be redirected to your PayPal account.
The deposit should be processed instantly.
Making a Withdrawal
In the "My Account" section, you'll find the "Withdrawal" option.
Click it and you'll be redirected to the Withdrawal page.
Find the PayPal option.
Then, look for the "Withdraw" button.
Select the amount you wish to withdraw.
Click "Withdraw" at the bottom of the page.
Transaction will be pending as 10Bet reviews it.
The money should be heading to you!
Benefits and Limitations of Using PayPal
Like with most digital payment methods, PayPal is held in high regard. There are advantages associated with this option, as well as disadvantages when playing at bookmakers that accept PayPal, so let's assess them below:
Pros
Fast Payouts
As PayPal is an e-wallet, you are entitled to expect payouts when betting online. The best PayPal betting sites will allow you to receive your winnings within 24 hours, with Ladbrokes and BetVictor prime examples.
Compared to other traditional payment methods, such as a debit or credit card where there can be delays, PayPal doesn't have the same issue. Therefore, players will have a more enriching betting experience.
Strong security
One of the things that bookmakers pride themselves on is ensuring players are protected when they play online. At the most reputable PayPal betting sites, there are several measures employed, such as SSL (Secure Socket Layer) in place to ensure financial data isn't leaked.
And if you are worried, you will find that the customer service team will be on hand to tackle any potential issues.
Email payment confirmation
With PayPal, you will also receive an email for each transaction you make. For example, if there is a payment displayed on your account but you don't remember making it, you can alert the PayPal team quickly. An investigation will be launched to resolve any underlying problems should they crop up.
Fraud Monitoring
PayPal has sophisticated technology installed as mentioned earlier, and that includes fraud monitoring and prevention devices. Suspicious transactions will be flagged.
Therefore, you can bet safely in the knowledge that you won't be subject to any phishing attempts by cyber criminals when you play online.
Easy to set up
PayPal is rather straightforward in terms of registering your account. There are only a few steps required, and you can sync up your credit or debit card with your PayPal account.
If you want to play at PayPal bookies, bankrolling your account is seamless and there is encryption data built in, so you can keep track of payments made.
Convenient way to send money
For many, PayPal is a simple way to send money. You don't need to hand over any financial details. All you will need to do if you are playing at a PayPal betting site, is make sure you have the bookmaker's details, and you don't have to hand over any personal financial details if you don't feel comfortable.
As mentioned, you don't have to wait long to receive the money if you are say collecting winnings on a successful wager.
High limits for high rollers
If you are one of those bettors that like to indulge in accumulators or place more over-arching bets, then the most reputable PayPal bookmakers will have high limits for more experienced players.
At some of the sites we have referred to in this guide, you will be able to deposit as much as £5,000 for one wager which is great if you intend to spend a significant proportion of time at UK PayPal betting sites.
Widely accepted
PayPal has been around for a long time, and it is widely in circulation in terms of payment methods. Reputation counts for a lot, and PayPal is robust when it comes to making deposits and withdrawals. There is a reason why people trust using it, so that has to count for something!
Cons
Transaction fees
While it is free to set up a PayPal account, and PayPal deposits will generally not hit you in the pocket, there can sometimes be hidden or additional fees incurred, especially if receiving funds abroad.
You should therefore ideally be based in the UK when playing at a distinguished British PayPal betting site or speak to customer service if you are unsure.
Withdrawals can be held up
While PayPal is generally swift when it comes to payouts, there may be some bookmakers that will be over-zealous for processing withdrawals.
As we have seen, PayPal takes security very seriously and will take time with subsequent checks, but slow withdrawals can be frustrating for those who want instant access to winnings. In some cases, you may have to pay extra to get instant transfers.
Not cheap to use abroad
Using a PayPal betting site abroad can be problematic, at least if you are wagering abroad. Typically, if you want to make a currency transaction, you will have to pay a currency conversion fee of 3-4%, as well as any relevant service fee on top of that.
So, if you are wishing to make an international payment to say a PayPal bookmaker, then you are better off using a more specialist payment service such as Wise.
Alternative E-wallet Payment Methods to PayPal
If you don't wish to use PayPal to place wagers, there are a few e-wallet alternatives that may seem more attractive. Let's run a few of them.
Skrill
In many ways, Skrill runs similarly to PayPal. Although PayPal is universally more popular, you can still link your Skrill account with your bank card.
One of the downsides of Skrill, is that you will often find that many sportsbooks will exclude this payment method from welcome bonuses. This is certainly worth bearing in mind if you like to tuck into juicy opening offers, such as free bets or matched deposits.
Neteller
Neteller has been around for a long time, and it processes transfers and deposits with different currencies rapidly. This payment method boasts a mobile app and it has virtual cards for users. However, unlike PayPal, you won't incur extra fees when receiving money from overseas.
EcoPayz
EcoPayz is also a legitimate payment method for sports betting. It has surged in popularity, and it is trusted by bettors. It is straightforward to set up, and probably easier than registering a bank account.
You can expect to find the latest SSL installments, and it comes with high deposit limits which will be suitable for high rollers.
PaySafe Card
PaySafe Card comes in two types — the classic version which can be purchased at retailers or a prepaid Mastercard where you can define your own limits.
With the prepaid Mastercard, you will have to pay minimal annual maintenance fees, whereas for the classic card, you don't need a bank account. You can also store the card in your iOS wallet, but you will normally find, you can't use this payment for making withdrawals at online bookies.
Is PayPal a safe betting option for Sports Betting?
PayPal is a convenient, but most importantly a secure payment method that can be used for sports betting. Withdrawals will be processed quickly, and have minimal, if zero fees, is certainly a huge advantage.
The fact that it is widely available at many of the best UK sports betting sites underlines the popularity of it as a payment option. We would also never recommend a PayPal betting site that doesn't have a UKGC (United Kingdom Gambling Commission) license.
So, if you are intrigued and want to get started, then sign up at one of our favourite PayPal betting sites to see what all the fuss is about.
Related articles
FAQ