Best Free Bet Offers – Editor's Picks for 2023
In the UK alone, there are dozens upon dozens of excellent sportsbooks you can choose from. In turn, the vast majority of these will provide you with free bets one way or another. We've saved you the time needed to look through all these options yourself. Instead, you can simply see the very best free bet offers in one handy list, below.
SpreadEx
Ladbrokes
Bet365
Betway
Coral
LiveScore
Dazn
Betfred
1. SpreadEx
Technically, SpreadEx actually has separate free bets offers for its fixed odds and spread betting sections. Fixed odds betting is far more popular, however, so we'll focus on that here. Newcomers to SpreadEx can enjoy an excellent free bet welcome offer, in which you bet at least £25 and get up to £50 in bonuses. The minimum odds for your qualifying wager are nice and low, at only 1/2, giving you a great chance of winning that.
Better still, your rewards here are split up into various parts. By default, you'll be given 5 x £5 free bets when your first wager settles. After that, however, you can actually claim a further £25 in free bets for meeting further requirements, and you even get 50 free spins for the Starburst slot thrown in.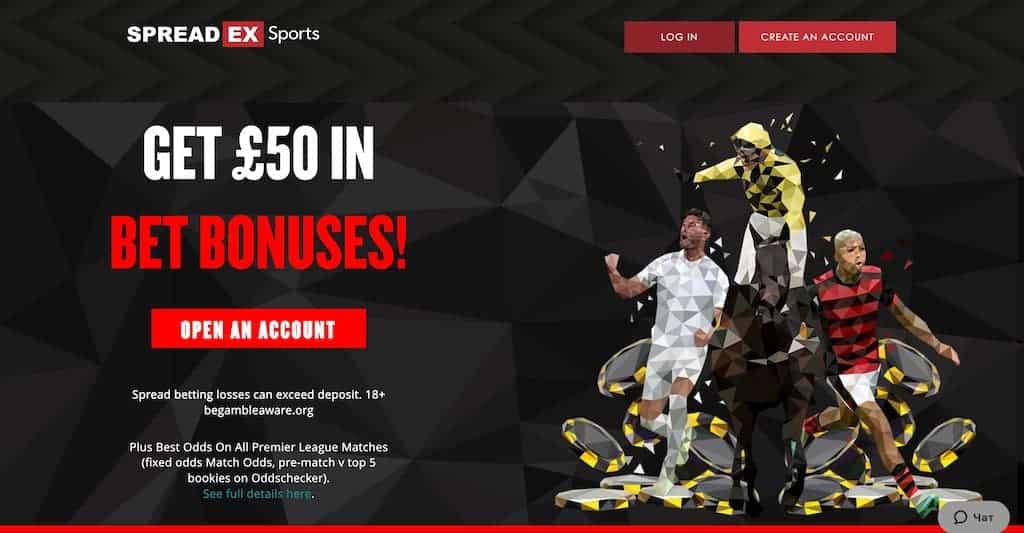 2. Ladbrokes
Ladbrokes is one of the most prestigious names in British betting, having been around since 1886. One of the reasons for its incredible longevity has been the provision of high quality deals, and that's exactly what you'll find right now.
The current Ladbrokes welcome offer gives you £20 in free bets, in exchange for a mere £5 qualifying wager. That already equates to a cool 4:1 return, and the fact that these bonuses are split into 4 x £5 free bets allows you to spread your exposure when using them. Even after your welcome bonus is used up, you can get more free bets from Ladbrokes' aforementioned Acca Boost and Acca Insurance promos.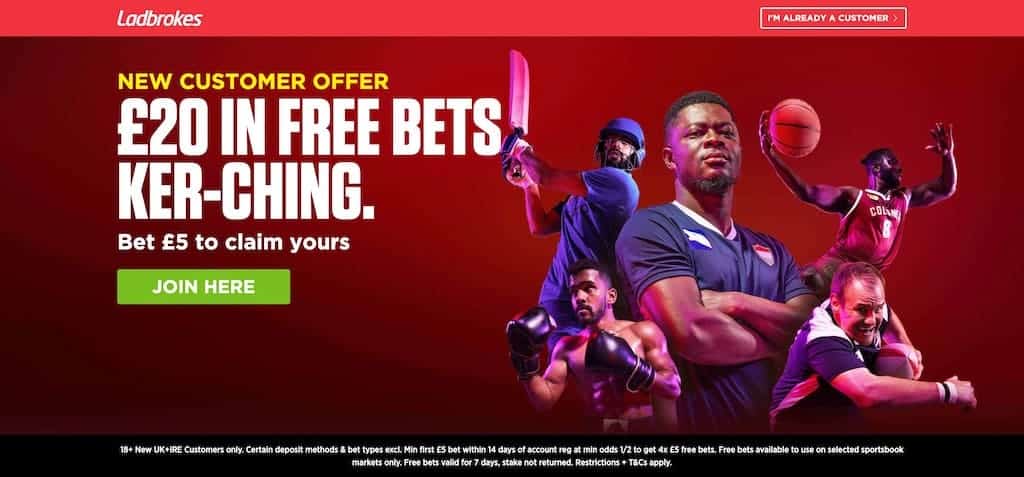 3. Bet365
Bet365's success over the past couple of decades has been astounding. As with Ladbrokes, one of the keys to this has been providing a constant stream of the very best free bet offers around. The current Bet365 welcome offer is absolutely fantastic. You can deposit and bet anything from £5-10 when you sign up, and will receive free bets online worth a mighty 5x that amount, up to £50. The odds for your qualifying wagers are incredibly low, at only 1/5, and you get an exceptionally generous 90 days in which to use them. Elsewhere, Bet365 also offers Accumulator Bonuses worth up to 70%.


4. Betway
Free bets are arguably Betway's main calling card, especially those which are triggered via accumulators. The current welcome offer is a perfect example of this long-term trend. To trigger it, your first wager must be an acca of at least £5, with 3+ legs and odds of 2/1 or higher. If it wins, you keep your winnings. If it loses, you get a free bet matching your stake, worth up to £30.
Betway keeps the good times rolling after that, with its famous Free Bet Club. To qualify, you must place 3+ selection accas worth at least £25, at odds of 2/1 or higher. Do so within a given week, and you'll get £15 in free bets back.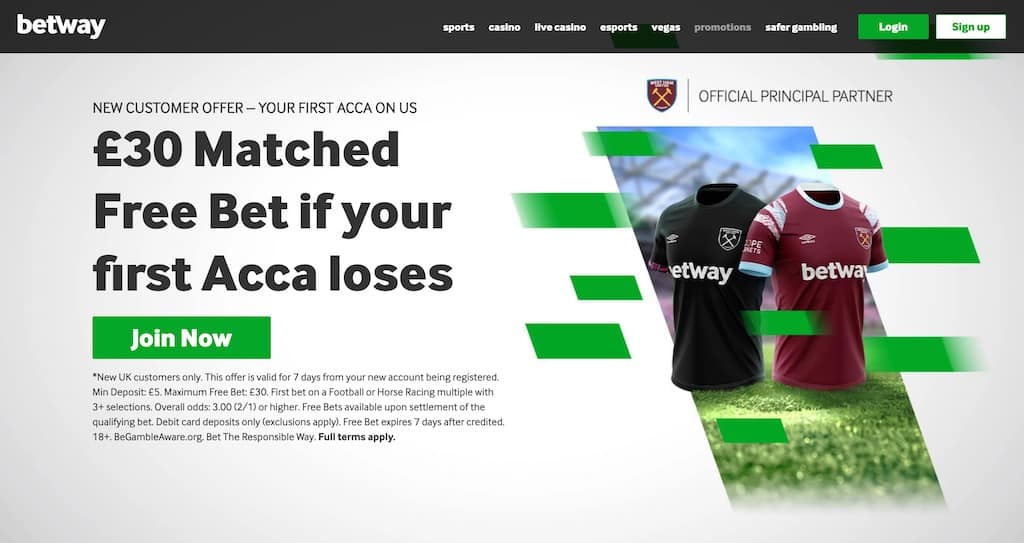 5. Coral
Coral is another bookie with an incredible track record, stretching back to 1926. Concocting some of the best free bets offers in the industry have certainly helped keep it relevant, and its current selection is typically excellent. Similarly to Ladbrokes, the welcome offer here is a classic Bet and Get deal, in which you wager at least £5 and receive £20 in free bets back. The qualifying odds are also only 1/2, giving you every chance to win that first wager.
After that, you'll find a whole range of ongoing free bets offers waiting for you. There were four such deals at the time of writing – one each for football, golf betting websites, and darts, plus a free-to-play game which also dished out free bets.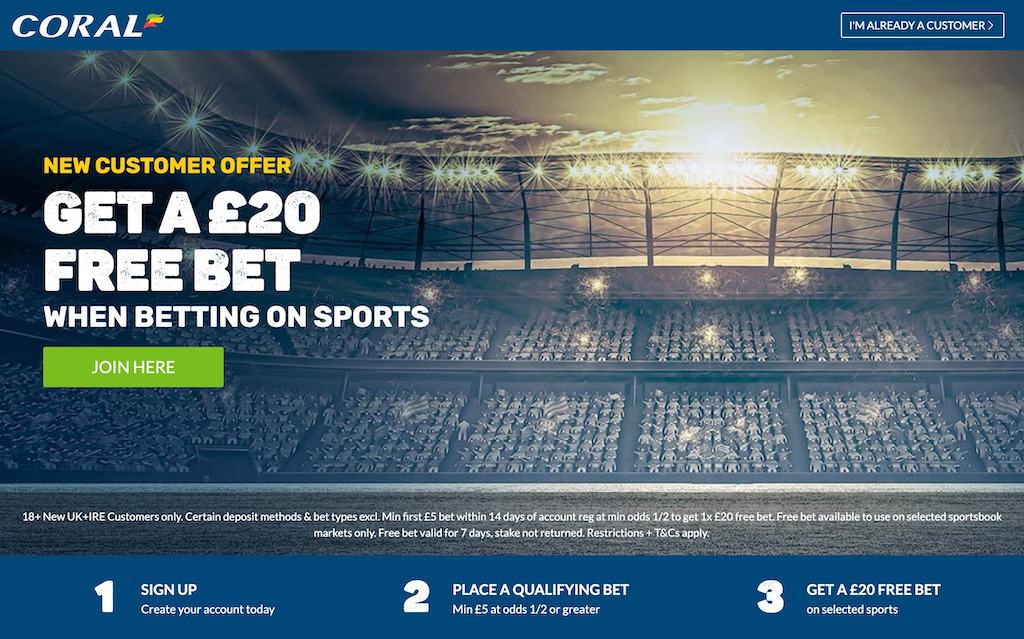 6. LiveScore
The LiveScore brand actually dates back to 1998, but the sportsbook only launched in 2020. It doesn't have the biggest quantity of special offers, but those it does have are certainly high in quality. The free bet sign up bonus here is incredibly simple. You just create your new account, then deposit and bet a minimum of £10. In return, you'll get a £10 free bet, which you have an unusually long 14 days to use.
Once your welcome bonus is used, you can claim further free bets via LiveScore's version of a Free Bet Club, here simply called Acca Offer. You need to place two wagers of at least £10 to qualify, and will receive a £10 free bet in return.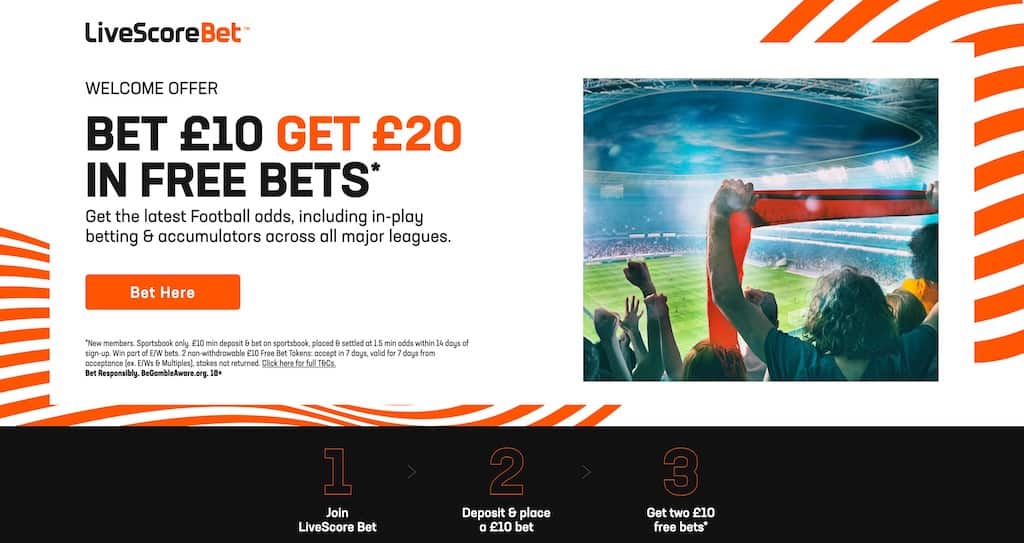 7. DAZN
DAZN is best-known for its live streaming service. It launched a sports betting site to join this in August 2022, however, which has already been extremely well-received. In an effort to help attract new customers, DAZN has put a solid welcome offer in place. This is a classic Bet £10, Get £10 deal, with nice, low qualifying odds of 1/2 for your first wager. You're also given a whopping six months to use your free bet, which is easily the longest time frame on this list. At the time of writing, there are no ongoing free bet promotions to back this up. A 5% winning boost in cash is available, however, and we're confident free bet bonuses will soon follow.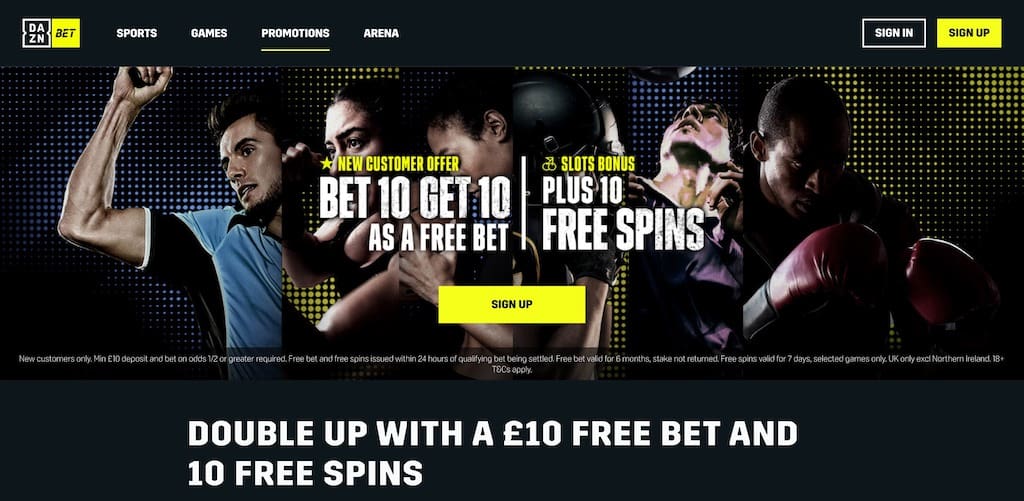 8. Betfred
Betfred has been in business for over 50 years now, and shows no sign of slowing down. That's certainly true of its Promotions section, which remains easily one of the best around. Betfred gets the ball rolling in style, with a Bet £10, Get £30 welcome offer. That deal has been in place for years now, and is clearly still drumming up new business for this legendary brand. Existing Betfred customers can benefit not just from multiple cashback deals, but also several free bet offers. These include a Free Bet Club for greyhound racing, and a Free Bet if 2nd offer for horse racing.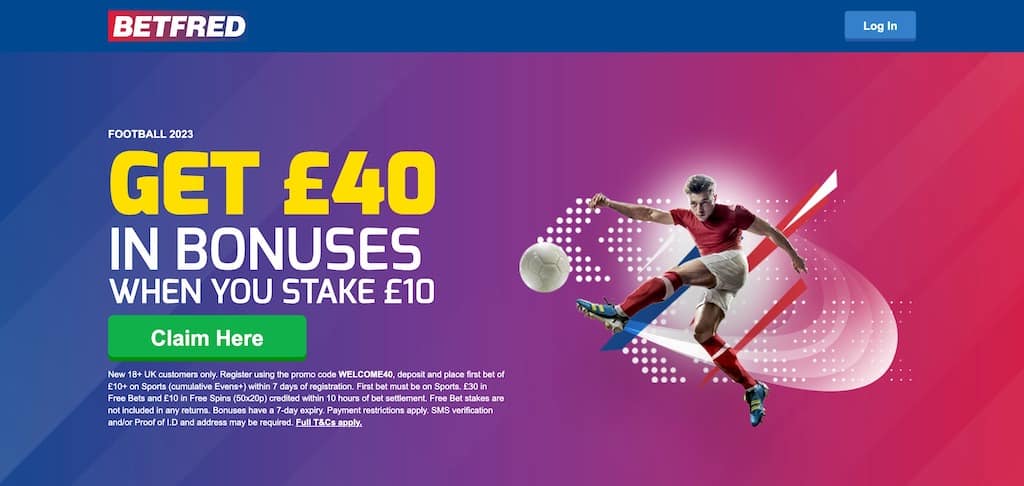 Types of Free Bets for New Customers
Free bet offers come in all sorts of shapes and sizes. The most important distinction, however, is between those for new customers and those for existing ones. The former tend to be larger in size, although – obviously – they can only be triggered one time.
Here are the four best new customer free bet offer types you can target.
#1 Bet and Get
This is the most common type of free bet welcome offer in the UK, by an absolute mile. That's certainly not a bad thing though, since it's also arguably the best.
If you've ever seen a deal something along the lines of 'Bet £10, Get £20', that's a Bet and Get offer. To trigger it, you simply have to make a deposit and place a wager of at least that first amount (in this case, £10). Once you've done so, you'll be rewarded with a free bet of the second amount (£20 here).
The size of the free bet you get will invariably be at least the same as your qualifying wager. In the best cases, though – as with Bet365's current Bet £10, Get £50 welcome offer – it can go far beyond that.
See also:
#2 Deposit Match
We've focused on UK-licensed bookies in this article, both because the UK Gambling Commission licence is the best, and because these brands tend to be focused more on British customers. If you'd prefer to go with an international site instead, you'll usually find a Deposit Match welcome offer waiting for you.
With these deals, your bonus is triggered straight away after you make a qualifying deposit. The amount will be a 'match', up to a certain percentage, based on the amount you paid in. Before you can withdraw any bonus winnings, however, you'll need to complete a rollover requirement.
As noted, these deals aren't super-common in the UK right now. 10Bet is one of the few premium bookies to offer one, providing a 50% matched bonus worth up to £50.
#3 Risk-Free Bet
The risk-free bet is a fascinating alternative to the prior two options we've looked at, and works in a very different way.
This offer type doesn't actually give you a free bet initially. Instead, you place your first wager (meeting certain T&Cs to ensure it's eligible), on a compatible market. If the wager wins, you keep your winnings as normal. If it loses, however, you'll receive your stake back (up to a certain maximum amount) as a free bet. Betway's current £30 Risk-Free Bet welcome offer is a great example.
#4 No Deposit Free Bet
It's a basic rule of thumb that – in order to get anything out of a bookie – you must first put something in. The no deposit free bet is basically the one exception to this rule.
As the name suggests, not only is there no requirement to place a wager to trigger these deals – you don't even need to make a deposit. Instead, you simply create an account, and receive a free bet automatically.
Unfortunately, these deals are extremely rare, and none of our recommended bookies offered one at the time of writing. If you do come across such a bonus, we'd recommend pouncing straight away.
Free Bets for Existing Customers
Welcome offers certainly provide the biggest and best free bets. Even the top deals, however, will only last a short amount of time, and can't be triggered again.
That's where ongoing promotions come in. These offers can be used time and again, long after your welcome bonus has been used up. They also dish out free bets in several common ways, with these being three of the best examples.
1 – Free Bet Club
This is arguably the best way of all to gain free bets as an existing customer with a brand. It's certainly the most reliable, with the requirements being clear, and the rewards being available each and every week.
To join a free bet club, you'll need to place a certain volume and type of wagers over a given time frame (usually one week). If you do so, you'll be rewarded with a free bet, regardless of whether your wagers won or not. Betway is the unofficial king of the Free Bet Club, with its version having been attracting punters for many years now.
2 – Acca Boosts
The accumulator is easily one of the most famous and beloved bet types… even if it isn't exactly the safest or smartest. Nail an acca, and you're already likely to make a nice profit. With an Acca Boost, however, this profit can go to a whole new level.
Acca Boosts always deliver a bonus on successful qualifying accas, with that bonus usually coming as a free bet. The scale of the bonus also scales depending on the number of selections in your acca. A 3-leg accumulator might only get you an extra 5%, for example, but this can ramp up to 10%, 15%, and so on as you add more selections.
3 – Insurance Deals
Winning wagers is actually only one part of the equation, when it comes to turning a profit from your sports betting. Cutting down on your losses can also be extremely important, and insurance deals can help out tremendously here.
The most common example is the Acca Insurance offer. Normally, if just one leg of your acca fails, the whole wager crumbles. With an Acca Insurance deal, however, this isn't the case. If one selection fails here, you actually get your stake back as a free bet, rather than losing it all.
Ladbrokes is your best choice for this deal right now. In fact, it offers not only an Acca Insurance deal, but an Acca Boost too.
Free Bet Offers vs Bonus Offers – What's the Difference?
As you browse through not only sportsbooks, but their Promotions sections specifically, you'll come across a few common terms. Something that might confuse you, however, is that some brands use the phrase 'free bet offers', while others simply say 'bonuses'.
Unfortunately, there's no real consistency in when each is used. In our book, the terms are interchangeable. At least nine times out of 10, when a bookie says 'bonus', they're still referring to a free bet. Technically 'bonus' might also refer to a cash reward, but the bookie will usually specify this – 'cashback deal', for example, or 'cash bonus'.
Basically, don't stress about this. Free bets offers and bonus offers are almost always the same thing.
Free Bet Offers vs Bonus Offers – What's the Difference?
As we've already noted, there are a whole lot of free bet offers out there to choose from. It's fair to say, however, that not all of these deals are created equal.
Naturally, you don't want to waste either your time or money on offers that simply aren't worth it. To help stop that being the case, you should read the T&Cs before committing to any deal on betting sites with free bets. Here are some of the most important things to look out for as you do so:
Basic Value – It might sound obvious, but this really is the first thing you should look at. Specifically, for a free bet sign up offer, you'll usually want to make sure that the bonus amount is at least a 1:1 ratio with your qualifying wager. If you're being asked to place a £10 bet, for example, the free bets you're given should be worth at least £10.
Minimum Odds – These can apply in two main ways. Firstly, when you place your qualifying wager, there will always be minimum odds attached. Secondly, some brands also impose this requirement when using your free bets online. In each case, check that the odds actually give you a decent chance of winning, rather than being unfairly high.
Time Frames – As soon as you create your account, a countdown begins. You'll need to finish claiming your bonus (depositing, placing qualifying wagers, and so on) within the first time limit – usually seven days. Once you've received your free bets, you'll be given a further time frame in which they must be used, otherwise they'll simply expire.
Market Restrictions – Market restrictions will almost always apply to both your qualifying wagers, and your free bet usage. The most common examples are on bet types, with exotic multiples – for example – usually being ineligible. Sometimes, however, you'll need to either pick or avoid certain sports to complete the offer.
Payment Method Compatibility – Nothing is more annoying than signing up, making your deposit, placing your qualifying wager… and finding out that you used a payment method that was incompatible with the welcome offer. Do so, and you simply won't be able to claim your bonus, meaning this is something you absolutely must check in the T&Cs in advance.
How to Claim Free Bets?
We're pleased to say that most modern-day British sportsbooks are extremely user-friendly. All of our recommended brands in this article definitely fall into that category, and this also applies to the process of claiming free bets online.
You shouldn't have any problem getting these valuable tokens, regardless of your experience level. To help you along a little though, here's a quick and easy guide on how to claim a typical Bet and Get deal as a new customer:
Bring up the home page, or download and boot up the mobile app if you prefer
Find and click the Register or Create Account button
Fill in your personal details, set your username and password, and finish creating your account
Log in, and click the Deposit button
You must now make a deposit meeting the minimum amount specified in the T&Cs. Also, make sure you use a compatible payment method to do so
With your account funded, head to the main sportsbook area and place a qualifying wager. Ensure this meets the requirements for minimum odds and stake amount
Once your qualifying wager settles, you should receive your free bets automatically. If you don't, contact the customer service team
Now, simply make sure you use your free bet tokens before they expire
So, that's how you claim a free bet! To actually use one, you usually just add a selection as normal to your betslip, then tick a box saying that you want to use your free bet, rather than your cash balance.
Free Bet Calculator
During your research, or your prior betting, you may have read something about free bet calculators. These can certainly be useful tools in specific circumstances, but aren't 'necessary' by any means.
A free bet calculator basically just works out your return on a potential wager. You can input your stake, the odds, the bet type, and so on, and it'll tell you your potential profits.
Most of this stuff can be done via your betslip on a sportsbook anyway. In fact, there's only one real advantage to this approach.
When you use free bets online, the free bet stake itself won't be returned with any winnings. Use a £5 free bet on a wager with odds of evens, for example, and you'll only get £5 back; not £10, as you normally would. A free bet calculator can be customised to show you that return, minus your stake, which might help slightly with your planning.
Casino Free Spins
We've focused completely on sportsbook free bets so far. Many sports bettors also like to enjoy a casino game from time to time, however, with slots being the most popular game type of all.
If you fall into that category, we'd definitely recommend targeting free spins. These are basically the casino equivalent of free bets. They're digital tokens you get by triggering certain offers, and can then use on specific slots. Like free bets, they cost you nothing to use, but can still deliver real money profits. Some bookies even give free spins away as part of their sportsbook welcome offer, with SpreadEx being a great example.
Final Thoughts
Free bet offers generate a lot of hype throughout the betting community, and it's not hard to see why. Quite simply, few things help your money go further in sports betting than free bets. Sure, you have to place wagers to get them initially, but – if you make smart picks – those wagers can still result in nice wins. After that, you get these valuable tokens which can be used completely and utterly risk-free, while still putting cash winnings in your account.
After reading this article, you know everything you need to about free bets in the UK. All you need to do now is pick one of our recommended brands, grab its welcome offer, and try using these excellent rewards for yourself.