How to claim a signup offer as a new customer?
So, you're keen to register at a betting site you like the look of and take advantage of their sign-up offer. Here's how to do it.
Check out our list of betting sites with the best betting sign-up offers. All the sites listed here have been approved by us here at Punters Pub for quality, safety, security, and reliability.
Check out which specific betting sign-up offers each site has.
Read our review of that particular betting site (with a sign up offer you like) to see how it fares in general, and for a few specific features that are important to you. Such as: how generous the odds are, the number of sports it offers, or whether it has live streaming.
Read the terms and conditions that dictate how the new customer offers work.
Choose a betting site.
Open an account by providing a few personal details.
Make a deposit with your favourite payment method.
Opt-in to the welcome offer. If necessary, enter the bonus code provided on the promo's Landing Page or in the terms and conditions. In some cases, the bonus will automatically be awarded.
Make sure you use the bonus within the stated time period, or else it will expire.
Be aware of any crucial terms such as: the minimum deposit to get it, sports the bonus can be used on, or the minimum odds the free bet must be placed.
Betting sign-up offers
| | | |
| --- | --- | --- |
| Site | Welcome offer | Useful info |
| Virgin Bet | Bet £10 and get a £20 free bet | Qualifying bet can be placed on any sport of your choice. |
| BoyleSports | Bet £10 and get a £40 in free bets | £30 is in sports free bets, the other £10 is in the form of a casino bonus. |
| Daznbet | Bet £10 and get a £10 free bet + 10 free spins on selected slots. | The free spins can be played on a choice of 7 different slots. No wagering requirements on winnings from the free spins. |
| Fitzdares | Bet £30 Get a £30 free bet + 20 free spins. | Offer needs to be accessed via affiliate websites rather than the operator's site directly. |
| Grosvenor | Receive a (Double the Odds) Boost Token when you place a £10 qualifying bet. | Not a free bet but rather a chance to double the odds on your chosen bet. |
| Ladbrokes | Bet £5 get Bet £20 in free bets. | Free bets are split into 4 x £5 free bets and can be placed on any sport. |
| Bet365 | Bet £5/£10 and Get £25/£50 in free bets | Deposits made with Apple Pay, Google Pay, PayPal, and Paysafe card aren't eligible for the bonus. |
| Betfred | Bet £10 and Get £40 in free bets. | Need to use promo code WELCOME40. Deposit must be made using a debit card only. £10 of the £40 is awarded in the form of casino free spins. |
| SpreadEX Sports | Bet £10 Get £30 in free bets | Part of the free bets offer requires you to also open a spread betting account. |
| 888 Sport | 100% bonus up to £200. | Need to use bonus code 200BONUS. Requires you to bet a total of £400 to receive the bonus. |
What are betting bonuses?
Betting bonuses are rewards that betting sites offer their customers.
The bonuses can be a gift they're offered as a result of the customer already having done something. An example of that would be to give a customer a free bet for having been particularly active over the past week in placing lots of bets.
They can also be an incentive for the customer to do something in the future. An example of that is to tell customers they'll receive extra funds to play with the next time they deposit a specified minimum amount.
Bonuses are generally divided into two categories.
Online betting sign-up offers are awarded to new customers at the start of their betting journey, when they first sign up.
All other bonuses are awarded beyond the initial welcome offer to those who have by then become, existing customers.
Bonuses come in many shapes and sizes. They differ in terms of how to claim them, how to use them, what you have to do to get them, and the terms and conditions that dictate how exactly they work.
Key among the terms are the wagering requirements. Only in exceptional circumstances are customers awarded bonuses in straight cash.
An example of that might be a customer who lost heavily in the previous month being offered straight cash that they can choose to play with, or withdraw immediately.
In all other circumstances, bonuses come with wagering requirements. If (for example) deposit bonuses were straight cash, some customers wouldn't bother even playing them and would withdraw the bonus straight away. Or if a free bet had no wagering requirements, customers could use it, win with it, and just withdraw the bonus and winnings from it immediately.
Wagering requirements are a way of levelling the playing field. It's the betting site's way of saying: 'Here's a gift from us. Use it, enjoy it, and good luck. But you're going to have to work a little before you can actually withdraw it'.
Keep reading and we'll tell you all about the different betting site offers and how to make the most of them.
Why do bookies offer betting sign up offers?
As we started by saying, it's a real 'dog eat dog world' out there among betting sites. They're all after new customers, knowing that for the most part, a customer who sticks around for a few years can be worth a lot of money to them.
But first, they need to get them on board. To make Johnny decide he wants to open an account with Bookie A rather than Bookie B, Bookie A needs to make it worthwhile for Johnny.
They need to either: a) provide an offer that suits Jonny's tastes b) provide an offer that's better than what the competition is offering or c) provide an offer that's similar to what the competition is offering… and hope Jonny will open an account anyway.
What they can't afford to do is to have betting welcome offers that are vastly inferior to what the market as a whole is giving away. Or worse still: not offer anything at all.
New customers at a betting site like to feel that they're getting good value in return for signing up at a particular bookie. And the more value, the better. Hence, the better the sign up offer, the more value to the customer.
But there's another reason why bookies offer sign up offers. By saying 'we'll give you £50 when you deposit £50' they're somewhat forcing the customer's hand to do something that is in the betting site's interests. If they didn't have such a sign-up offer, the customer may have only deposited £10.
In other words, it's a form of attempted manipulation. Of course, the customer doesn't have to play ball and can deposit whatever they like. But just dangling that carrot in the form of a bonus is more likely to make the customer perform a particular action.
And it's not always about the amount of money.
For example, a betting site may decide they want customers to deposit more using Bitcoin, so may offer a special welcome bonus that's only available when customers deposit with Bitcoin.
Different types of betting offers
Free bets
No deposit bonuses
Money-Back Specials
Odds Boosts
Acca
Extra Places
Best Odds Guaranteed
Non-Runner No Bet Offers
VIP and Loyalty Bonuses
Free bets
Matched Free bets
A customer is awarded a free bet dependent on placing a bet for a particular amount first. For example, a customer placing a £5 qualifying bet on a Champions League match will result in the betting site awarding a free bet for the same amount (£5) to be used at a future date, also on a Champions League match. The free bet is normally awarded as soon as the qualifying bet is settled, whether it goes on to win, or lose.
Risk-free bet
The customer places a (risk-free) for a specified amount using their own funds. If the bet wins, the customer gets to keep their stake, and sometimes, the winnings generated from it. That said, there may be wagering requirements associated with the winnings secured via the risk-free bet.
If the bet loses, the bookie will give the customer a bet for the same amount to be placed on a specified event or any event of the customer's choice.
Here is our editors' pick for the best free bets
No deposit bonuses
Most of the time, a bonus is awarded based on the customer making a deposit, with the bonus being a reward for that deposit being made.
Rarely, the betting site may award a bonus without the customer having to make a deposit; a no deposit bonus.
The no deposit bonus could be given just for the customer opening an account but, in this case, will generally be for a small amount, e.g. £5.
In other cases, the betting site may offer a no deposit bonus to a customer who has been inactive for a long time. The idea here being that the no deposit bonus may entice the customer to deposit after the bonus has been used.
More commonly used is a low or minimum deposit bonus, in which betting sites offer the option for customers to make deposits as low as £5.
Money-Back Specials
One example could be that if a customer places a specific bet on a particular betting market e.g. 'Both teams to score' in Everton v Liverpool, the customer gets to keep the money should it go on to win. If it wins, it's a winning bet like any other. If it loses, the money-back special could see the customer refunded on their losing bet.
Another example could be that the betting site decides it will apply its money-back special if a particular outcome occurs on a betting market. For example, the bookie may say that if you place a bet of at least £5 on a correct score outcome (e.g. 1-0, 2-1, or 2-2) they will apply a money-back special and refund the losing bet 'if the match ends 0-0'. Any other outcome and the money-back special doesn't kick in.
Yet another form of this bonus is the cashback offer. The betting site may decide that it will give back 20% of any losses a customer incurs as long as the loss is £100 or greater. If this were to happen, the betting site would award the customer a £20 bonus. This could be in cash with no wagering requirements. Or with wagering requirements.
Odds Boosts
This has become increasingly popular over the past few years and normally comes in two forms.
The first is that it will choose a pre-determined bet to have the Odds Boost applied to it. For example, whereas Marcus Rashford scoring anytime against Chelsea would normally be at odds of 2.0, the Bet Boost will increase the odds of Rashford scoring to 3.0. Generally, these sorts of offers are open to all customers.
The second is that the betting site may award one or more Odds Boosts a week for the customer to use at their discretion. So customer Mikey may have two Odds Boosts Bets (of 50% each) to use as and when he wishes every week.
Mikey will then start placing a bet as per usual and just before placing the bet, may choose to apply the Odds Boost to it. So if Mikey was going to back a red card in Inter Milan v AC Milan at odds of 3.0, applying the Bet Boost would mean the bet was actually at odds of 4.5.
In this case, which customers were eligible for the Bet Boost, the amount of the Boost, and the number of Bet Boost bets that were available, would vary from customer to customer.
Acca
An acca is a bet made up of several different legs. An example of an acca could be:
Chelsea to beat Aston Villa.
Over 2.5 goals in Benfica v Porto.
Lionel Messi to score against Marseille.
Total Odds: 8.0
Unless there's a special promotion around the acca, all legs need to win for the acca to win. If one leg loses, the whole acca loses. If it wins, the customer is paid out at the odds of the three legs multiplied by each other. In this case 8.0.
The general rule for bookies is that the more legs there are in the acca, the better for 'the house'.
Sure, occasionally an acca with 7 or 8 legs will win and the customer will win a large amount.
But this is the exception to the rule. So, in a bid to encourage customers to have more legs in their acca, they promise to apply boosts as a percentage for each additional leg.
Something like this:
4-legs – Extra 10%
5 legs- Extra 15%
6 legs- Extra 20%
And so on. The more legs there are, the bigger the boost to the customer's winnings if the acca goes on to win. The trade-off of course is that the bonus may encourage the customer to add additional legs to the acca, which may be the ones that go on to lose and deny the customer a win on their original choice of acca.
Extra Places
This is a bonus more commonly used in sports like golf and horseracing than in football.
In a golf tournament, a customer placing an each-way bet on a golfer to win may see them paid out on the first 6 places. Generally, the odds on the places are around 1/2 or 1/3 of what they are of the odds to win. Let's say in this case they are 1/2.
So an each-way bet on Rory McIlroy to win The Open would look something like this.
Rory McIlroy to win £10 @10.0 = Potential win of £100 (including stake)
Rory McIlroy to place (Top 6) £10 @ 5.0 = Potential win of £50.
If Rory wins, the customer is paid out on both bets.
If he doesn't win but comes third, he's paid out on the 'to place' part of the bet, so the customer would lose the first part and win the second part, getting paid out £50.
But in a bid to see more 'action' on the market, the bookie may decide that it pays out on 8 places rather than 6. It won't make a difference if Rory wins. You'll win on both parts of the bet anyway. But if he comes 7th or 8th, the customer would win on the 'place' part of the bet thanks to the extra places.
Best Odds Guaranteed
Casual punters aren't normally that bothered about small differences in odds from one betting site to another. It won't make much difference to them whether Barcelona wins at 1.85 or 1.9. As long as they win! That's partly because they trust their bookie to offer them fair odds in line with the rest of the market.
But the more savvy punters, and especially pro punters, see things differently. For them odds, or price, is everything.
So bookies may decide that they guarantee the best odds across the whole market on particular events. It wouldn't be possible, or practical, to offer the best odds on everything all the time.
For example, Bookie K may say it will always have the best odds guaranteed on the favourite in the first match of the Premier League weekend.
So whereas everyone else is offering odds of 1.5 on favourites Man City to beat Fulham at 12.30 on a Saturday, Bookie K may stick to their Best Odds Guaranteed policy and have Man City at 1.55.
Read more about Best odds guaranteed
Non-Runner No Bet Offers
Again, this is a bonus more likely to be found in golf or horseracing than football.
Let's take racing. The Grand National generally sees a total of 40 horses start the race. Which 40 is not normally confirmed until a few days before the race takes place.
Some forward-thinking punters like to place their bets months in advance. That's to try and get high odds on horses they think will run well in the build-up to the race, which could see their odds shorten nearer the time. The problem with that is that the horse may get injured, not make the cut, or be entered into another race, for whatever reason.
In the past, that was a case of 'tough luck' and the bets would stand.
But some bookies take the view that's unfair on the punter to have lost a bet on a horse who didn't even start the race.
Therefore a 'non-runner no bet' bonus means the customer gets their money back if the horse doesn't start.
VIP and Loyalty Bonuses
Pro punters aside, most sports betting customers lose more than they win. Hence the expressions 'The house always wins' or 'you'll never meet a poor bookie'.
So, it follows that the more a customer plays, the better it is for the bookie.
In a bid to get customers to play more, bet with them rather than another bookie or make sure they don't have periods without betting, it's in their interest to make sure customers are as loyal as possible. So they offer incentives where they're awarded bonuses based on their activity in the form of loyalty and VIP bonuses.
The more they play, the more they get.
One way of doing this is to award points based on bets placed, deposits made, and so on. The more points the customer accumulates, the more 'goodies' they get.
That's because the points aren't always exchanged for sports bonuses. They could be exchanged for merchandise, sports tickets, or maybe even casino bonuses, instead. In most cases, the customer gets to choose what they want to cash their points in for. In other cases, the bonuses or other prizes are pre-established based on the number of points.
The bonuses could be: free bets, risk-free bets, cashback, or deposit bonuses.
VIP customers tend to be customers who either bet in very high amounts, known as high-rollers, or who generally lose a lot every month. Because they're of far greater value to the bookie than casual punters, VIP bonuses tend to be much better than they are for regular customers.
We've discussed different types of betting welcome offers already. They're generally the best offers going because bookies are prepared to be more generous at this stage in a bid to get customers through the door.
Typical welcome offers are: a big bonus on your first deposit or a free bet. In some cases, some free spins to use in the Casino, if the betting site has one.
It also tends to be the case that the wagering requirements on welcome offers are lower than they would be down the line.
But getting punters in and keeping them around and active, are two very different things.
Bonuses to existing customers are therefore vital in making sure customers carry on playing. This could be to reward loyal customers, or to get inactive customers to come back and play.
Typical examples are: reload (deposit) bonuses, free bets, a no deposit bonus, and cashback.
Key differences between welcome offers and offers to existing customers:
Welcome offers tend to be more generous.
Welcome offers usually have lower wagering requirements.
Offers to existing customers are generally more varied.
Offers to existing customers tend to be more tailor-made because they're based on past behaviour.
Offers to existing customers are more event-based rather than generic.
How to evaluate betting offers?
Just about any offer will come with several parameters that determine how the bonus must be used and what restrictions apply to it. Only by considering all these factors can you determine how good an offer is. Here are some things to consider:
Minimum odds– Free bet or risk-free bet offers normally need to be placed at certain minimum odds. That's generally 1.5, 1.8, or 2.0. The lower the minimum odds, the more flexibility you have in terms of what you can bet on, and the better for you. Also, the lower the minimum odds, the more likely your bet is to win.
Expiry date– Free bet offers generally have an expiry date by which time they need to be used. That could be anything from 7 days, to 30 days. The longer you have to use your free bet, the longer you have to evaluate what you're going to use it on, giving you more time to place a good bet rather than feeling rushed.
Choice of sports– Again, freedom of choice is King! Having a free bet that can be used on any sport is far better than one that you can only use on a specific sport. It's all well and good having a free bet to use on horseracing or basketball but if you don't follow those sports, it's not much use to you. Free bets, risk-free bets, or any other type of bonus that can be used on any sport and event within that sport, is always preferable.
Common terms and conditions of betting offers
Reading the terms and conditions is essential for several reasons. Doing so before you sign up at a particular betting site helps you decide which bookmaker has the best betting offers UK, so helps you decide which betting firm you should sign up with.
And knowing exactly how any offer works means you can get the most out of it rather than letting the bonus expire, or having it void because you didn't fulfill one of the requirements.
With that in mind, here are some terms to be aware of.
Wagering requirements– Most bonuses have wagering requirements linked to them. As explained earlier, wagering requirements are a way for the betting site to safeguard themselves against bonus abusers or streetwise punters taking advantage of bonuses. The lower the wagering requirements, the better. Because the lower they are, the easier it is to withdraw the bonus and winnings from it.
One per household– Speaking of bonus abuse, gone are the days when you could open an account in your name, plus those of your parents, siblings, dog (that's a joke), and anyone else in your household. These days, bonuses are limited to one per household. So it's not worth trying it on. Open an account in your name, not anyone else's. Trying to 'cheat the system' by attempting to manipulate betting site offers is only likely to see you denied your bonus by the site. Or worse still, getting barred from the site altogether.
Stakes not returned– One of the most common betting sites offer is the free bet. For example, the Bet £10 Get £20 free bet offer. One aspect of this promo that customers should be aware of is that the stake itself is rarely returned. So, when customers bet £20 on (for example) a 2.0 chance, the £20 stake doesn't come back! If the bet wins, the profit (in this case £20) is banked but the stake isn't. So customers should remember this because it might affect how ambitious they want to be in terms of the odds at which they bet at, knowing they only get to keep the profits, and not the investment.
The best sign up offers
Dazn Bet betting offers
Welcome Offer: Bet £10 and get a £10 free bet + 10 free spins on selected slots.
Placing a £10 qualifying bet at odds of at least 1.5 gets you a one-off £10 free bet to use on any sport of your choice. Just make sure you use it within 6 months or else it will expire.
Placing the qualifying bet also gives you 10 free spins, each worth 10p, to use on one of seven different slots, including the highly-popular Big Bass Bonanza.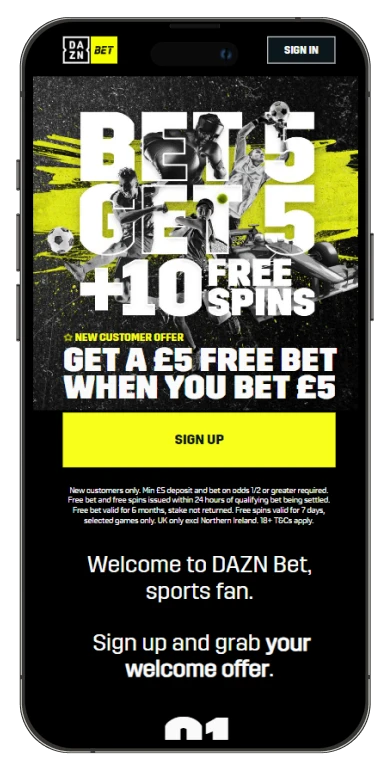 Pros and Cons of Dazn Bet
Pros
Lots of daily boosts on football betting markets.
Provide stats to help you with your betting.
Ability to copy other people's bets using bet codes.
Easy-to-use deposit limits to aid Responsible Gambling.
Cons
Currently only available to UK customers.
£10 free bet as a sign up offer is lower than at other sites.
Virgin Bet betting offers
Sign Up Offer- Bet £10 and get £20 in free bets
Does what it says on the tin with the bets available to use on whichever sport you like. The £20 is divided into two free bet tokens each worth £10 and must be accepted within 7 days of your qualifying bet being settled. The bet token must then be used within 7 days of being accepted.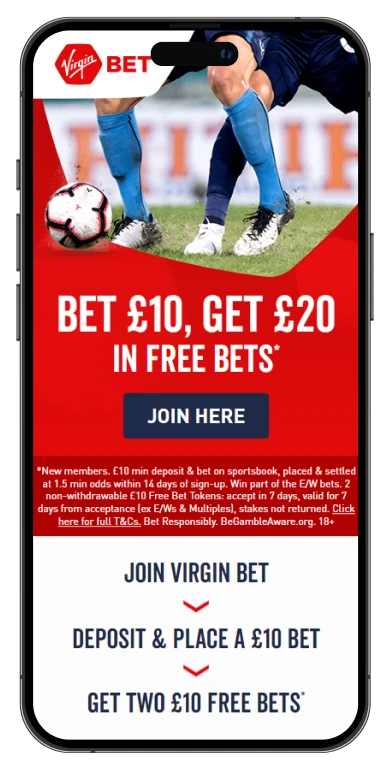 Pros and Cons of Virgin Bet
Pros
Lots of resources available to assist with Responsible Gambling.
Daily Boosts are often bigger than what competitors are offering.
Good offering of Irish sports like GAA Football and GAA Hurling.
Cons
Limited choice of payment options.
Website could do with some more colour and a bit of a facelift.
BoyleSports betting offers
Welcome Offer- Bet £10 and get £40 in free bets
The £10 qualifying bet can be placed either as a single or as an acca but in both cases, must be at odds of at least 2.0.
The £30 in free bets can be split up across as many bets as you like and must be used within 7 days. The casino bonus must be used within 3 days once it's accepted.
Customers should be aware that deposits made with the following methods won't allow you to get the welcome offer: PayPal, Skrill, Moneybookers, or Neteller.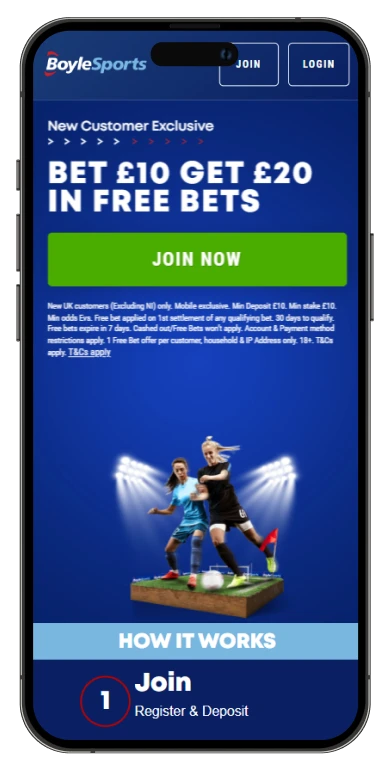 Pros and Cons of BoyleSports
Pros
Lots of different ways to contact Customer Service.
Good daily promos including extra places, Bet Boosts, and moneyback specials.
Very wide variety of sports offered..
Cons
Some payment methods exclude you from claiming certain offers.
Asian handicap product on football is a bit limited compared to other sites.
Fitzdares betting offers
Welcome Offer: Bet £30 Get a £30 free bet + 20 free spins
A classic matched bet format where placing a qualifying bet for £30 at odds of 2.0 or greater gets you a free bet for £30. Customers also get to use 20 free spins on the slot Reel King. The offer is only valid if new customers access the sign-up page via the Punters Pub link, or else they won't be able to claim the bonuses.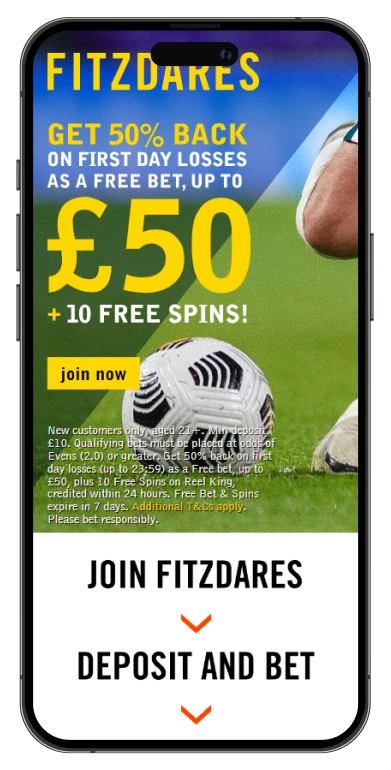 Pros and Cons of Fitzdares
Pros
Top-class mobile app that lets you do everything, including live streaming of horse racing.
Popular bets feature lets you see what other customers are betting on.
Licensed by the UK Gambling Commission, a sign of a safe and secure Sportsbook
Cons
Can't view your transaction history.
Less Live Betting events than most other sites.
Grosvenor betting offers
Welcome Offer: Double the Odds Boost Token when you place a £10 qualifying bet.
This one works completely differently to just about all the other betting sign up offers. When you place your £10 qualifying bet, you won't receive a fee bet as such, but rather the chance to use a Double Your Odds token in the future. So if you were to use it on a 1.5 bet, it would actually be paid out at 2.0 with no wagering requirements on any winnings generated from the bet.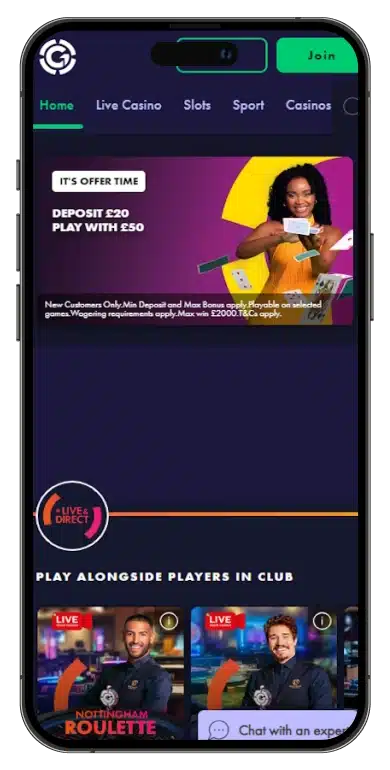 Pros and Cons of Grosvenor
Pros
Live Betting product is extensive, visually attractive, and easy to use.
Welcome Offer is different from what everyone else is doing.
Odds are competitive across all events.
Cons
Not so easy to find links to Customer Support on-site.
Unnecessary hidden charges on transactions.
Ladbrokes betting offers
Welcome Offer: Bet £5 get Bet £20 in free bets
In this case, your £20 in free bets are divided into 4x £5 free bets to use on any sport you like. The qualifying bet must be at odds of at least 1.5. Users should be aware that if the free bet)s) are void for whatever reason, they won't be returned. Free bets can be used on a big variety of different sports, but not all, so check the terms and conditions for which sports are excluded.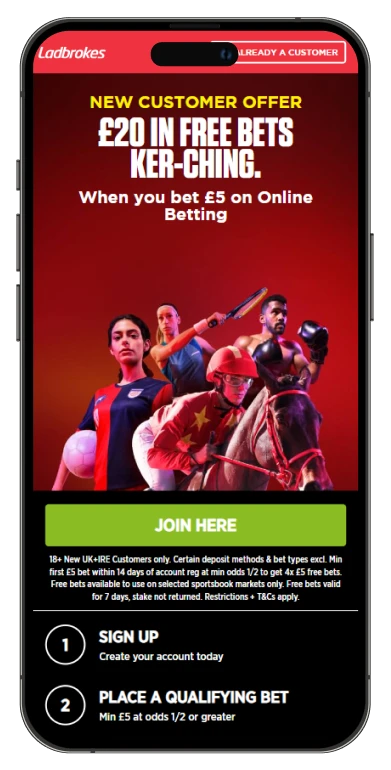 Pros and Cons of Ladbrokes
Pros
One of the oldest and best-known bookies in the world.
Superb offering of specials markets covering politic, TV, movies, and reality TV shows.
Huge choice of Virtual Sports.
Endless varied and good-value daily promos.
Cons
Not available in many countries outside the UK.
Doesn't accept Bitcoin or other cryptocurrencies as payment methods.
Betfred betting offers
Welcome Offer: Bet £10 Get £40 in free bets
Placing a qualifying bet of £10 gets you £30 in free sports bets which can be used in any way you wish in terms of how you split them up. In addition to that, you'll get 50 free spins, each worth 20p, to use on one of six popular slots including Fishin' Frenzy and Eye of Horus. Customers must enter bonus code WELCOME40 to be eligible for the welcome offer.
Pros and Cons of Betfred
Pros
Well-known as one of the very best for all types of bonuses beyond the welcome offer.
Insightful and useful analysis and tips on key events available on the blog.
Odds update particularly quickly in Live Betting.
Cons
Can only watch live streaming events with money in your account.
Not available in the USA and other major countries.
Spreadex Sports betting offers
Welcome Offer: Bet £10 Get £30 in free bets
Placing a qualifying bet of £10 gets you a total of £30 in free bets once the qualifying bet is settled. However, the last £10 of that £30 are available as spread bets only, meaning you have to open a separate spread betting account in order to claim and use those free bets. All the free bets expire if not used within 28 days.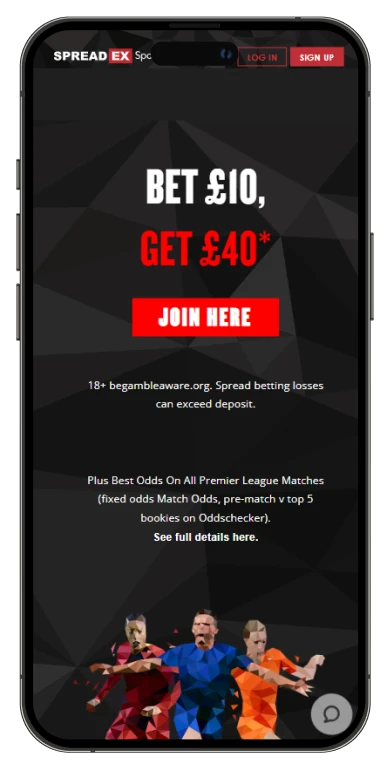 Pros and Cons of Spreadex Sports
Pros
Particularly good Customer Service.
Mobile app is fast, responsive, and easy to use.
Good educational content about spread betting for those who are interested.
Cons
Not many payment options.
Website has looked the same for years and could do with an upgrade.
Bet365 betting offers
Welcome Offer: Bet $1 Get $200 in free bets
The free bets can be used on any sport. To use them, simply select 'Use Free Bet Credits' in the bet slip.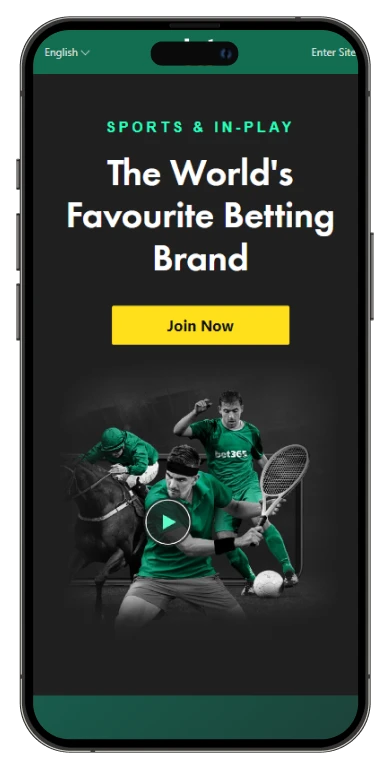 Pros and Cons of Bet365
Pros
Probably the best-known betting site in the world so does everything very well.
Live Betting and Livestreaming are particularly good.
Offer betting on just about every sport under the sun.
Website and mobile are both attractive and simple to find things.
Cons
Occasionally suspend markets on more obscure sports during Live Betting.
Accumulators are limited to 14 selections while other sites don't have limits.
888 Sports betting offers
Welcome Offer: 100% bonus up to £200.
This one is a bit more complicated. Customers need to make a deposit and can then claim a bonus based on that deposit by placing bets for twice the amount of that deposit. So, if a customer deposited £100 and wagered £200 worth of bets, they'd be able to get a bonus of £200. That same £200 is the limit to how much you can get so there's no point trying to wager more than that in order to claim a bigger bonus. Customers need to use bonus code 200BONUS to claim the offer. There are wagering requirements of 5 times on the bonus.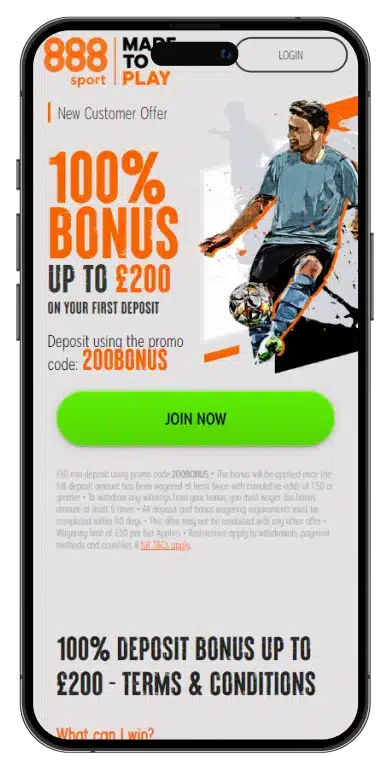 Pros and Cons of 888 Sports
Pros
Attractive website and homepage with popular events all displayed clearly.
All major sports are covered with plenty of choice across the different betting markets.
Lots of promos available around horseracing.
Cons
Limited Live Streaming events.
Winning customers can be limited with their betting activity.
Given football has overtaken horseracing as the most popular sport to bet on, it's no surprise that there are probably more bonuses around football going than on any other sport.
Here are some of the best:
Odds Boosts– Bookies offer odds boosts of around 20% to 40% in relation to what the odds originally were. If the Boosts are on a bet that you'd consider placing without the Boost, then it's a no-brainer that you should take advantage of the Boost.
Moneyback Specials– These offer a level of insurance in that they give you a scenario that allows you to get your stake back if your bet doesn't win. They're worth taking advantage of but again, only if you were considering placing that bet in the first place.
Best Odds Guaranteed– Another no-brainer. If one bookmaker has Best Odds Guaranteed then it makes perfect sense to always take the highest price as these extra points here and there make a big difference in the long run. Having accounts at three or four different betting sites should mean that you should be able to almost always secure the highest-possible odds, irrespective of the football match.
Summary
Betting welcome offers are a big part of online betting in general and always have been. It's very much in the bookies' interest to come up with some attractive new customer offers and it's up to customers to choose not only the best betting offers out there but more precisely, the ones that suit them best personally.
In this article we've listed some of the best ones out there, how to claim them, and how they work, remembering that spending time reading the terms and conditions carefully is always time well spent.
And whereas you can only claim one welcome offer per person (and household), there's no limit to how many accounts you can open and how many betting welcome offers you can claim if that's how you want to go about doing things. There are of course other advantages to having numerous open betting accounts, such as being able to always get the highest odds on whatever it is that you want to bet on.
Having said all that, it's more important to hold accounts at the best betting sites and the ones that suit you best rather than just the ones with the best welcome betting offers.
A reliable, safe, secure, and quality site with high odds, good betting products like Bet Builders and accas, a high-class live betting service, easy to use site and fast withdrawals are all extremely important factors when choosing a bookie.
In this case, far more important than the welcome offer being a bit better at Bookie X than at Bookie Y. Whereas a good welcome offer is a nice bonus, no pun intended, the overall quality and reliability of the bookie is far more important in the long term.