New Betting Sites vs. Established Betting Sites
It's hard to generalise too much when comparing new online bookmakers with ones who have been around for a long time. Not all new betting sites are the same, just like not all established bookies perform in the same way.
But here are some general observations on how the two types compare to each other.
| | | |
| --- | --- | --- |
| Consideration | New Betting Sites v Established Betting Sites | Winner |
| Gambling Licenses | Both types can apply for whatever licenses they wish but a reminder we only endorse sites who hold the UK Gambling Commission License | Tie |
| Site Design | New betting companies designing their site in 2023 often have newer, slicker, more modern designs than those who have been around for longer. | New |
| Best Odds | Completely depends on the bookie | Tie |
| Customer Service | The older betting sites tend to have more experienced staff better prepared to deal with different issues. | Established |
| Promos and offers | Established sites tend to have more offers but welcome offers are sometimes better at new sites. | Tie |
| Payment Options | Older sites generally have more payment options, but newer sites tend to have the more modern ones such as E-wallets and cryptocurrencies. | Tie |
| More likely to go out of business | Like any other business, a start-up betting site is more likely to fold than an established company. | Established |
| Innovative features | Most companies these days offer the likes of Bet Builders and Cash Out, but newer sites may specifically develop more features to make an impact. | New |
| Sports available to bet on | Established sites generally offer more sports but newer sites are more likely to offer newly-popular sports like esports or surfing | Tie |
Different types of welcome bonus offers from new betting sites
Whether it's a bookie who has been around for a couple of decades or a new betting site in the UK that has only been in business for a few months, one thing you can count on in both cases is that they'll give you a welcome offer. Here's a guide to how the more popular ones work.
No Deposit Bonus
You're often given a small amount of money to bet with, say 5GBP, just as a reward for signing up. As the name suggests, you don't even need to make a deposit to get it.
Bet 10 Get 20
Sometimes also takes the form of Bet 5 Get 10 or in exceptional cases, Bet 10 Get 30. You need to make a deposit and place a bet(s) for a particular amount. Once that bet(s) is settled, you'll be given free bets to use in the future, generally for larger amounts than the qualifying bet.
Risk-Free bet
You place a bet using your own money. If the bet wins, you keep the winnings. If it loses, you'll be refunded and get to place a bet for a specific amount in the future.
Boosted bet
A less frequent type of welcome offer is to place a bet at much larger odds than what that selection would normally be. These aren't to be confused with ongoing Bet Boost offers. Those are generally available to all customers; this type is only available to new customers.
Editors' Pick: New betting sites
Here are some of the new online bookmakers in the UK who we have taken a look at and have liked what we've seen.
Dazn Bet– Immersive live betting experience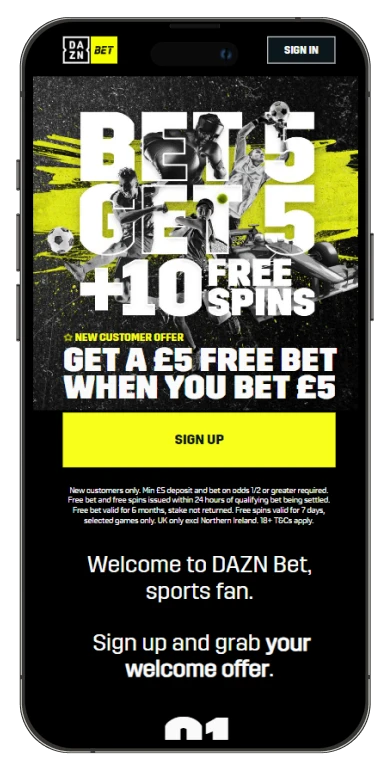 Dazn Bet is part of Dazn, the company looking to take sports content to the next level through streaming, interviews, expert analysis and interaction with some of sport's biggest stars.
The live streaming service is in its infancy stages but the noises are that Dazn Bet will in the future look to merge their comprehensive streaming with the Live Betting side of things.
Whereas that won't mean you can watch the likes of Premier League or Champions League directly from the site due to rights restrictions, you'll be able to watch other football leagues, plus boxing, MMA and US Sports.
They've already got a great Stats Centre in place for the likes of football and US Sports and if their aim is to offer rich content around great live betting, then they can certainly find their own niche in the market.
What we liked about Dazn Bet
Very low minimum deposit of just 5GBP.
Stats Centre extremely useful to aid you with your betting.
Strong on football and US Sports.
talkSPORTBET – New betting site in experienced hands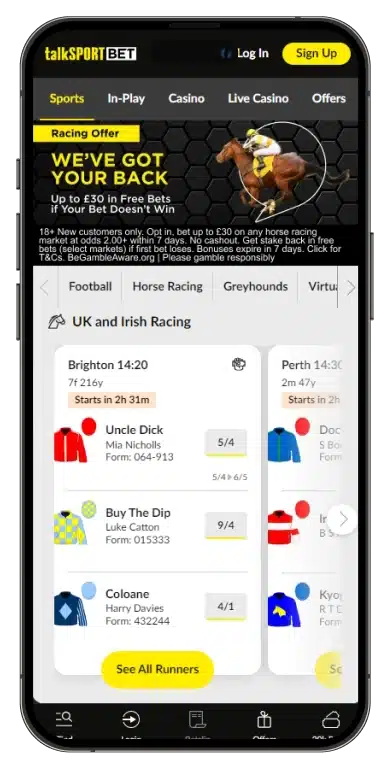 UK football fans will surely be familiar with talkSPORT, one of the country's leading providers of football news, scores updates, interviews and analysis on the radio.
Like lots of other successful brands, they've decided to create their own betting site in an attempt to attract fans of the original brand, in this case the radio station, into doing their sports betting with them, as well.
It's an approach that could work. But we'll first have to wait and see to what extent they incorporate the radio side of things with the betting element. So in that sense, they're similar to Dazn Bet.
What we do know is that the site is pretty much a clone of the highly-experienced BetVictor, who are their partners in the project. That can only be a good thing but we'll be intrigued to see how it differs from BV in the long-term.
What we liked about talkSPORTBET
BetVictor has been around for a long time so is experienced and can be trusted.
Welcome offer is generous, covering both sports and casino.
Low minimum deposit of just 5GBP.
Rhino Bet – Streamlined sports betting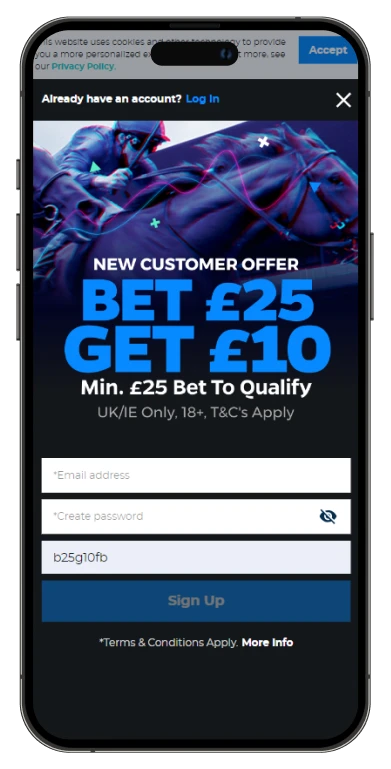 Rhino Bet are very clear and honest about their objectives as a new bookmakers focussed on the UK market.
They want to have a site that's streamlined. In other words: less sports, less markets, less noise, less features that customers don't necessarily want.
As an example, their horseracing markets are limited to races taking place in the UK and Ireland, leaving out the likes of the US and South Africa.
The trade-off for the 'less' approach is that they focus on what really matters: the most popular sports like football, cricket and golf. And the promise of excellent Customer Service for those who buy into the concept.
What we liked about Rhino Bet
Will appeal to punters who like to keep things simple.
Already have Best Odds Guaranteed available.
Customer Service surprisingly good for such a new site.
FafaBet – Home of horseracing betting
The fact that Fafabet offer betting on over 30 different sports is proof of the fact that you're in good hands if you're the sort of punter who enjoys betting on miscellaneous sports. They cover all the major events within those sports, the odds are competitive enough and the site is clean, well-organised and all the different elements are easy enough to find.
But it's when it comes to horseracing that they really excel. In addition to racing markets from the obvious countries like UK, Ireland and the USA, there's also racing from more obscure places like Chile, Argentina and Japan.
And it's not just in terms of the racing markets offered that you can see their focus on the 'Sport of Kings'. In addition to the Best Odds Guaranteed ongoing promo, they also have a 'Second to the favourite' promo, where you get half your stake back as a free bet if your horse loses to the favourite. The same happens if your horse loses by a head or less. In the second case, it only applies to selected races, not all.
What we liked about FafaBet
Horseracing markets from all over the world.

Unusual racing promos offering good value.

Strong Create-A-Bet (Bet Builder) product for football.

Competitive odds across the board.
BetGoodwin – For the horseracing fan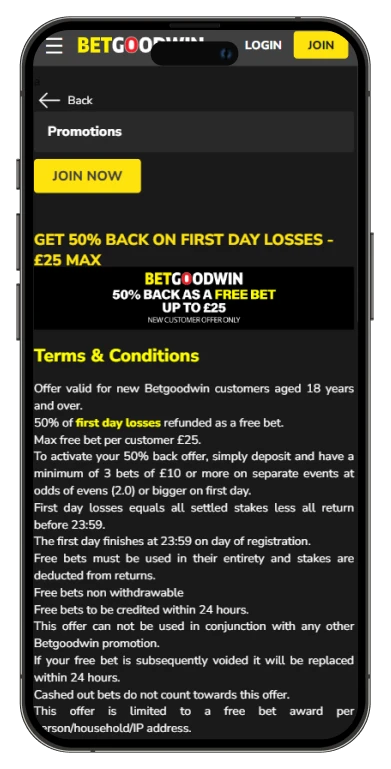 If you're primarily concerned with horseracing and not that fussed about other sports, then this might be the pick from the new UK bookmakers here that's right for you.
Before becoming a Sportsbook it was something else, something of a common theme among the new betting sites on this list. In this case, it was a telephone betting line that specialised in giving racing punters an efficient way of placing their bets.
But with times changing, they saw the logic of adding an online feature to their existing product.
The result is that old customers can now place bets online in addition to the phone method, under the same account, which is nice and practical.
Understandably, most of their offers, including the welcome offer are racing-focused, though they're good for football, too.
What we like about BetGoodwin.
New betting site but lots of experience as a telephone broker.
Lots of racing offers on a daily basis. g. beaten by a nose, falls at the last hurdle etc.
Telephone and online account can be held under the same account.
LiveScoreBet – Boost your odds on a daily basis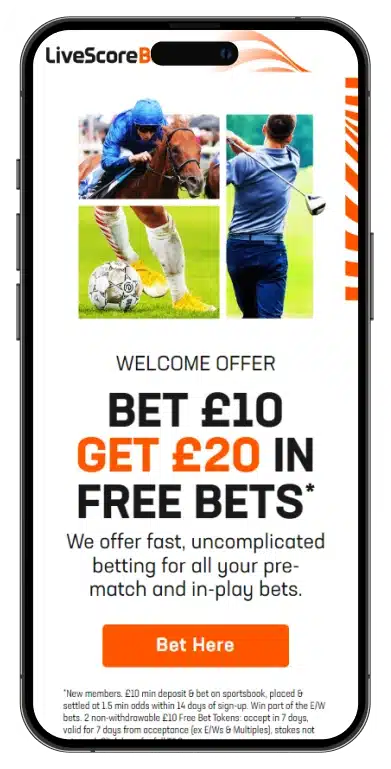 And here's yet another new UK bookmaker who was something else before becoming a betting site.
If you've been in the habit of checking live scores on all manner of sports, particularly football, but also cricket, tennis and basketball, then chances are you've been on the Livescore website.
So, why not give your army of fans a sportsbook, as well?
Unlike some of the others on this list, it's not streamlined, meaning you've got a wide range of sports and all the other features that more established bookmakers already have.
What we like about LiveScore Bet
Decent Bet 10 Get 30 welcome offer.
Useful content on a good blog.
Lots of daily odds boosts across a wide range of sports.
Fitzdares – Personal touch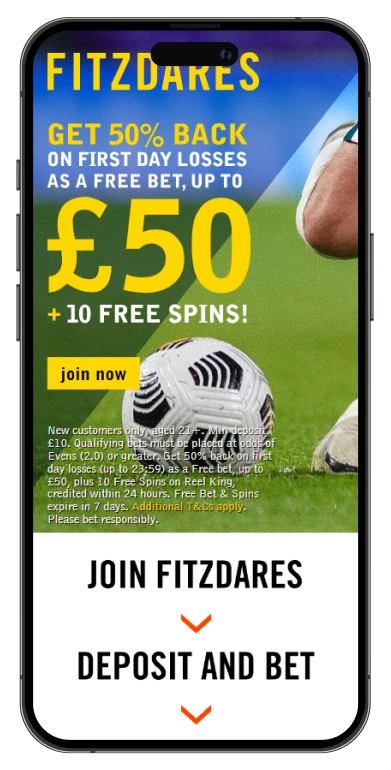 This lot are unlikely to grow too much too quickly because their product is somewhat niche.
They used to be a phone betting service and that was followed by being the first betting site in the UK to accept bets via text message.
They should prove to be a good example of the 'small is beautiful' theory, meaning that a small customer base can happily look forward to a personal approach from brokers and staff who probably know their customers by name.
Like a couple of others on the list, their experience of being in the business for a long time before becoming an actual betting site should mean they're well-prepared for all eventualities.
What we like about Fitzdares
Very personal approach to customer care.
Same-day withdrawals in certain circumstances.
Their Fitzdares Club allows customers to enjoy hospitality at racing events in style.
How we ranked new betting sites
Here are the criteria we looked at when deciding which new online bookmakers made it onto our list of recommended new sites.
License
Safety and Security
Betting Markets
Available Payment Methods
Customer Support
Cash Out
Interface and mobile experience
Offers
Live Streaming
Competitive Odds
#1 – License
We only really trust bookies who hold the UK license, the Malta license, or ideally both.
Those are the hardest to get, and the hardest to keep, so we know sites with one of those are ones who have passed the toughest tests.
#2 – Safety and Security
The site needs to keep your money and data safe, thanks to encrypted technology, while not crashing while you're betting and keeping your funds separate from their own.
If it doesn't, it won't make our list.
#3 – Betting Markets
The new UK bookmaker must offer plenty of sports from the mainstream to the obscure, while also providing lots of different types of betting markets, in both pre-match and live betting.
It's a bonus if it has the quirky new betting markets like offsides, fouls and shots on target, when it comes to football.
#4 – Available Payment Methods
Accepting payments with cards like VISA and Mastercard is a must, as are bank transfers and at least a couple of e-wallets with preference given to PayPal and Skrill. In summary, the more the better, and they need to also be particularly popular for the UK market.
They don't need to have cryptocurrencies as a payment method. But it's even better if they do, as some people like using them.
#5 – Customer Support
Helpful, friendly, knowledgeable and efficient Customer Support agents available through phone, e-mail and Live Chat is good. Grumpy, inefficient operators who are almost never available or take too long to respond and end up not solving your problem, is bad.
#6 – Cash Out
Cash Out has become so popular these days as a way of closing out a profit on bets or limiting losses on others, that's it's almost expected to be available everywhere.
If it isn't available at a particular betting site, we have to wonder why
#7 – Interface and mobile experience
A site needs to pretty on the eye, easy-to-use, easy to find everything and be displayed in a clear way so you're never lost and always know where to do everything.
Both when using a computer and on your mobile, whether on the browser or via an efficient app.
#8 – Offers
New betting sites should have attractive welcome offers that give you decent value for your money when making that first deposit in the form of free bets or deposit bonuses.
And they should keep on giving beyond that to existing customers.
Best Odds Guaranteed, more free bets, loyalty schemes and bet boosts are all examples of that.
#9 – Live Streaming
Live streaming is a great way to follow the action of whatever you bet on pre-match, or to help you place your next bet when using live betting.
There should be plenty of live streamed events, across numerous sports, with good-quality pictures which customers can watch as long as they have funds in their account.
#10 – Competitive Odds
The quickest way to lose your money at a betting site is to consistently take short odds. Why? Simple. Because each time you'll get smaller pay-outs than you should. And this won't make up for the bets where you lose.
Getting good odds on every bet you place is the single most important thing you can do as a sports punter.
What new betting sites should you avoid?
You should basically avoid any site that isn't on this list because the ones that are have been approved by us. And the ones that aren't on the list haven't been approved by us!
But even beyond that, here are a couple more things to look out for:
New betting sites operating without a license at all.
Sites that have lots of complaints about them on sportsbook customer forums.
Sites notorious for having slow withdrawals.
Bookies with limited Customer Service such as not having a phone line or one that is only available at certain times.
How to sign up for new betting sites in the UK?
Signing up to a new betting site is no different to signing up to one that has been around for a significant time.
Here's how to do it:
Follow the link from the Punters Pub website to the betting site itself.
Click the 'Join now' button in the top right-hand corner. At other betting sites it might be 'Open account' or 'Register'.
Enter personal details in the registration form such as your name, address, e-mail and telephone number.
Opt in or out of receiving marketing information about offers.
Submit any necessary documentation requested such as a passport, driver's license or amenity bill. Do this as quickly as possible as it will mean you don't waste any time when it comes to requesting a withdrawal.
Add a payment method and make a deposit. Set any limits to do with deposits or losses if you wish, so you don't play more, or lose more, than what is healthy.
Make use of any welcome offers, reading the terms and conditions beforehand so you know what you need to do.
Responsible gambling
Gambling is meant to be fun, and the important thing is it's enjoyable without causing any harm to your finances, working life, personal life, mental and physical health.
Only for the select few should it be seen as a profession where you can live off wins in the long-term.
If your life is being affected adversely by gambling, you may have a gambling problem
And if that's the case, the betting site should have methods in place to allow you to seek help.
Limiting your account is one way, executing a self-exclusion request is another and yet another is to give you advice and counselling from professionals to help you deal with the problem.
Either by advising and counselling you themselves, or by putting you in touch with responsible gambling charities like Gamcare, or Gambler's Anonymous.
Summary
Every site was a new betting site at some stage so there's nothing wrong with trying one out just because it hasn't been in business for a number of years.
Newer sites may actually surprise you in terms of how efficient they are from the get-go and may have more features available than you'd think.
In some cases, in an attempt to attract customers who may not trust newer sites or are loyal to existing ones, they may have better and more varied welcome offers and ongoing promotions than at the older sites.