What Is A Money Back Betting Offer?
Before getting into the thick of our review and revealing our final list of the best money back promotions offered by online bookmakers, it's worth taking a minute to explain exactly what a money back special is. How does it work, what are the finer details and, most important of all, where can you get a money back promotion on your favourite sport?
Bookmakers offer money back promotions on the most popular sports of the week in an attempt to help them stand out from the crowd in what has become a crowded market. If you are betting on the Cheltenham Festival Gold Cup for example, and one firm offer a money back promotion, there's more chance you will make your bets with them. It makes sense to both parties, giving backers the chance to get cash back bets if their punt doesn't go to plan and, for the bookie, it's a tried and tested marketing tool.
How Does Money Back Betting Offers Work?
There are many different types of money back betting offers around today and picking the right one for you is important if you are serious about beating the bookies and making a profit over the course of a year or season. Here are a few things you should know about money back betting offers.
We'll use bet365's no score bore as our example here.
Place a bet on a football match from one of the top divisions and competitions, including the Premier League and Champions League. You can bet on a selection of markets, such as match winner, both teams to score and first goal scorer.
If the match ends 0-0 at the full-time whistle and you lose your bet as a result, bet365 traders and marketing team will refund your losing stakes. Money will be added to your account when the match has been resulted, allowing you to place a bet on the next match that catches your eye.
#1 – William Hill
William Hill invariably has one of the best ranges of ongoing promotions for their existing customers, and these will usually include at least a couple of money back offers. Right now, you can get up to 10% of all your in-play losses refunded on both tennis and cricket. There's also a regular William Hill Money Back if 2nd promo on horse racing, and an excellent Acca Insurance deal. This covers your multiples bets with 5+ selections, not just on football, but on all sports markets.
#2 – Coral
Coral are definitely another leading bookie when it comes to rewarding their users with regular ongoing promotions. Horse racing fans can benefit from the Beaten By a Length offer, which refunds your Race Winner wagers for up to £10 if your pick loses by a length or less. There's also a classic Acca Insurance deal on football, which gives you up to £25 back on losing 5+ selection multiples, and they've also been known to offer Faller Insurance on horse racing, which provides similar benefits.
#3 – Bet365
Bet365 are at their strongest on early payout offers, but they certainly like to get involved with money back promotions too. Their Soccer Substitute Guarantee nullifies one of the biggest frustrations in football betting, refunding selected player props if your chosen player gets subbed off before half-time. There's also the lucrative ITV Racing 4/1 deal, which gives you a risk-free bet of up to £50 if you back a winner at 4/1 or higher on any race televised on ITV.
#4 – Betfair
It's quite rare in general to get either welcome offers or ongoing promotions on betting exchanges, but Betfair buck this trend in style. Sign up now to their exchange, and your first wager – of up to £20 – counts as a risk-free bet. Better still, if that bet does lose then it will be refunded as cash, rather than a free bet. Elsewhere, Betfair also have Non Runner Money Back in place on the sportsbook, refunding your stakes if your chosen horse doesn't start the race
#5 – Unibet
For new customers, the Unibet money back special is one of the best around right now. You can get up to a generous £40 refunded if your first bet loses, on all sports except horse racing, greyhound racing, and trotting. The money is refunded as a free bet, rather than cash, but you can't argue with the size of this deal. Unibet also provide Acca Insurance for up to £10 on football, with only four selections needed to qualify, and there's a Money Back if 2nd deal for horse racing too.
#6 -BetVictor
Free bet deals are BetVictor's biggest strength, but they certainly impress with their money back offers too. Run For Your Money is the standout promotion here. It refunds all horse racing wagers of up to £25,000 – in cash – if your chosen horse loses all chance of winning at the start of the race (e.g. if your runner fails to come out of the stalls). BetVictor regularly provide Acca Insurance too. This covers your football multiples of 5+ selections, refunding stakes of up to £10.
What Sports Are Cashback Offers Available On?
Cash back offers are available on a number of sports, from the most popular to niche sports. They can also be applied to a wide number of markets and that ensures there's something to suit all types of punters and budgets. Some of the sports you can expect to find cash back offers available on at any of the websites mentioned in this review include…
MMA
Rugby Union
Rugby League
The football markets benefiting from cash back offers include…
Match winner
Both teams to score
Total goals
Total corners
Total cards
First goal scorer
Last goal scorer
Anytime goal scorer
Half time/full time
Handicap
Asian handicap
Correct score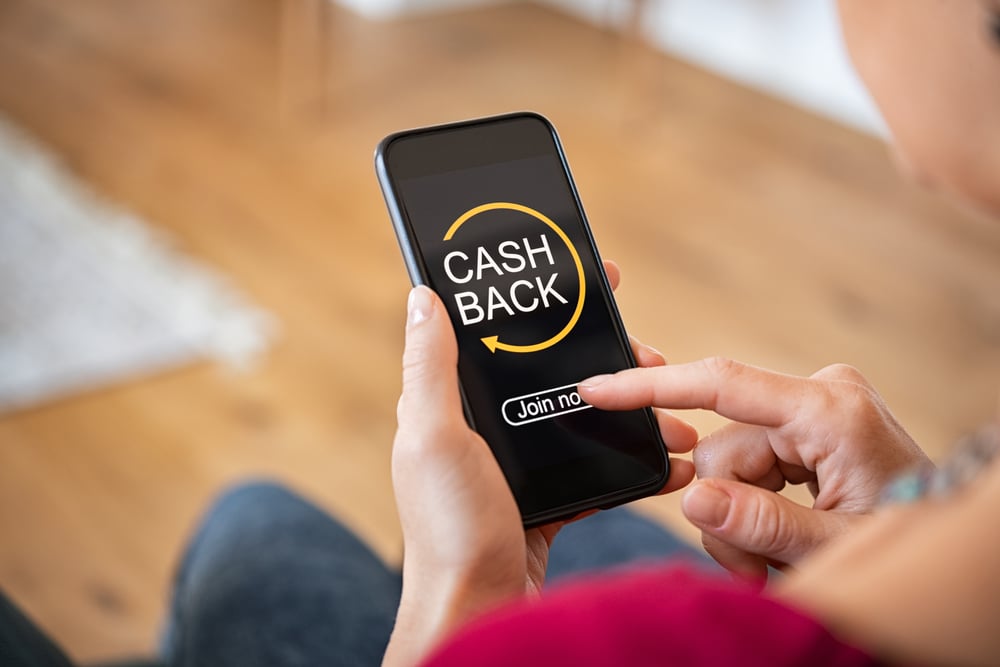 Types of Money Back Betting Offers
As with all the main forms of betting offers, you'll find a good amount of bookie-to-bookie variation in the types of money back specials you can find. With that said, these all generally fall into four main categories, each of which you can learn about below.
Risk Free Bet
The Risk Free Bet is the most common type of money back welcome offer. While it only applies to your first wager on a platform, its scale can still match other sign up deals which provide free bets or deposit matches.
When placing a Risk Free Bet, there are two outcomes. If the wager wins, you collect your winnings as normal. If the wager loses, however, your stake will be returned to you. This refund will typically be given as cash, rather than a free bet. The most important T&Cs to check out are minimum odds for your qualifying bet, and the maximum refund amount.
Acca Insurance
This is the most popular form of ongoing cash back offers. Acca Insurance is provided by the vast majority of major money back bookies, although some will only do so during the football season.
Usually, if even one leg of your accumulator fails, the entire wager loses. With Acca Insurance, one leg is 'insured' instead. Rather than losing entirely if one selection lets you down, your stake will be refunded to you, either as a free bet or cash. You'll typically need five or more selections to qualify here, although some sportsbooks only require four. Market eligibility and the maximum refund amount also vary from bookie-to-bookie.
Bore Draw
Whatever its specific name, the Bore Draw Special will serve the same general purpose. It's only available on football markets, and usually affects your Match Result wagers. If you bet on one team to win, and the game ends 0-0, then – rather than losing your stake – you'll get it refunded.
There are a few other football-specific money back offers. These usually affect player prop bets, insuring you against players getting sent off, subbed off early, and so on.
Horse Racing Specials
Horse racing features more money back specials than any other betting market. These usually aim to solve the very biggest frustrations which racing fans typically face. Faller Insurance is the most common, refunding your stake if your runner falls or unseats its rider. Non Runner No Bet is another great example, giving you your money back if your horse fails to start the race.
Money Back if 2nd is also extremely popular on cash back bookmakers, and refunds your Race Winner picks if your horse finishes second. Do note though, that – in some cases – they will specifically need to come second to the pre-race favourite.
Money Back Offers Terms & Conditions
It's worth mentioning at this stage that all money back promotions have terms and conditions attached and you should be aware of these before signing up for an offer and placing your bets.
Read the terms and conditions attached to ensure you have a full understanding of how the deal works. This will avoid any surprises when placing your bets. We have picked out some of the more important points below and added a brief description…
Stake and refunds apply to the maximum amount of cash you can place on a bet with a money back promotion attached. This can be set at anything between £1 and £100. This limits the bookmaker's losses when offering money back deals. There is also a limit to how much you can win on these promotions.
Minimum deposits are in place with all major bookmakers and come into effect when money back promotions are available. Minimum deposits are usually set at £10.
Wagering requirements concern the bets you must place to qualify for a promotion. For example, with money back football promos each acca must have a certain number of legs at minimum odds and you must also meet the wagering requirements set out in the T&Cs.
Validity Period is the period of time the promotion is valid for. An example of this could be free bets won using a money back promotion are valid for seven days from the time it was awarded. Make sure you are aware of this and use your bonus as soon as possible.
Payment options concerns how you pay for your bets. Certain ewallet options aren't accepted when using promotions. This is due to past customer misuse.
Cash Back Betting Tips
Target Risk Free Bets – As the name suggests, there is simply no downside to Risk Free Bets, assuming your refund is given as cash rather than a free bet. You can stick a tenner in your account, and stake it all on an opening wager. If it wins, you get the profits. If it loses, you can simply withdraw that money from your account.
Take More Player Props – We're not normally the biggest fans of player props, as they tend to be riskier than team-based wagers. When you're covered by a money back offer though, you can afford to take more risks. Having insurance against the most common ways to lose these bets – such as red cards and substitutions – significantly increases your chances of triumphing.
Check the Small Print – It is absolutely crucial that you read the full terms and conditions before attempting to use any money back offers. The most important aspects to check include minimum odds and minimum stake amounts for your qualifying bets, which sports or bet types are eligible, and the maximum amount of money which can be refunded.
Monitor Your Free Bets – Some money back offers refund your stake as a free bet, rather than as cash. That alone definitely shouldn't dissuade you from using the promotion. Do be aware, however, that these tokens will all come with an expiry date – typically seven days. Forget to use them before this time, and they will simply disappear.
Stay Up to Date – New money back offers are coming out all the time. Make sure you check the promotions pages on your favourite bookies regularly to see if they have any new deals. Keep an eye on those pages on other sportsbooks too – these offers can be good enough on their own to make creating a new betting account worth your time.
Keep Betting Smart – Just because you've got a little extra insurance, does not mean that you should start taking enormous, high-risk, high-reward wagers. Continue to do your research, monitor your stakes, and make sensible picks. Money back offers are definitely helpful, but will not – on their own – suddenly transform your betting fortunes.
Final Thoughts
Money back offers are easily one of the most popular types of promotions for experienced punters. It's not hard to see why. By default, turning a long-term profit on your sports betting is extremely challenging. These deals won't single-handedly ensure you do so, but they definitely improve your chances.
If you see a sportsbook offering a Risk Free Bet welcome offer, we'd recommend pouncing on it immediately, as there's really no downside to doing so. Ongoing money back offers can also be incredibly useful though, and helping to lower your losses in a whole range of different ways.