Here at Punters Pub, we do the hard work, so you don't have to. And in this case that means we've tested dozens of the top bookies in the UK to find out which are fast withdrawal betting sites, and which aren't.
Fast withdrawal bookmakers allow you to get your money out quickly and with the minimum of fuss.
Not only does this avoid frustration for punters, but in practical terms it also means you get your cash out quicker, so you can use it on whatever you want.
As a third bonus, it's also a sign that it's a high-quality casino, one you can trust and is there to offer its customers a good experience.
Here are seven of the best fast withdrawal betting sites in the UK who do just that.
| Betting site | Fast withdrawal bookmaker |
| --- | --- |
| Betway | Yes |
| Coral | Yes |
| Parimatch | Yes |
| Ladbrokes | Yes |
| BetVictor | Yes |
| Bet365 | |
| William Hill | Yes |
How do I Withdraw Money from a Betting Site?
Let's now look at how to actually withdraw your funds when you're ready to do so. Just follow these steps.
#1 – Identity verification
Also known as a Know Your Customer Check, or KYC for short. Any betting site regulated by the UK Gambling Commission (UKGC) insists on the betting site in question performing a KYC check on all their customers, before they process their first-ever withdrawal.
Every one of the fast withdrawal bookmakers mentioned above hold the UKGC so all of them require you to pass your KYC check before you can make a withdrawal.
KYC is in place to prevent fraud, money laundering, underage gambling and players who have self-excluded from carrying on playing as part of responsible gambling initiatives.
So, see KYC as an important and positive step, rather than as a hassle.
A KYC check involves customers showing proof of address (eg. amenity bills) and proof of identity (passport, driver's license) plus photographic evidence that proves you are who you say you are.
#2 – Requesting a Pay Out
When you're ready to withdraw, head to the Cashier/Bank section of the betting site and choose your preferred withdrawal method.
Please note that there might be some restrictions to which method you can use.
Which methods are available to withdraw also vary from one bookie to another. And not all the methods that allow you to deposit also allow you to withdraw, so you'll need to check this carefully.
If it's the first time you're withdrawing with that method, you will need to enter the card details, the bank account number or the e-wallet address.
Once you've found one that works for you, choose the amount you wish to withdraw. You can choose to withdraw your full balance, or just part of it, and carry on playing with what you leave in your account.
There may be some daily, weekly or monthly limits to how much you can withdraw at a time. Again, these will vary from one site to another. But in most cases, as long as it's not an absolute fortune, your requested amount should fall within the limits.
Click the 'withdraw' button to request your withdrawal.
Editors pick: Top Fast Payout Betting Sites
Betway
BetVictor
Bet365
Parimatch
Coral
William Hill
Ladbrokes
Betway
There's plenty to like about Betway, including competitive pre-match and in-play odds, an impressive Cash Out feature, and lots of live streaming across plenty of sports. We also like their blog, which features good content from high-profile figures like former Tottenham and Ireland star Robbie Keane, and former England cricket run machine Kevin Pietersen.
That they sponsor teams like West Ham and cricket tournaments like the CPL, is testament to their standing in the world of sports betting.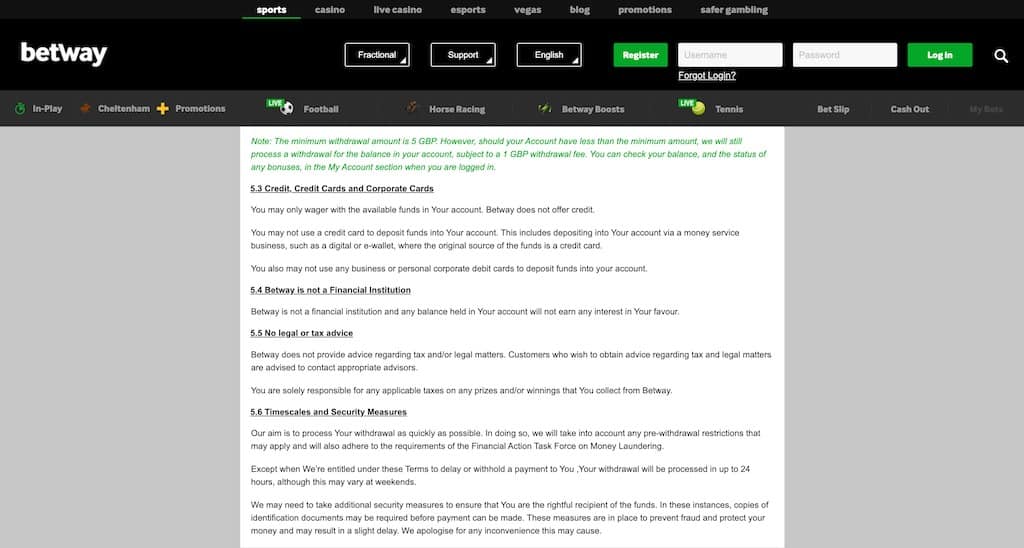 Betway Withdrawal Times
VISA Direct- Within 12 hours.
VISA/Mastercard debit cards- 1-2 business days.
PayPal-2-24 hours.
Neteller- 2-24 hours.
Trustly- 2-24 hours.
Bank transfer- 2-3 business days.
BetVictor
BetVictor is one of those solid, reliable and safe sites who doesn't overcomplicate things and focuses on giving you a good experience, without necessarily pulling up any trees. They cover all the major sports, and the more active customers can look forward to a loyalty program that sees them rewarded with free bets and other bonuses to keep them engaged.
One area where they do excel is in providing Best Odds Guaranteed on greyhounds as well as horseracing, something virtually no other UK bookmaker does.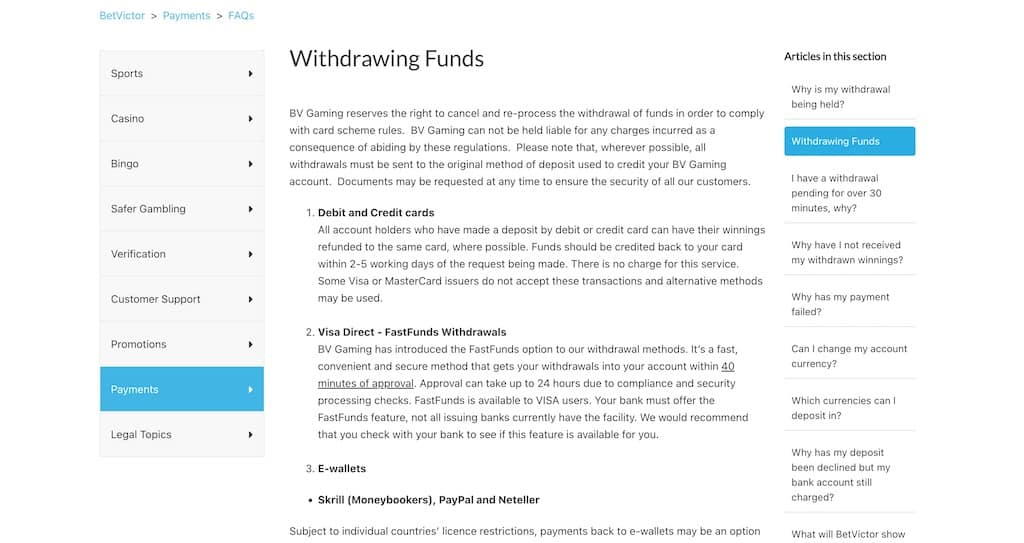 BetVictor Payout time
VISA Fast Funds (Available at some banks) – Within 40 minutes of approval.
PayPal- 24 hours.
VISA/Mastercard debit cards- 2-5 business days.
Bank Transfer- 1-3 business days.
Bet365
Many punters in the UK would argue that if you're only going to open one betting account, it might as well be with Bet365. They do the lot. They cover every sport under the sun, offer thousands of livestreaming events every year, provide a decent offering of bonuses and have one of the strongest live betting products around.
Other benefits include a fast mobile app and a Cash Out feature that's easy-to-use and allows you to pocket more money on any bet than some of its competitors.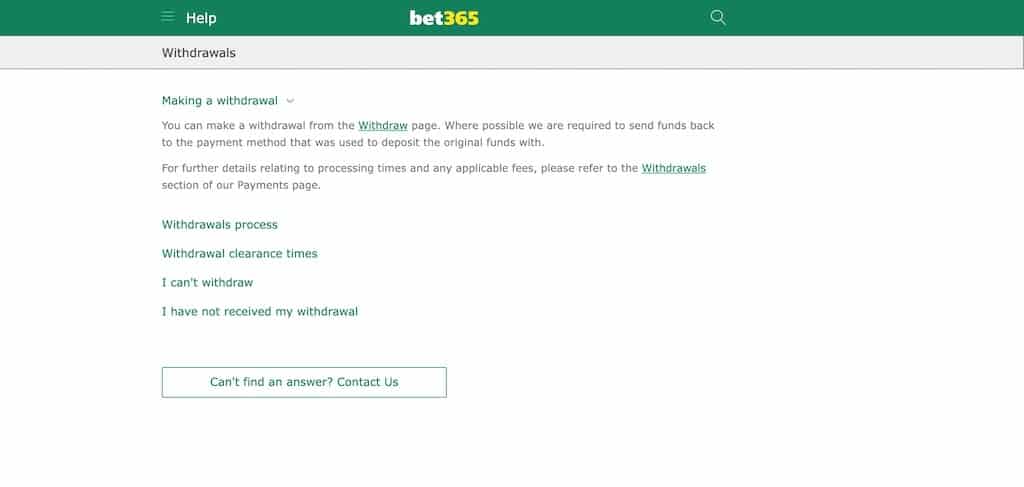 Bet365 Payout Time
VISA Direct – Less than 2 hours.
VISA/Mastercard debit cards– 1-2 days.
PayPal- Up to 24 hours.
Paysafecard voucher- Up to 24 hours.
Bank Transfer- 1-5 working days.
Bank cheque- 5-28 working days.
Parimatch
Not necessarily one of the best-known bookmakers in the UK a decade or so ago but Parimatch have made good strides over the past few years. They go out of their way to offer generous Odds Boosts on the major football matches every day and their slick site design is easy on the eye and simple to use.
For those who like esports in addition to regular sports, and in particular betting on FIFA games, they are among the market leaders. They're also very strong on boxing betting, MMA and other combat sports. Did you know that Parimatch is operated in the UK by BetVictor? You do now! As a result of that, the withdrawal times that we mentioned for the different methods for BetVictor are the same as those for Parimatch.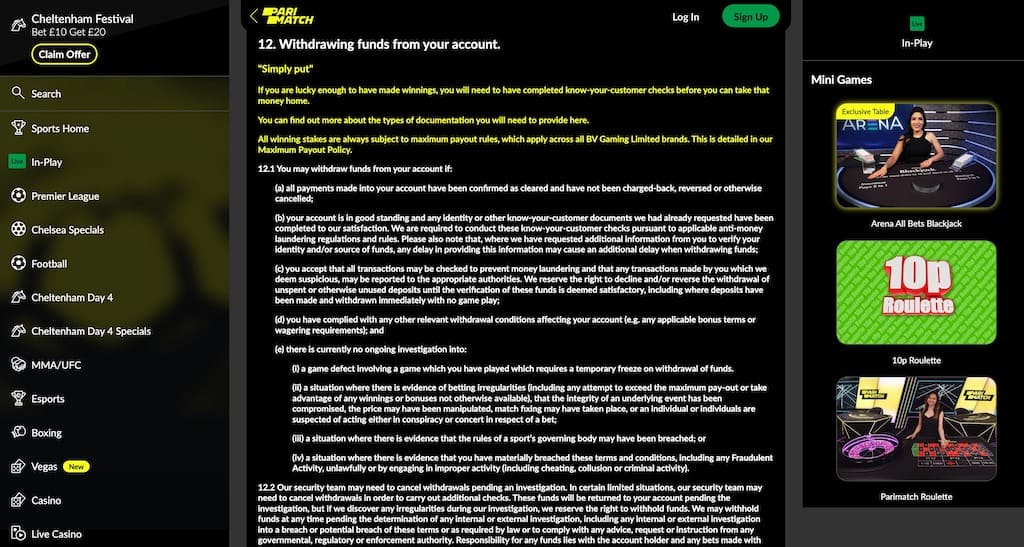 Parimatch payout time
VISA Fast Funds (Available at some banks) – Within 40 minutes of approval.
PayPal- 24 hours.
VISA/Mastercard debit cards- 2-5 business days.
Bank Transfer- 1-3 business days.
Coral
Another betting site who ticks all the boxes as a reliable place to have a good all-round sports betting experience. In addition to having vast experience on their side, having been around for a long time, they boast a fine welcome offer where you can get 20GBP in free bets for a deposit of just 5GBP.
Other benefits include a good Cash Out feature and the fact they're particularly quick at updating their live betting odds.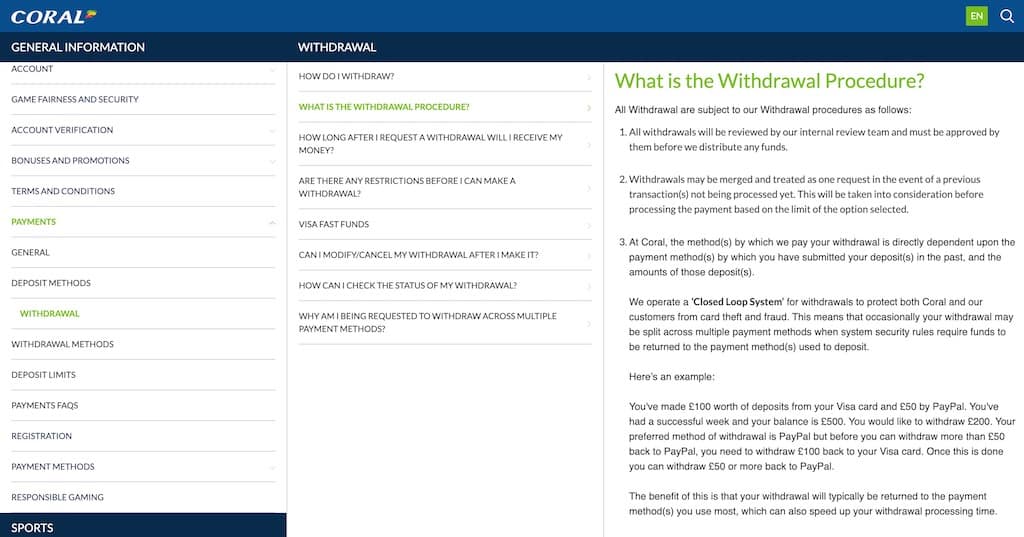 Coral Payout time
VISA Fast Funds (Available at some banks) – Up to 4 hours.
PayPal- Up to 8 hours.
Paysafe Card- Up to 8 hours.
VISA/Mastercard/Maestro/Electron debit cards- 1-3 business days.
Bank Transfer- 2-4 business days.
Apple Pay- 1-3 banking days.
William Hill
Another veteran of the UK betting industry and another example of fast payout betting sites, particularly when it comes to processing withdrawals made with VISA Direct. Like many of the other betting companies on this list, it's their coverage of so many sports and excellent all-round experience that makes them so reliable and popular.
But they'll particularly appeal to bonus and promotion-seekers. They offer daily Odds Boosts, best price guarantees (compared to other sites) on popular football bets, and enhanced odds across multiple sports. You can also request betting markets they're not already offering.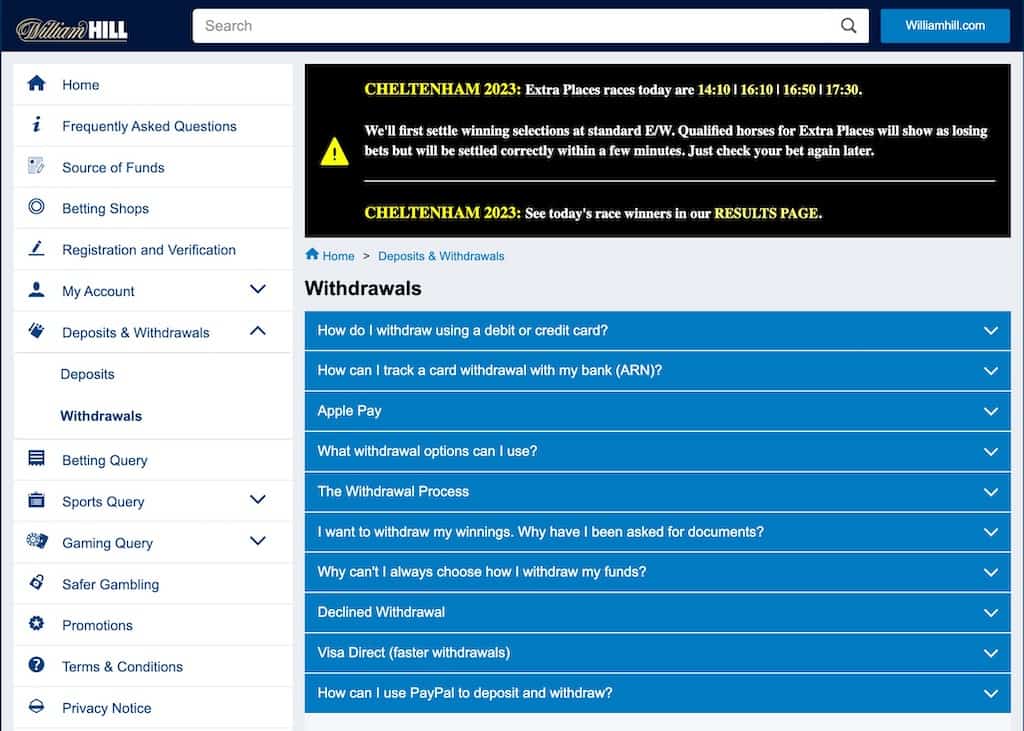 William Hill Withdrawal Times
VISA Fast Funds (Available at some banks) – Up to 4 hours.
PayPal- Same day.
VISA/Mastercard/Maestro debit cards- 1-3 business days.
Bank Transfer- 3-5 business days.
Ladbrokes
No-one has been around for longer in the UK betting industry than Ladbrokes and it tells, because this is a company who knows what they're doing. To say they offer betting on every sport under the sun, a good variety of markets, a fine in-play product and lots of livestreaming is just stating the obvious.
What's perhaps less obvious is that they offer innovative competitions that are free for customers to enter. Or that their blog has both colourful and entertaining content and useful betting guides and tips that prepare you for insightful betting when the big events come around.
One of the main reasons why Ladbrokes features on our fast withdrawal betting sites list is thanks to their Ladbrokes Grid Card. It's their own version of a debit card and in addition to giving you other loyalty benefits such as free bets, allows you to process withdrawals instantly.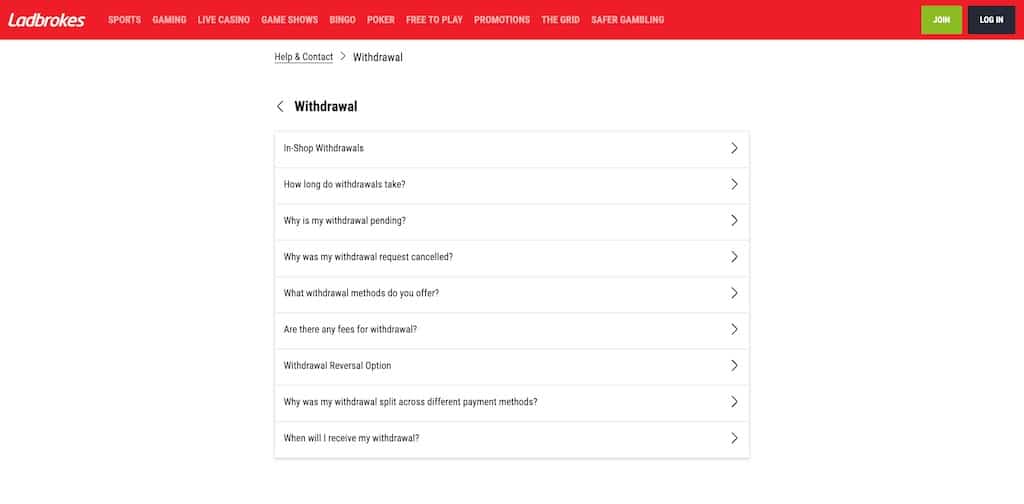 Ladbrokes withdrawal times
Ladbrokes Grid Card-
VISA Fast Funds (Available at some banks) – Up to 4 hours.
PayPal- Up to 8 hours.
Paysafe Card- Up to 8 hours.
VISA/Mastercard/Maestro debit cards- 1-3 business days.
Bank Transfer- 2-4 business days.
Apple Pay- 1-3 business days.
Fraud Check
Betting sites are right up there with banks and other financial institutions when it comes to their efforts in terms of fraud prevention.
Firstly, because they could risk losing their license as a result of it, secondly because they're obviously not keen on the idea of paying out money to fraudsters.
Here are some reasons why fast payout betting sites in the UK may suspend, or cancel a withdrawal request at this stage:
The debit card, E-wallet or other payment method chosen by the customer does not belong to them, looks suspicious or has been red-flagged for another reason.
There are suspicions for whatever reason that the withdrawal might be part of a money-laundering scheme or to be used for another illegal activity.
The betting site has reason to believe the account has been hacked and that the person requesting the withdrawal is not the owner of the account.
The customer is a bonus abuser who has exploited loopholes or promotions to win money in an illegal or unethical manner.
The customer holds multiple accounts under different names or under the names of friends or family against the betting site's rules.
Process of Payment
Once the betting site's Fraud Team have approved the request, it's down to the Payments Team to do the same. They'll carry out a few last-minute checks like the fact you're not requesting a bigger withdrawal than what you have in your account.
Or that the amount you're requesting to withdraw is cash rather than bonus funds with wagering requirements. Once they're satisfied, they'll approve the withdrawal at their end.
Advantages of a Fast Payout Betting Site
There are good reasons why we recommend betting sites with fast withdrawals over those that aren't. Here are some of them.
You might need the money urgently
Sounds obvious but there may be a scenario where you need cash at short notice and may not have it available in your bank account or in an E-wallet. A pound in a betting account is worth the same as a pound in a bank account. So why not use funds from your betting account to fund a purchase? The sooner the funds are released from your account, the better. The longer it takes, the more inconvenient it is.
It stops you from gambling your winnings
Let's say you've requested a withdrawal of profits and know the process will take at least five days. It's not impossible that during that lengthy period, you're tempted to cancel your withdrawal request, play away your winnings and lose them rather than sticking to your plan of withdrawing them. Something that could have been avoided if the withdrawal had been processed quickly.
It's a sign that the betting site can be trusted
Betting sites are quick to process your deposits and keep your money when you lose, right? So, it should be the same when you win and want to withdraw what is rightfully yours. Unnecessarily delaying the payment out should raise suspicions that the betting site wants an unfair one-sided battle, rather than a fair fight between bookie and punter.
Slow withdrawals are a sign of inefficiency
At the best betting sites things should run as smoothly as possible in all regards: the site doesn't crash, the betting rules are clear and fair, the livestreaming isn't too delayed, the in-play odds are quickly updated.
And so on.
A site that takes an eternity to process a withdrawal may be sloppy, slow and inefficient in other areas of their business. So should be avoided as one that sooner or later is going to give you a headache.
What are the Fastest Payment Methods for Betting?
Debit Card– A mid-range method in terms of time, taking 1-3 days on average. That said, the new Visa Direct card is far quicker. So if your bank issues them, ask for one. A big advantage is that most people will already be in possession of a debit card of some sort. But there are quicker methods than this one.
PayPal– Withdrawals are generally processed within the same day when using Payal so it's one of the fastest methods. More and more betting sites are starting to accept it as its popularity goes up. One of the simplest payment methods to use.
Google Pay– It's not necessarily one of the quickest for fast withdrawals, taking 1-5 business days on average. Other disadvantages are that not many betting sites in the UK accept it as a payment method at all. And in some cases, you will probably have needed to make your deposit with it as well, in order to use it to withdraw.
Neteller– Good news: Neteller is one of the quickest methods for withdrawals, as they're generally processed within 24 hours. They're also one of the safest methods. Bad news: not that many betting sites with fast withdrawals accept it compared to other methods. And it may cost you to top up your Neteller account in the first place due to fees.
Skrill– A somewhat similar story to Neteller in that withdrawals are quick, sometimes almost instant and almost always within the same day. It's also safe to use and keeps your details anonymous. Like Neteller, it's not widely accepted at UK betting sites and you may incur charges when withdrawing to it.
Slower Banking Options
Bank Transfer– The best things can one say about this withdrawal method are that a) just about any bookie will accept it as a withdrawal method and b) just about anyone is likely to have an online bank account already. So doesn't need to go to any extra effort. But they are of course among the slowest methods, taking 2-3 days and in some cases, up to five.
Cheque– There are far more negatives than positives with this one. It could take up to 28 days to arrive, it could get lost in the post and it could be stolen by someone suspecting an envelope is carrying a cheque. But for those who still like to use this very old-school method, at least it's likely to be a valid option at most betting sites.
How Can I Get Faster Betting Payouts?
Here are a few tips to make sure you get your money out of the fast payout betting sites as quickly as possible.
Choose a fast payment option– We've touched on this already, but some payment methods are quicker than others. E-wallets and cryptocurrencies are among the quickest, bank transfers and personal cheques among the slowest. So choose your withdrawal method carefully based on the information on this page.
Some cards are quicker than others– Not all cards are equal. VISA and VISA direct are both cards but the first one usually takes 1-2 days to process, the second takes less than 2 hours once it's been approved by the bookie. So, if fast payouts are a priority, try to use a VISA Direct card where possible, if you have one.
Do your KYC check nice and early- We've covered this one as well. Why wait until you actually want to withdraw before passing your KYC check? You need to do it some stage before requesting your first-ever withdrawal. So why delay things by leaving it to the last minute, which will result in delaying your withdrawal? You might as well do it as soon as you open your account.
Choose a fast withdrawal casino– All the recommended betting sites mentioned here are fast withdrawal bookmakers. But even then, some are faster than others. For example, one might take up to a day for a PayPal withdrawal, another might take up to eight hours. Choose one which is fastest for your chosen withdrawal method.
Why was my payment delayed?
You've requested your withdrawal from one of the best fast withdrawal betting sites in the UK and know how long it should take for the money to be in your account. But it's been delayed. Why could that be?
It's a holiday or weekend
When a withdrawal method is described as taking 2-3 days, those are business days, or bank days, not all days. Business days do not include weekends, bank holidays, or other holidays. So, if you requested a withdrawal on a Friday and it was meant to take 2-3 business days, you should only expect the money to be with you on the Tuesday or Wednesday, not the Monday.