Bundesliga explained
Before you can start to bet on German football, it helps to understand exactly how it all works! Here's a quick and easy explanation of the Bundesliga's most important details.
The Bundesliga is the top league in the German football system, akin to the Premier League being atop the many lower leagues in English football. It's actually considerably smaller than the other top European leagues, though, with only 18 teams competing instead of the usual 20. Naturally this also means there are fewer matches – 34 rather than 38 – and only two teams are relegated each season to the 2. Bundesliga (the second division). Despite all this, the Bundesliga still sends its top four teams to the Champions League each season; a reward for its excellent UEFA coefficient ranking.
As most football fans will know, the Bundesliga has been dominated by one team in particular. Since the league was founded in 1963, Bayern Munich – located in the Bavarian capital – have won a whopping 28 titles. So, if you're looking for a pretty straightforward German football betting tip… take Bayern to win the title! The next two biggest winners are Borussia Dortmund and Borussia Mönchengladbach, with five titles apiece. Dortmund were also the last team apart from Bayern Munich to win the title, which they did in 2010-11 and 2011-12.
Finally, the Bundesliga usually takes place from January until May each year, and games are almost always played at the weekend.
These are the Bundesliga betting offers which you're most likely to encounter.
Bore draw money back
There's nothing worse than backing a Bundesliga team, and your pick not only failing to win… but the game ending 0-0 too. It's the classic double whammy: you don't get a return on your bet, and you don't even get any entertainment from the match!
The Bore Draw Money Back solves this age-old problem. If the game finishes 0-0 then your entire stake will be returned to you, whichever side you originally bet on, ready to use again another day!
Enhanced odds
If you were wondering how to bet on Bundesliga football, this is a great place to start. Enhanced Odds are a classic promotion type, which most major sportsbooks will offer, and they're extremely easy to understand too.
As the name suggests, the bookie simply takes the odds on certain markets and improves them. A market which was 3/1, for example, can suddenly become 4/1. The specific markets vary greatly, but tend to be multiples rather than singles. These offers will usually be extremely short-term too, often only being installed on the morning an event is due to take place.
Acca offers
The accumulator is easily one of, if not the most popular bet type around. It's no surprise, therefore, to find that there are a whole lot of acca-related Bundesliga betting offers out there.
Perhaps the most common is the Accumulator Insurance deal. Normally, you need to win each leg of your acca to win the entire bet, but with Acca Insurance you can actually lose one leg, and still win the overall wager.
Early payout
There are few things more nerve-wracking than being involved in a close bet, and desperately waiting for those last few minutes to pass and your wager to come in.
Early Payout offers remove this tension in certain situations. 2 Goals Ahead is a common example, wherein – if you've picked a team to win and they go two goals up – you immediately win your bet.
Sign up offers
Most UK bookies offer welcome bonuses for the new customers in one form or another, with most common being free bets, risk-free bets or enhanced odds. Check out our list of 20 best sign up offers to have an easy start with the Bundesliga betting.
Top 3 Bundesliga betting sites in the UK
As noted, the Bundesliga is a hugely popular league to both watch and bet on. As such, you'll find a whole lot of sportsbooks out there offering Bundesliga betting. The actual quality of those offerings varies greatly, though, in terms of features, special offers, user friendliness, and so on.
In recent years we've tested dozens of current bookies, of all different sizes, and feel confident in recommending these as the very best Bundesliga betting sites currently available.
Ladbrokes
Ladbrokes aren't just the oldest name on this list. They're also one of the oldest – and most prestigious – names in all of sports betting, being founded all the way back in 1886. By 2016 they'd grown so large that they were even able to acquire Coral; previously one of the other biggest names on the British betting scene.To kick things off, their 'Bet £5, Get £20' welcome offer is one of the best around right now. The value of only needing to bet £5 to get four £5 free bets back is indisputable, and the T's & C's are extremely forgiving. The rest of their promotions are also excellent, and – at the time of writing – these even include a specific Bundesliga offer for German football betting.
Ladbrokes is also an extremely feature-rich sportsbook. In addition to reliable and quick live betting and cash out tools, you'll also find exceptional live streaming capabilities. These are available to all users, without needing to place a bet on the event, and – crucially – do include Bundesliga matches.
888Sport
Despite being much younger than Ladbrokes, having only started operations in 2008, 888sport have had a dramatic impact on sports betting in a short amount of time. In part, this has been down to their aggressive marketing approach; at one point in 2016, they sponsored the kits of four Championship teams at once! This exposure still wouldn't work without some quality to back it up, though, and the 888sport sportsbook has this in abundance.The layout of both the desktop and mobile versions is straightforward and extremely effective, making it perfect for newcomers. There's certainly enough functionality to satisfy veteran punters too, though, between in-play betting, cash out, a massive range of bet types and Bundesliga betting markets, and some fantastic ongoing promotions. The only minor drawback is that – while there is plenty of streaming for horse racing – there's none for football.
The 888sport welcome offer – a classic 'Bet X, Get Y' deal – provides a perfect entry point for this well-regarded brand. In this case you're betting £10 to get £30 in free bets, thus instantly tripling your spending power, and low minimum odds of 1/2 give you a great shot at winning your qualifying bet too.
Bet365
Bet365 are arguably the defining success story of sports betting in the 21st century. Founded at the turn of the millenium, they capitalised brilliantly on the technological revolution, committing to online gambling early by selling off their entire betting shop chain in 2005. The rest is history. Nowadays they have annual revenues of almost £3 billion, and are regarded as one of the top bookmakers around.If you choose to do your Bundesliga betting on Bet365, it won't take long to see what the hype is all about. The entire platform is the definition of class, from the clean visuals to the brilliantly intuitive layout. Every feature you could hope for is present and correct, from live betting and cash out through to high quality streams, which include Bundesliga matches.
Bet365 typically have one of the best ranges of deals too, whether those be ongoing promotions or welcome offers, with their current Open Account Offer one of the biggest around right now. It's a huge 'Deposit Match' promotion, in which your initial deposit is matched as free bets, all the way up to a hefty £100.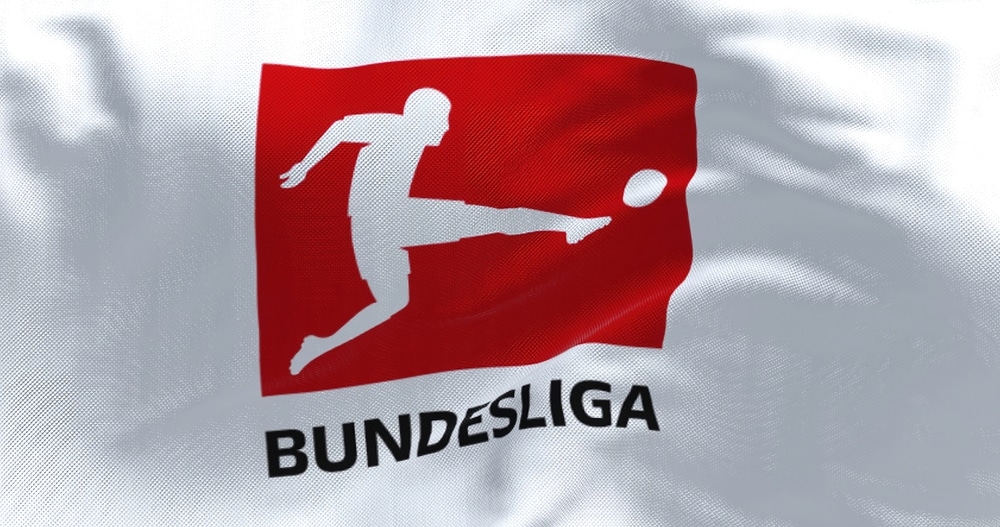 We touched upon this earlier, but it bears repeating. Sports betting is incredibly varied, and if you're sticking to the same old bets, you're simply not getting the best possible returns. The most straightforward way to correct this is to start using all of your bookie's football features when you bet on German football, with these being some of the very best.
Accumulators
The accumulator isn't exactly the safest bet in football… but it might be the most fun! For the uninitiated, these bets involve placing a bet with at least four selections, all of which must win for you to get a return.
We've already mentioned Accumulator Insurance, and there are other ways to improve your accas too. Acca Boosts – in which you inflate your odds – are one of the most common, and some bookies even allow you to edit your accas in-play.
Cash out
Cash Out is effectively an ejector seat for your bet, whether it's looking good and you want to lock in the profit, or looking bad and you want to minimise your losses. This feature allows you to bail on your wager while the match is still ongoing, with your return depending on the chances of the bet winning at that moment, rather than your original odds.
In-play betting
One of the biggest revolutions in sports betting. Rather than needing to stick your wagers down beforehand, almost all Bundesliga betting sites will now allow you to place them during the match. The odds on all eligible markets will update constantly, and – if you pick the right time to strike – there's excellent value to be had at one stage or another.
Pulse betting
This is one of the less common Bundesliga betting offers, but – if you can find it – it's worth using. It's similar to in-play betting, in that you'll bet on an ongoing game, but markets are eligible in a very limited time frame. A common example is betting on a goal to be scored in the next one, five or ten minutes.
Live streaming
Because of how useful in-play betting and cash out features can be, if you can watch a game you're wagering on… you really should! Some of the bigger bookies out there – including Ladbrokes and Bet365 – offer live Bundesliga streaming. In those cases it's free for all registered users to watch the streams, but other bookies might require you to bet on the game, or simply have a positive account balance, to do so.
Bottom line
If you've never watched or bet on the Bundesliga before, now really is the perfect time to do so. Between the quality of the football and the incredible atmosphere invariably generated by the fans, you're unlikely to be disappointed.
After reading this article, you should have an excellent idea of your options when it comes to the best Bundesliga betting sites around right now. You also know some of the betting offers and special features you should start using, in order to maximise your returns. Now all that remains is for you to sign up with a bookie, take advantage of their welcome offer… and start betting!