What is live betting and how can I get maximum value from it? We've got the answer to those questions and more. This guide to in-play betting gives you the lowdown on live odds, what to look for when you place bets and how to get something extra. We've also picked out seven of the best live sports betting sites and given you tips on how to make better decisions. So, if you want to become a better live sports bettor, check out our in-game betting guide.
What is Live Betting?
Live betting, aka in-play odds aka minute-by-minute wagers, whatever you call it, we're talking about making bets while an event is in progress. The opposite of live betting is pre-game betting. As you can probably guess, pre-game betting happens before an event starts. In contrast, live betting markets only open when an event gets underway.
Naturally, live bets are more popular for certain events than they are for others. For example, in horse racing, there aren't many things that can happen during a race. A horse could fall, or a jockey could be unseated. Other than these possibilities, a horse can either win or lose.
This means there aren't as many live bets as there are for football. In football, dozens of things can happen at any given moment. A player could bag a hattrick, someone could lose their head and get sent off, the scoreline could change and so on. This plethora of possibilities makes live football betting dynamic, entertaining and, therefore, popular.
So, to recap, live betting markets open once an event starts. In general, there are in-play odds for all sports but, as we've said, some sports are more suited to live betting than others.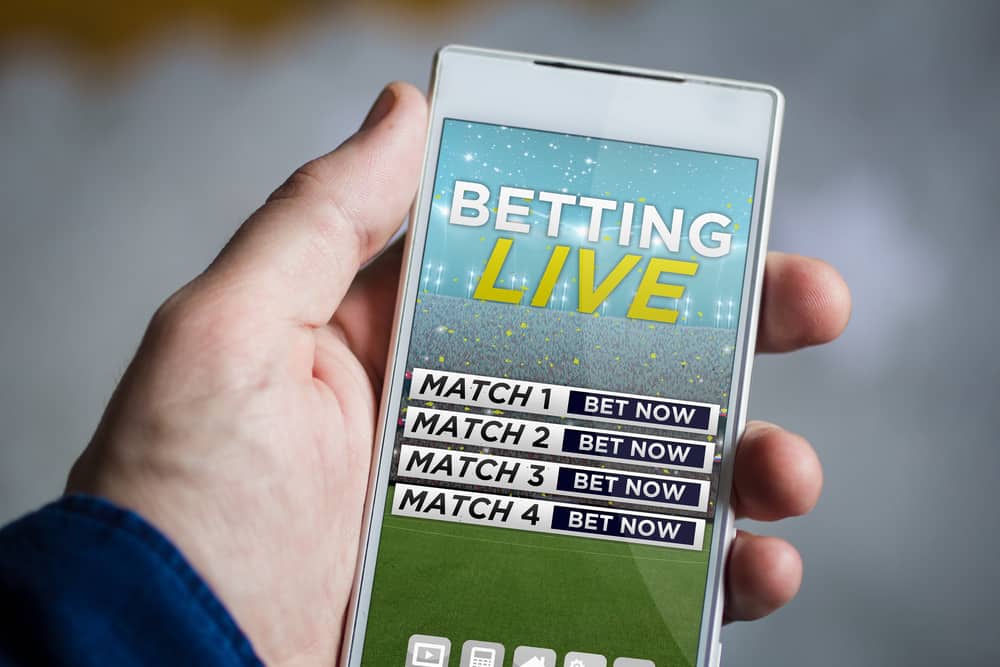 What Are the Benefits of Live Betting?
Everyone has their own views on why in-play betting is brilliant. Every opinion is valid, but we think you'll love this type of betting for two reasons:
#1 – Dynamic Action, Dynamic Odds
Sport is entertaining and betting can add a hint of spice to the mix. Live betting is more than a hint of spice, it's a whole chilli. Why? Because sport is unpredictable. Things are always changing, so you're always on the edge of your seat.
In-game betting is the same. The odds change in sync with what's happening. This means you never know if the odds are going to shorten or whether you're going to get a bigger price. Again, this is edge-of-your seat stuff.
#2 – Beat the bookie at their own game
In-play betting presents more opportunities to exploit odds that don't seem to align with reality. In other words, you've got a shot at beating bookmakers at their own games if you're dialled into the action.
We say this because oddsmakers don't have as much time to set their lines. Before an event, bookies have time to sit and ponder all the variables that could affect the result. They don't have the luxury of time once an event is underway.
This means the odds can be slightly off. Whenever the odds are slightly off, you've got a chance to get more value than you otherwise would. That's a positive and one of the main reasons experienced punters like in-play bets.
What Are the Risks of Live Betting?
The same risks bookmakers face when they set odds are the same risks you face when betting. Put simply, you don't have the luxury of time. You're having to make assessments on the fly, which means you don't have a lot of time to consider whether or not it's a potentially profitable bet.
This doesn't mean live betting is any riskier than pre-game betting. However, it's also true that you've got more time to think about a bet before an event starts. OK, so time is the main risk. What can you do to reduce your risk in live betting?
The first point we'll make is that you can't reduce your risk completely unless you've got a live betting bonus that offers cashback on losses. The only thing you can do is accept there are risks and make sensible decisions.
Some live betting tips that could help you make better decisions are:
Take a second to think: Don't just react and place bets without taking a moment to think about whether it's really a good idea.
Don't bet too much: Bankroll management is a key skill that all bettors need to master, and you shouldn't throw this concept out of the window just because you're trying to make a quick move. Set a bet amount before an in-game market opens and use this for every wager you make.
Don't get too excited: It's easy to get caught up in the moment and make too many bets. Every in-game bet you make should be done for a reason. Don't let adrenaline make you reckless.
The Top In-Play Betting Sites
OK, so we now know what live betting is and how to devise a strategy for making in-play bets. The next question we need to answer is, what are the best live betting sites? Based on our expert reviews, these online sportsbooks offer the best live betting odds, bonuses and features.
Bet365 In-Play Betting
New Customer Offer: Bet £10 get £50 in Free Bets
In-Play Plus Points: Plenty of promotions, great app for sports news and stats
When it comes to live sports betting bonuses, Bet365 is beast – and we mean beast in a good way. This operator has been around since 2000 and now stands as one of the largest privately owned betting companies in the world. From its base in the UK, bet365 serves more than 19 million customers.
This means it's a hugely profitable business which, in turn, means the owners put a lot back into the system. For example, there are plenty of promotions, including free bets for new customers, accumulator boosts and early payouts. Another reasonBet365 is one of the best live sports betting sites is extras. You can get stats and sports news via the app, so it's easy to research the events you want to bet on.

BetVictor In-Play Betting
New Customer Offer: Bet £5 get £20 in Free Bets
In-Play Plus Points: One-touch betting, wide variety of in-play odds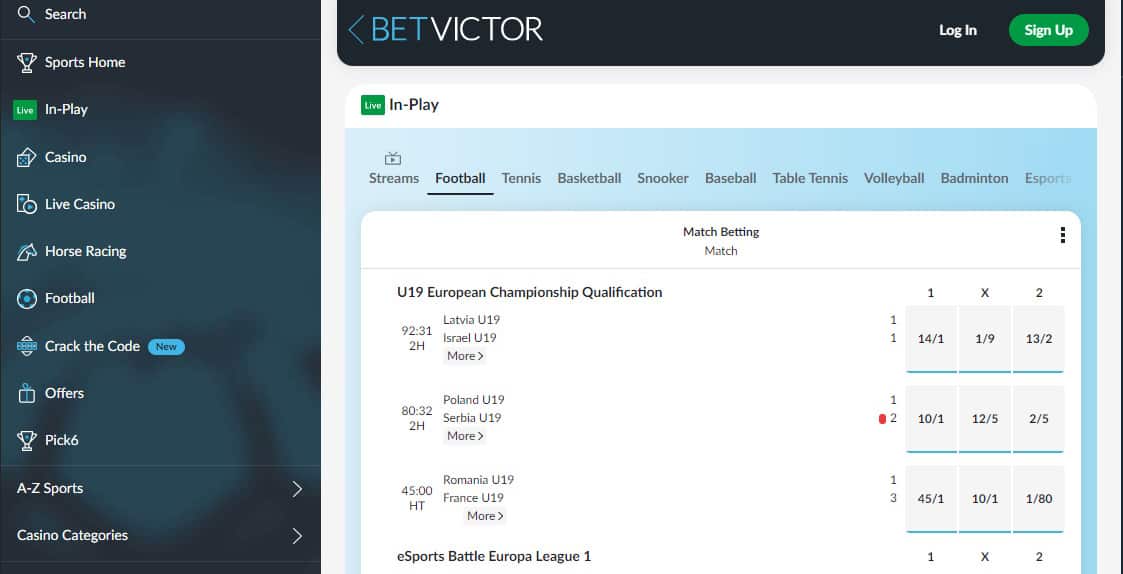 BetVictor has been around for years, so it knows how to offer a top-class online betting service. The app is slick and looks great. Beyond its aesthetics, the app covers a wide variety of sports, which means you get in-play odds for football, tennis, badminton, eSports and more.
BetVictor is always giving punters more value. New customers get free bets and there are innovative offers such as the weekly prize wheel. This live betting site also has a loyalty club, so you can get rewards based on your in-play activities.

888Sport In-Play Betting
New Customer Offer: 100% Deposit Bonus up to £200
In-Play Plus Points: Generous welcome bonus and custom-made software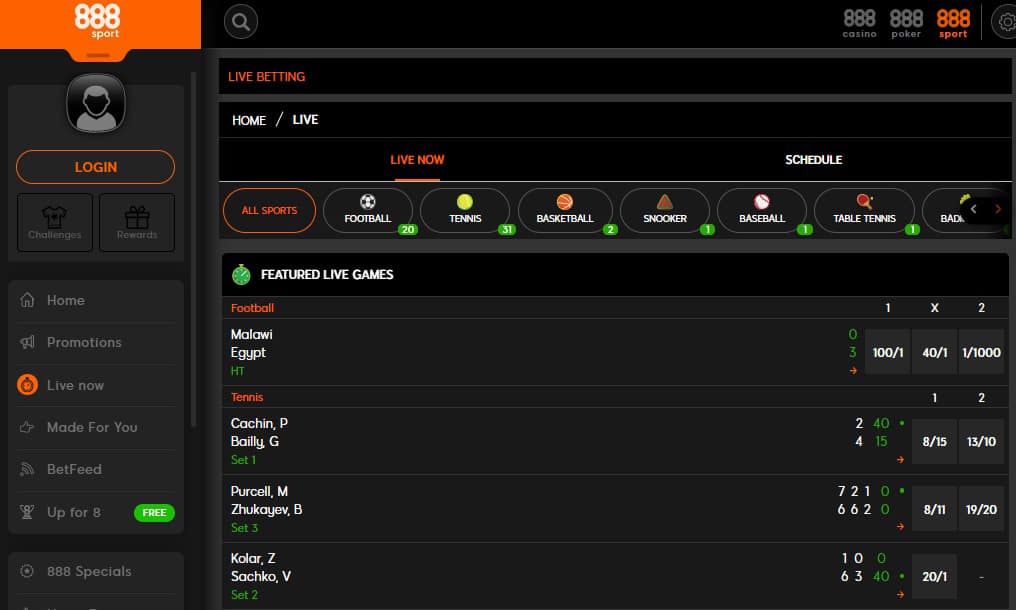 888Sport is ranked as a top in-play sports betting site for a few reasons. Firstly, new customers can use our exclusive 888Sports promo code 200BONUS to get a first deposit match worth up to £200. This offer opens the door to a wealth of sports betting bonuses, including moneyback offers, bet builder boosts and enhanced odds.
Another reason 888Sport is great for live bets is its software. Because this company has its own software division, a lot of its features are custom-made. This means you get neat little extras such as the free-to-play football predictor and 888 Specials. The app also has a "made for you" section which contains betting suggestions based on your preferences.

Ladbrokes In-Play Betting
New Customer Offer: Bet £5 get £20 in Free Bets
In-Play Plus Points: Established brand, tailored promotions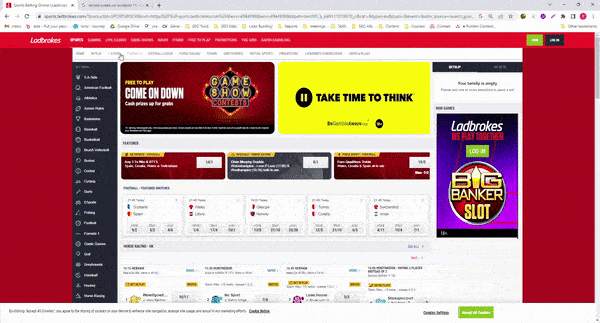 Ladbrokes has been around since 1886, so it's safe to say it knows how to run a sports betting business. Indeed, when it comes to trust and reputation, very few operators can match Ladbrokes. This means you get a great overall service and experience.
In terms of extras, new customers can get £20 worth of free bets, but the thing that makes Ladbrokes a leading live betting site is its custom offers. Thanks to a feature known as fanzone, you can tell the software your favourite football team. From this, the app will give you promos, odds and news updates that focus on your team.

Spreadex In-Play Betting
New Customer Offer: Bet £10 get £30 in Free Bets
In-Play Plus Points: Best odds guarantees for Premier League, spread betting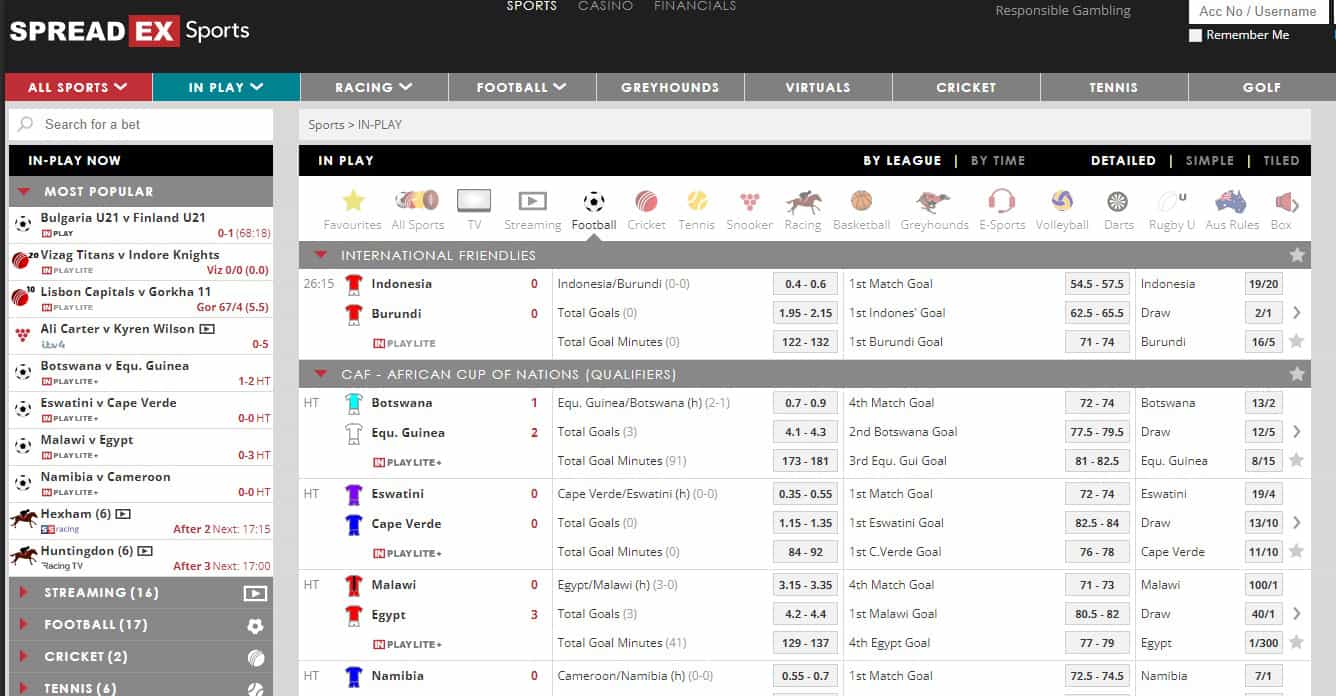 If you want live betting markets with a difference, Spreadex is the app for you. This sportsbook gives newbies free bets, while existing customers can get odds boosts, no-risk wagers and more. These offers are great, but Spreadex is ranked among the best in-play sports betting sites for three main reasons.
Firstly, it has exceptional Premier League odds and will beat Bet365, Paddy Power, Betfair, Sky Bet and William Hill. Secondly, the software is great. You can watch free live streams while you're betting, and it's possible to change the layout from detailed to simple. Finally, this sportsbook also has a spread betting product which offers a completely different option for punters.
Boylesports In-Play Betting
New Customer Offer: Bet £10 get £40 in Free Bets
In-Play Plus Points: Solid all-rounder with competitive live betting odds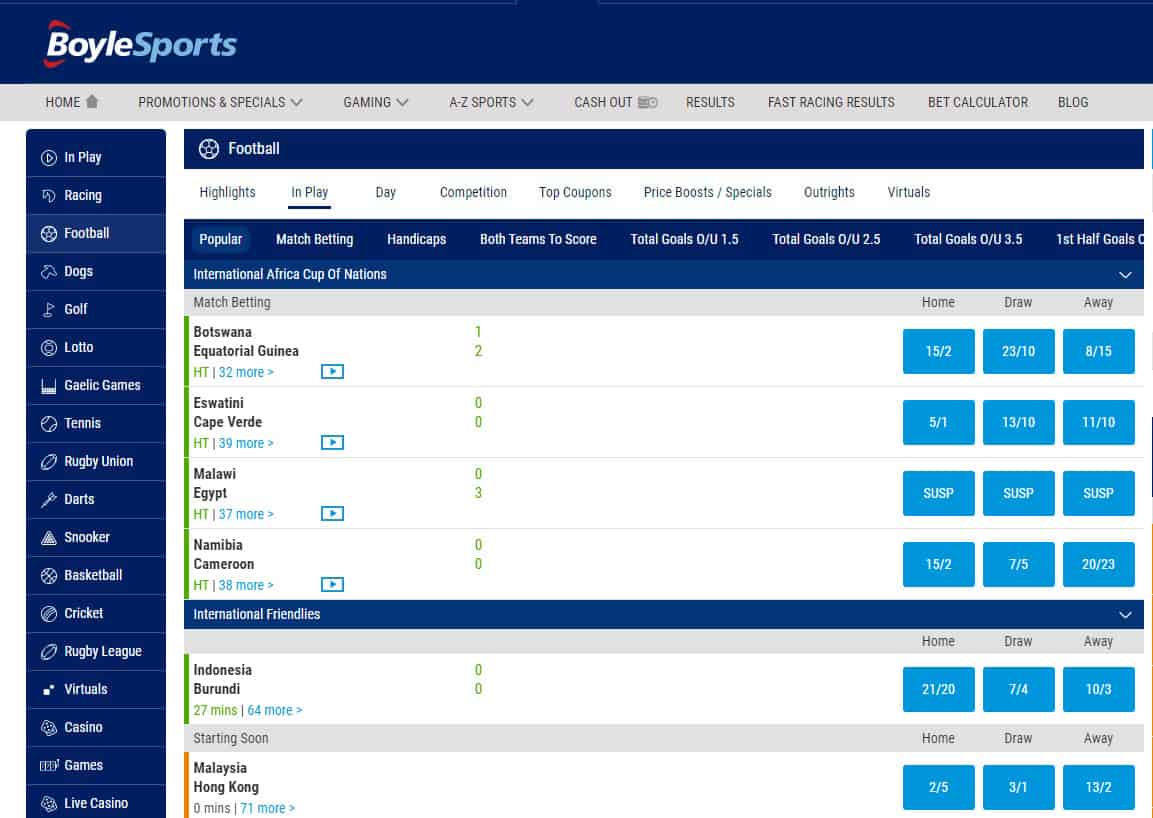 Boylesports is a true all-rounder. New customers get £40 worth of free bets when they wager £10. Boylesports also has a blog so you can get the latest sports news as well as betting tips. There's also a bet calculator to help you understand a bet's potential payout.
The app's in-play betting odds are competitive, and you can watch live streams as you wager money.

Coral is another industry veteran, so you're guaranteed a fair, safe and high-quality service when you use the app. New customers can get £20 worth of free bets, but the giving doesn't stop there. Coral offers plenty of live betting promotions, including odds boosts and cashback. In addition to promos, this operator has a great blog that covers the latest sports headlines and provides betting tips.
Live streams are a particular selling point, and we can't ignore the Coral Racing Club. This is basically a rewards scheme for horse racing fans. So, if you're going to make live bets on horse racing, Coral is one of the best places to do it.

As we've explained, live betting is better suited to some sports than others. In general, in-game markets are most commonly available for sports with multiple variables i.e. lots of things can happen. However, in theory, you can make in-play bets for any sporting event.
For example, let's say there are in-play markets for a boxing match. The scope of what you can bet on is fairly limited as there aren't the many things that can happen. Someone could get knocked down, they could win within the next few rounds or they could get disqualified. There are a few things that can happen, which is enough for a bookmaker to offer live bets.
However, if you look at football, dozens of different things can happen. So, when you go through our list of recommended live sports betting sites, make sure you think about the in-play options they offer. Some betting apps focus on a broad range of sports, others will zone in a few specifics. You should use the ones that best suit your preferences.
We've already given you some live betting advice with regards to reducing your risk. Before we let you go off and experience the thrill of in-play action, here are some tips that can help you stay safe, have fun and, potentially, improve your chances of picking winners:
In-game betting is all about making quick decisions. You have to react to changing dynamics and try to predict what's going to happen next. You stand a better chance of doing these things well if you've done some research ahead of time. Check previous results, the playing conditions, starting line-ups and the things that happen most often in your chosen sport.
In-game betting is all about making quick decisions. You have to react to changing dynamics and try to predict what's going to happen next. You stand a better chance of doing these things well if you've done some research ahead of time. Check previous results, the playing conditions, starting line-ups and the things that happen most often in your chosen sport.
Perhaps the biggest skill a live sports bettor can master is timing. Assuming you've done the necessary research and know how much you're going to wager, your greatest challenge is placing a bet quickly. Why? Because the odds change quickly and something that was good value can quickly become a bad bet. Therefore, you need to jump on potentially profitable situations. The good news is our recommended online sports betting sites have great software that allows you to place in-play wagers in seconds.