What Are VIP and Loyalty Programs?
VIP programs, also known as loyalty programs, are systems through which real-money customers earn rewards based on their betting activity. This means you can bet on sports or play casino and poker games to earn loyalty rewards.
If you're reading this guide, you're probably interested in sports betting. So, let's focus on sportsbook loyalty programs. You'd start collecting loyalty points and rewards by going through a process like this:
You scroll through our list of recommended betting sites and read the reviews.
You choose Ladbrokes as your starting point.
You create an account and deposit some money.
Finally, you start betting
That's it. You don't need to do anything out of the ordinary. As long as you're an active customer who wagers money on sporting events, you'll earn points. These points can contribute to your VIP ranking and/or be exchanged for rewards, including free bets, odds boosts and special prizes. So, let's say you get 10 points for every £20 wagered. This doesn't mean you always have to bet £20 to earn 10 points. Wagering targets are cumulative totals.
Therefore, if £20 is the target, you can make two £10 bets and earn 10 points.
Based on this, if you wager £100 over the course of a week, you'd get 50 points (100 / 20 = 5 x 10 = 50). Depending on the system in place, loyalty points either unlock rewards automatically or you can spend them like cash.
Using the example above, there are two possible scenarios:
You earn 50 loyalty points in a week and receive a free bet the following Monday.
You visit the sportsbook's rewards store and choose a bonus that costs 50 points or less.
Neither system is necessarily better than the other. We're just giving you the basic mechanics of how the best VIP programs for betting work. Armed with this knowledge you should be able to search through our recommended betting apps and find the systems that suit you best.
Whichever ones you decide to use, there are three key things to remember:
The rewards you receive correlate with the number of bets you make/amount you wager.
You don't have to do anything special i.e. just bet as normal.
Don't wager more money than you can afford to lose just to earn loyalty rewards.
Keep these points in mind and not only will you understand how sports betting loyalty programs work, you'll get maximum value for your time online.
What Are the Best Bookmakers for VIP Programs?
Every online bookmaker handles bonuses in different ways. Some have loyalty rewards; others simply offer ongoing promotions. Almost all of our top-rated betting sites have a loyalty program, but they're not always available to sports bettors.
For example, you can join William Hill and earn loyalty rewards by playing poker and casino games. The same is true for Unibet. Alternatively, you can play casino games at Betfred and earn points that can be exchanged for cash.
So, if you're a fan of poker and casino games, these companies are worth using.
However, even though those brands have sportsbooks, they don't have sports betting loyalty programs. Therefore, if you only want to focus on sports, here are four of the best loyalty program betting picks:
Ladbrokes: The Grid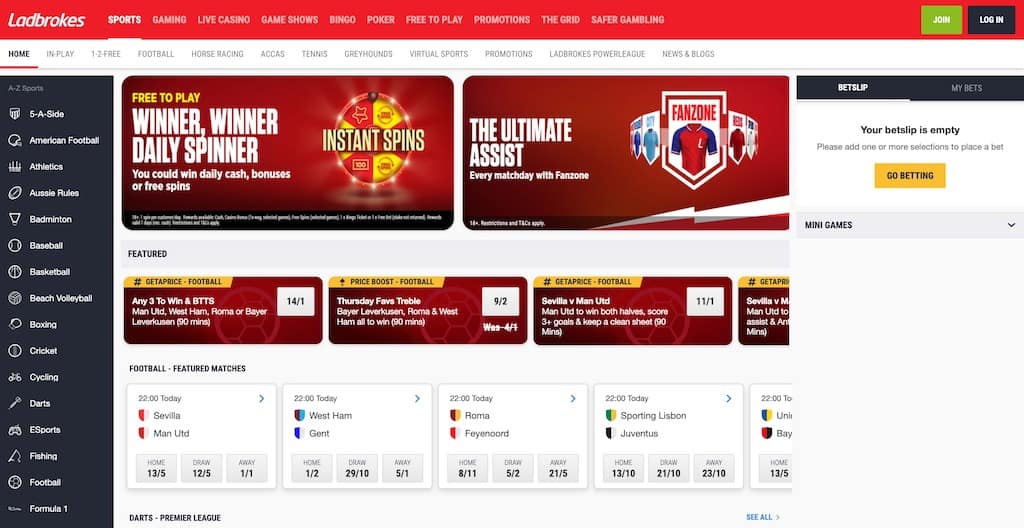 Ladbrokes has been a force in betting since 1886 and, today, it has a loyalty program known as The Grid. Customers who join The Grid get a card filled with mystery prizes. You unlock these prizes by making bets that gradually fill in squares on the grid. Once you fill a square, a prize is released. Prizes range from betting bonuses and discounts at restaurants to gadgets and tickets for special events.

Kwiff: The Sports Club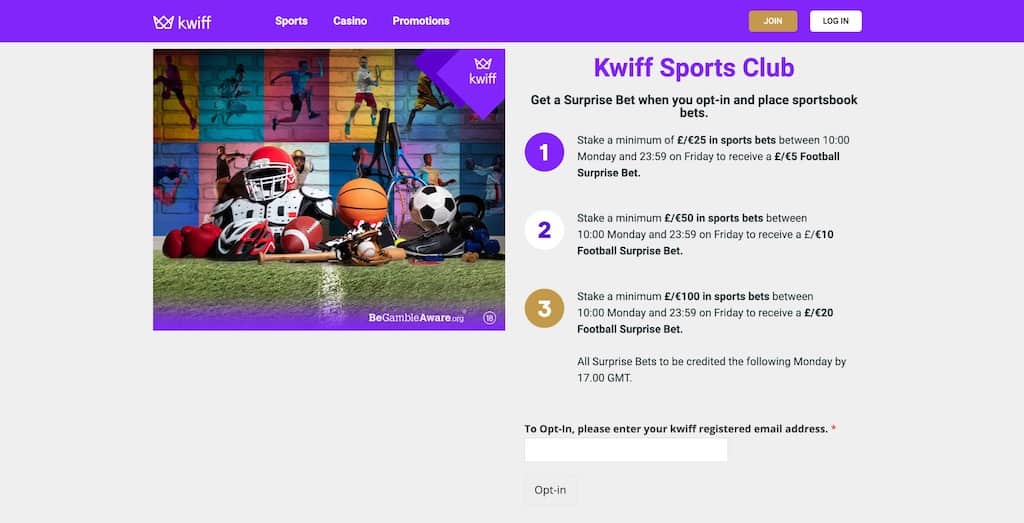 The Kwiff loyalty program gives you a surprise bet once you've wagered a certain amount of money. Known as The Sports Club, this loyalty system has three tiers:
Make a £25+ bet (min. odds 0.5/1) between 10 am on a Monday and 23:59 pm on a Friday to receive a £5 Surprise Football Bet.
Make a £50+ bet (min. odds 0.5/1) between 10 am on a Monday and 23:59 pm on a Friday to receive a £10 Surprise Football Bet.
Make a £1000+ bet (min. odds 0.5/1) between 10 am on a Monday and 23:59 pm on a Friday to receive a £20 Surprise Football Bet.
Surprise bets are randomly generated picks. So, with this loyalty program, you get a surprise bet for any football match.

888Sport: Acca Club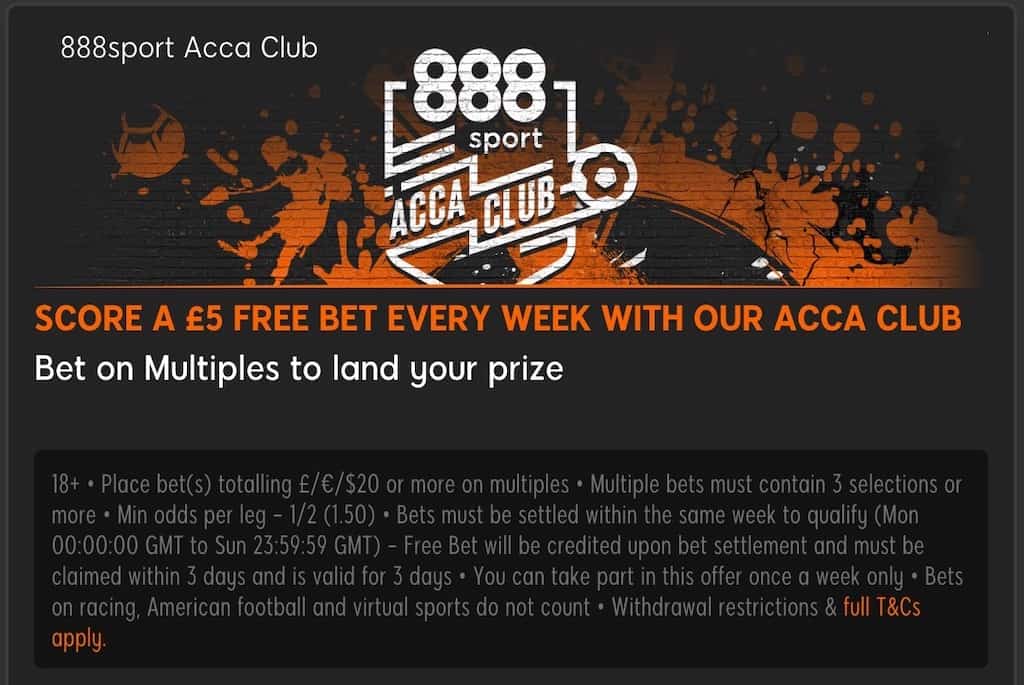 888Sport rewards loyalty by giving you access to the Acca Club. Membership of this club entitles you to a £5 free bet every week. To get in, all you have to do is place accumulator bets (min. odds 1/2) totalling £20 or more between Monday and Sunday. Do that and you get a £5 free bet the following week. 888Sport also rewards loyalty by giving you a £5 free horse racing bet every weekend. To get it, just place five qualifying wagers between Monday and Friday.

BoyleSports: Acca Loyalty Rewards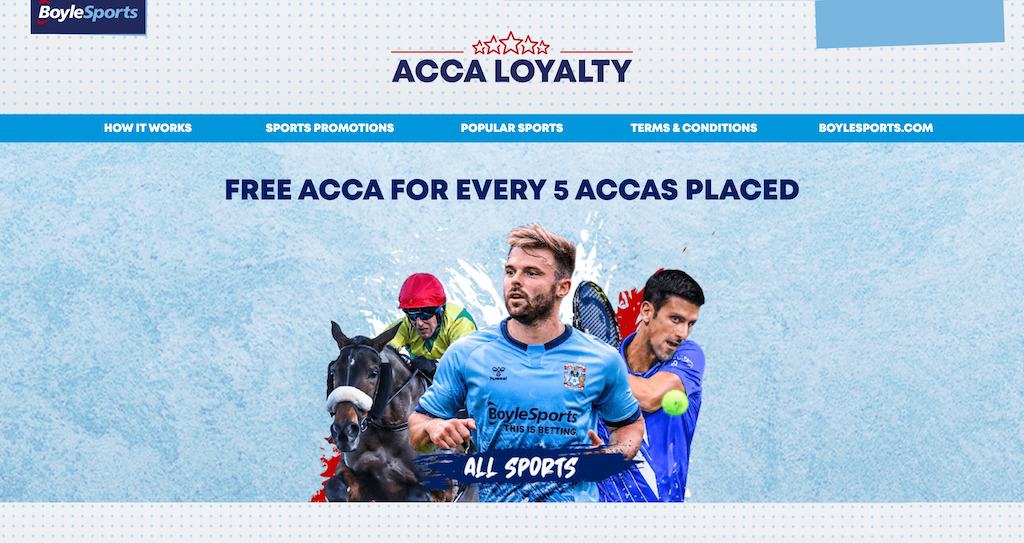 Opt-in and place an accumulator bet consisting of five or more legs (min. odds 3/1) and you'll receive a loyalty stamp. Collect five stamps and you'll receive a free £5 accumulator bet. In addition to its Acca Loyalty Program, BoyleSports has a free Fantasy Five football picking game. This competition is open to real-money customers and serves as a unique loyalty bonus.

The Benefits of VIP & Loyalty Programs for UK Punters
Anyone who spends time betting on sports will know that results ebb and flow. Sometimes you're up, sometimes you're not. The best VIP program betting promotions help push you higher when you're up and stop you falling as far when you're down.
Aside from helping to smooth out the natural swings of sports betting, VIP programs offer these benefits:
Free Bets and Bonuses
The main reason loyalty schemes are popular within the online betting world is because they give you a way to earn more bonuses. As we've said, you earn points based on your betting activity. These points can unlock free bets and other bonuses.
What's nice about sports betting loyalty program bonuses is that they don't interfere with other offers. So, if a bookmaker runs a weekend odds boost promo, you can still get this offer even if you're earning loyalty rewards. Essentially, a loyalty scheme gives you two ways to earn bonuses.
Extra Value
Odds boosts are popular within the online sports betting world, and you can often unlock these offers as part of a loyalty program. Along similar lines, bookmakers also offer payout boosts for singles and accumulator bets. As you can probably guess, these bonuses increase your payout by a certain amount e.g. a 2X increase would double your payout.
Exclusive Access to Sports Events
All loyalty programs give you ways to earn bonus bets. It doesn't matter if you're betting on sport or playing casino games, VIP schemes are a reliable way to earn extra credits. However, the one thing other gambling loyalty programs don't offer is access to live sports events.
Leading bookmakers, such as Ladbrokes, sponsor various sporting events. A loyalty program can give you access to these events as well as other major sporting showdowns. These rewards are generally reserved for high-volume customers. However, the point here is that you can use a sports betting loyalty program to get tickets for football matches, tennis tournaments, horse racing events and more.
Loyalty Programs & VIP Schemes: The Types of Rewards Offered By Bookies
So far, we've been fairly carefree when it comes to discussing loyalty programs and VIP schemes as if they're the same thing. In essence, they are. A VIP scheme is a type of loyalty program and vice versa. However, for the purposes of clarity, it's worth giving you the specifics because some bookmakers have linear loyalty programs and others have tiered VIP schemes.
Linear Loyalty Programs
Sportsbook loyalty programs are linear because everyone stays on the same level. This means there isn't a graduating series of rewards as you earn more points. Instead, everyone earns points at the same rate. Then, as we've already explained, these points can be used to unlock bonuses in one of two ways:
Automatic rewards triggered when you reach specific milestones
Or
Rewards you claim manually by spending points in a rewards store
The fundamental premise to remember when it comes to linear loyalty programs for sportsbooks is that you don't move up or down levels. You always earn points at the same rate, so everyone is on an even playing field. Finally, points are only used to unlock rewards.
Tiered VIP Schemes
Tiered VIP schemes take the fundamental premise of a loyalty program (as discussed) but add levels to it. As they say, there are levels to this game. That means points aren't just used for rewards. As well as unlocking rewards, loyalty points determine your ranking within the VIP ecosystem.
The more points you earn, the higher up the VIP ladder you climb. For example, a sports betting VIP program might look like this:
Bronze (0 to 99 points)
Silver (100 to 299 points)
Gold (300 to 599 points)
Platinum (600+ points)
As you can see, each level has a points threshold. Hit that and you'll improve your status. Why is that important? Because each level unlocks new rewards. For example, as a Bronze VIP, you might get a 10% deposit bonus, three free bets per week and cashback on losses up to £25. Move up to Gold level and you might get a 50% deposit bonus, 10 free bets per and cashback on losses up to £200.
VIP programs are favoured by high-volume bettors because you get better rewards as you move up the rankings. With a linear loyalty program, everyone earns the same number of points. Of course, high-volume bettors will earn more points than casual customers. However, high-volume customers don't get any extra benefits for wagering more.
How UK punters Can Start Earning Sports Betting Loyalty Bonuses
You need to do the following things to claim loyalty bonuses:
Find an online sportsbook with a loyalty program – you can read our sports betting reviews and use the secure sign-up links to unlock special offers.
Create an account – you can only claim loyalty rewards if you make real-money bets. To do this, you must join an online sportsbook and verify your identity. You must be 18+ and in the UK to join locally licensed sportsbooks.
Deposit money – there are no freebies in the loyalty game. Only bets made with your own money earn you loyalty points, so choose a secure payment method and make a deposit.
Start betting – it doesn't matter which events you bet on, it only matters that you wager enough to hit whatever targets a bookmaker has set. These targets are cumulative amounts, so don't try to hit them with a single bet.
Following those simple steps will ensure you start collecting points and earning loyalty rewards.
Three Tips to Get the Most Out of VIP & Loyalty Programs
Getting more bang for your buck (or pound) comes down to one thing: consistency. The longer you're active, the more loyalty points you'll earn. By now you should know that loyalty points unlock bonuses so, the more you've got, the bigger your bonus balance will be.
Saying that consistency counts is all well and good, but you can't just make bets without any sense of direction. There are things you can do to maximise your output and, therefore, returns. So, with this in mind, here are three tips for getting more sports betting loyalty program bonuses:
1. Take Advantage of Added Value
It's always a good idea to use bonuses to unlock other bonuses. The caveat here is that bonus bets won't earn you loyalty points because you're not risking your own money. However, the profits from a successful bonus bet are paid out in cash. You can use this cash to make bets you wouldn't have otherwise and, therefore, earn extra loyalty points.
All of our top-rated online sportsbooks have welcome bonuses that could help you win cash prizes. After that, look through a sportsbook's list of ongoing promotions and claim odds boosts, free bets, reload bonuses and any other offers. All of these deals could help you win something from nothing which, in turn, can give more ways to earn loyalty points.
2. Focus on Sports You Love
This tip applies to the best VIP programs for betting and sports betting in general. You're always going to get more out of the sports you enjoy than ones you don't. There are exceptions to this rule, of course. For example, if you spot odds for a volleyball game that look way out of whack, it could be a good bet.
But, in general, you should focus on sports you love. Understanding a sport gives you a better chance of finding potentially lucrative bets. What's more, you'll be more interested and engaged. This should mean you're more willing to be an active customer which, in turn, means you've got the chance to earn more loyalty rewards.
3. Don't Overexert Yourself
The key to success in any sportsbook loyalty program is volume. We've said this multiple times already, but it's worth repeating: the number of points you earn correlates with the amount you wager. OK fine, but this doesn't mean you should wager more than you can afford to lose.
Bankroll management is the fundamental tenet of gambling and there is never a reason to break it. If your bankroll only permits you to wager £25 per week on sports, don't risk more just to earn extra loyalty points. The amount you get back in bonuses won't offset the damage you can do from overexerting yourself.
Earn More Bonuses as a Loyal Customer
There you have it, that's the lowdown on loyalty programs in online sports betting. To recap, there are two main systems bookmakers use: linear loyalty programs and tiered VIP schemes. Each system has the same underlying premise: place bets to earn points that can be used to unlock bonuses.
A downside to sports betting loyalty programs is that they can encourage you to bet more than you should. It's also worth noting that a lot of popular online sportsbooks don't have them. Most online casino and poker sites do, but loyalty schemes are less common in sports betting.
That being said, some of our hot picks have them. Ladbrokes, 888Sport and BoyleSports all give you ways to earn rewards. So, if you want to get more for less when you bet on sport, check out our recommended bookmakers and become a loyal customer.