Gaelic football, sometimes known as Irish football, is governed by the Gaelic Athletic Association (GAA), hence the term GAA football. The sport originates from a form of ancient mob football known as caid. References to that game date back to 1308, which makes Gaelic football one of Europe's oldest sports.
The modern version of GAA football was popularised in the 19th century and, today, it's Ireland's most popular sport according to the Teneo Sport and Sponsorship Index 2022. The game is played elsewhere in the world, including England, Australia and North America. It's also becoming popular in parts of Europe, Asia and the Middle East. However, Ireland is Gaelic football's home.
Crowds of more than 80,000 people pack into Dublin's Croke Park every year to watch the All-Ireland Senior Football Championship. The average game gets a TV audience of almost one million in Ireland, which is 20% of the entire nation. These figures alone not only make Irish football one of the most watched things on TV but the country's biggest sport ahead of soccer.
Such is the popularity of Gaelic football in Ireland that a ladies organisation was founded in 1974. Overseen by the Ladies' Gaelic Football Association, the All-Ireland Senior Ladies Football Championship and Ladies' National Football League are gaining traction across Ireland.
What are the best GAA football betting sites? Good question. Even though it's one of Ireland's biggest sports, Gaelic football isn't as big internationally as it possibly should be. Therefore, finding odds and offers for the latest GAA matches isn't always easy. The good news is that we're here to help, as are the best UK sportsbooks. The following Gaelic football betting sites not only cover upcoming matches but give you a variety of added extras.
Betfair
Bet365
BoyleSports
Ladbrokes
Coral
Betfair
Pros
Sportsbook and exchange betting odds
Efficient one-touch tab betting system
Gaelic football betting tips
Cons
Could offer more GAA-specific promos
Offering more non-standard markets would be nice
Welcome bonus: bet £10 and get £30 in free bets
GAA football betting bonuses: odds boosts
We could rank Betfair among the best GAA betting sites for its software alone. The one-touch tab system it uses within the Gaelic Sports lobby allows you to get instant overviews of all the major events, including All-Ireland Football. However, there's a lot more. You've got expert tips and match previews, in-play cashout options and you can even use the Betfair Exchange to find alternative Gaelic football betting odds. Throw promos into the mix and Betfair is definitely a top-ranked GAA betting site.

Bet365
Pros
Great odds
Easy to use software
Covers all the major GAA football matches
Cons
Not many added extras
More specific Gaelic football betting bonuses would be nice
Welcome bonus: bet £10 and get £30 in free bets
GAA football betting bonuses: bet boosts and early payouts
Bet365 might not offer the same number of added extras as other Gaelic football betting sites, but it covers all of the main events. In fact, what's really nice about this sportsbook is its mobile-first design. Basically, everything is scaled back so you can get the latest GAA betting odds in seconds via any device. You can also use the star function to favourite Irish football. Doing this puts the latest pre-game and in-play markets on your account's homepage.

BoyleSports
Pros
Irish bookmaker that covers all GAA betting markets
Competitive odds and in-play cashouts
GAA football bonuses, inc. price boots
Cons
Software could be improved
Can be hard to find what you're looking for
Welcome bonus: £25 free bet bundle when you stake £5+
GAA football betting bonuses: price boosts
BoyleSports isn't just one of the top Gaelic football betting sites, it's one of the leading platforms for all Irish sports. GAA betting odds are listed with the "Gaelic Sports" hub, which means you get a complete overview of all the latest events, including those in football and hurling. The Gaelic Sports hub also contains GAA betting bonuses, including price boosts, and a highlights tab that gives you a snapshot of the most popular current bets.

Ladbrokes
Pros
Nice selection of Irish football betting markets
Competitive odds
Covers all Gaelic sports
Cons
Could be more extras
No GAA betting promotions
Welcome bonus: bet £5 and get £20 in free bets
GAA football betting bonuses: featured bets, daily prize wheel
Match betting, in-play, competitions and outrights. You name it, Ladbrokes offers it when it comes to Gaelic football betting. What's particularly nice about this GAA football betting site are its futures markets. As well as betting on individual events, you can make season-long picks for things like GAA Footballer of the Year.

Coral
Pros
Good selection of GAA betting markets
Futures markets are impressive
Nice in-play betting system
Cons
Needs more GAA betting specials
Sportsbook's aesthetics could be improved
Welcome bonus: bet £5 and get £20 in free bets
GAA football betting bonuses: odds boosts and acca offers
Like its sister sportsbook Ladbrokes, Coral offers an impressive selection of Gaelic football betting markets. As before, futures are a particular highlight. Something else we like about this GAA sportsbook are its in-play markets. Although you can't watch live streams, real-time animations give you a clear overview of what's happening so you can make better in-play decisions.

Live betting is all about making quick decisions and split-second timing. The best GAA betting sites offer in-play markets for All-Ireland games and more. For context, live Gaelic football betting markets open once a match starts. Anything before that is known as a pre-match market.
Live or in-play GAA betting odds cover a variety of outcomes, including win markets, next goal scorer and props. The defining feature of live sports betting is the fact odds are changing in line with an event's dynamics. For example, let's say Kildare are playing Roscommon and the score is 0-0.
The odds on Kildare winning are 3/1. However, Kildare score a three-pointer 20 minutes into the game. The live betting odds will almost certainly change at this point. So, let's say they went to 2/1. You could take those odds with the idea Kildare may now have more chance of winning because they've gone in front.
This game of changing odds and opinions is what live Gaelic football betting is all about. It's entertaining because anything can happen. However, it also takes focus and timing to get the right bets. So, while in-play GAA betting is fun, you're having to think on the fly and make instant decisions which isn't easy.
Where can people watch the GAA events live?
The best Gaelic football betting sites offer live streams. For those who don't know, live streams are video feeds that show events in real-time. In general, live streams are mainly used for horse racing. However, in recent years, the best UK sportsbooks have started streaming all manner of events, including football, tennis and cricket. The top GAA sportsbooks don't always have Irish football live streams, but you will still be able to watch events in real-time using virtual overviews.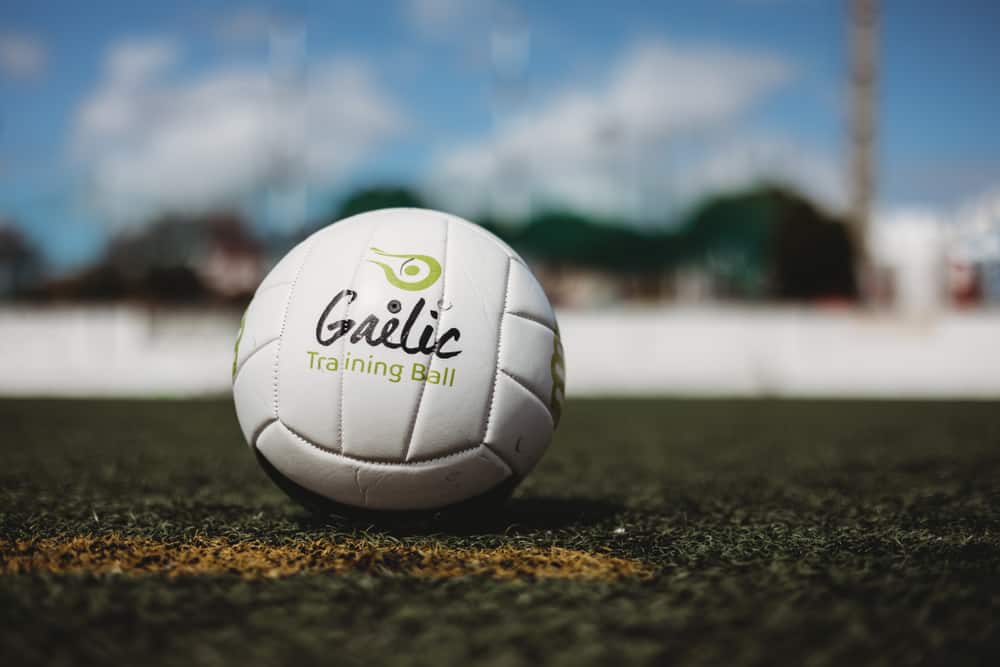 What are the main types of Gaelic football bet? The most common way to bet on Gaelic football is to pick the winning team. This is known as an outright. However, it's not the only way to speculate on Irish football. Looking through the odds at our recommended GAA betting sites, the most popular options are:
Draw No Bet
Draw no bet markets remove the option of a tie. This means you're either betting on the home or away team to win. If the match ends in a draw, you get your stake back. Therefore, you can win (pick the winning team), lose (back the losing team) or get your money back (if it's a draw).
Score the First Goal
This is a popular type of Gaelic football bet for those who like long odds. The top GAA sportsbooks give you the option to bet on which team will score first or, for longer odds, the first player to score.
First Scoring Play
This GAA bet is similar to first goal scorer. However, instead of picking the person you believe will get the end result, you're betting on how the first goal will be scored. Given that there are three ways to score in Gaelic football, this is a unique betting option that you don't get with other sports.
Winning Margin
If you're confident a team will win, you can shoot for bigger returns by betting on the winning margin. You can do this by placing an over/under bet (i.e. the oddsmakers set a total and you bet on whether a team will finish over or under it). Alternatively, you can bet on a specific winning margin e.g. Tyrone to win by +6 points.
OK, so we've given you an overview of Gaelic football and how popular it is. We've also highlighted five of the best GAA betting sites UK customers can use. Before we run through some of the sport's biggest events and bring this guide to a conclusion, here's a quick recap on how Gaelic football is played:
Two teams of 15 players
Matches last 60 minutes (two 30-minute halves) – *some senior inter-county games last 70 minutes
Pitches are 130-145 metres long and 80-90 metres wide
The aim is to score more points than the opposing team
Players can run with the ball, bounce it, and sole it (kick it back to themselves)
Players can kick and punch the ball
Goals are H-shaped
Players score three points for getting the ball in the net, two points for getting the ball between the upright posts and one point for getting it over the crossbar
Before you rush off and start betting on Gaelic football, it's worth knowing which events get people's attention. Below are three of the biggest events in GAA football:
All-Ireland Senior Football Championship
Founded in 1887, the All-Ireland Senior Football Championship is the sport's most prestigious competition. 31 teams from Ireland, plus one from England and one from the US, compete in a knockout competition to determine the winner.
The final is played on the 35th Sunday of the year at Dublin's Croke Park. Limerick lifted the first ever All-Ireland Senior Football Championship trophy (now known as the Sam Maguire Cup). The competition was won by Kerry in 2022. Kerry also has the most All-Ireland Senior Football Championship titles (as of 2023) with 38 victories.
See more: https://www.gaa.ie/football/gaa-football-all-ireland-senior-championship/
National Football League
The National Football League is second only to the All-Ireland Senior Football Championship in terms of prestige. It was founded in 1925 and is split into four divisions. What's unique about this league system is that teams only play each other once per season. The team with the most points at the end of the season receives the New Ireland Cup. The season runs from January to April and, in 2023, Mayo won the GAA National Football League title.
Tailteann Cup
County teams that fail to qualify for the All-Ireland Senior Football Championship get to play in the Tailteann Cup. A round-robin format is used to determine the top teams (from up to 17 teams). These teams then go into the knockout phase where one emerges victorious.
What's the best strategy for betting on Gaelic football? Even though there are no certainties in sport, these GAA football betting tips could swing the odds in your favour:
Start slow and make outright bets. These bets don't always have long odds but picking a winner from one of two teams is easier than trying to predict the winning margin, for example.
Do your research. The best GAA betting sites offer match previews, expert tips and statistics, so use them.
Bonuses are always a great way to get more from your time online. Odds boosts help get you more from winning bets, while free wagers are useful when things don't go your way.
History often has something to tell us about the future. Look through the record books to see which teams typically do well in each competition. For example, Kerry are the best All-Ireland Senior Football Championship team.
Form counts in Gaelic football, but don't get stuck on it. Teams can do better against certain types of opposition and worse against others. Use previous results and study the tactics to see how two teams match up against each other.
Don't be impulsive. Live Gaelic football betting is great, and you can catch the oddsmakers slipping. However, don't use this as an excuse to make rash decisions and bet impulsively.
Consider the conditions. Gaelic football matches played in the dead of winter will have different dynamics to those taking place in the spring. For example, a heavily waterlogged pitch could reduce the favourite's advantage.
Always bet responsibly. The top-rated Gaelic football online betting sites have responsible gambling tools, such as session limits. Use these tools to stay in control of your betting.
Final Thoughts
That's just about all you need to know. Gaelic football is Ireland's most popular sport and, thanks to the internet, it's now possible to bet on matches from virtually anywhere in the world. If you're already a fan of football betting, GAA is a great addition to your online activities.
If you're completely new to sports betting, Gaelic football is a great way to get started. Whatever experience you've got, check out our recommended GAA betting sites to get the best bonuses, odds and, of course, entertainment!