The Champions League – An Introduction
The Champions League is the pinnacle of club football. Each season, 32 of the top teams around Europe will enter the group stages (after a preliminary qualifying round). Two teams will progress from each group into the knockout rounds. These involve round of 16, quarter final, and semi final stages, before the action culminates in the final.
Generally speaking, the qualifying stages take place during the summer (from June through to August), and the group stages kick off in September. The knockout stages begin in February, and the final is usually in early-to-mid June, with the location changing each year.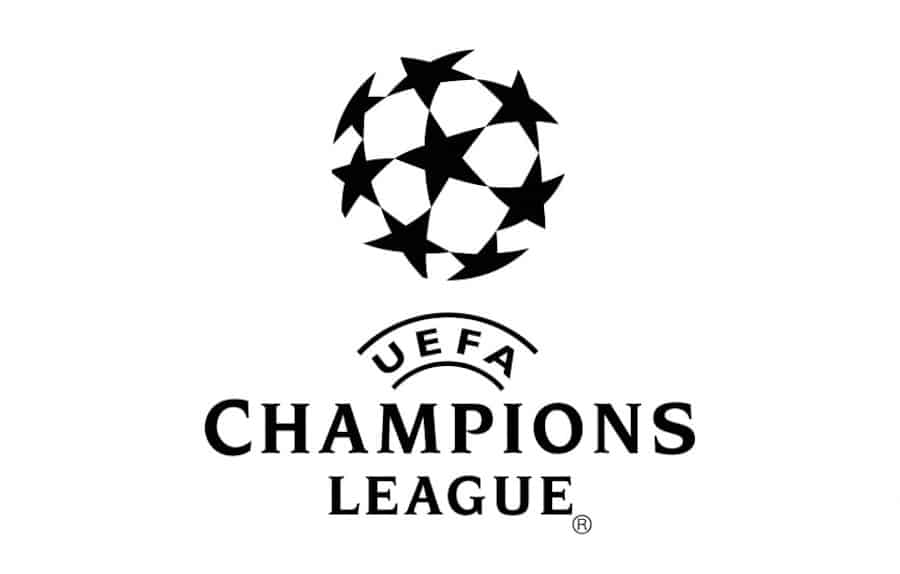 Betting on the Champions League
The Champions League is easily one of the biggest annual betting competitions in the world, certainly when it comes to football betting. Whether you're already an experienced bettor, or you're just starting to wager on the beautiful game, this is a fantastic tournament to target.
Top 5 Bookmakers for Betting on the Champions League
There are a whole lot of good British bookies out there, all of which will have Champions League markets in place. We've sorted through your many options here, however, to bring you your five best options of all.
Bet365 – This is arguably the most well-rounded sportsbook there is right now. It provides a brilliant range of betting markets for every single Champions League matchup, including player props and team props. Bet365 also provides plenty of enhanced odds (usually for doubles and trebles), and is the home of the Early Payout Offer, which is easily one of the best Champions League promos there is.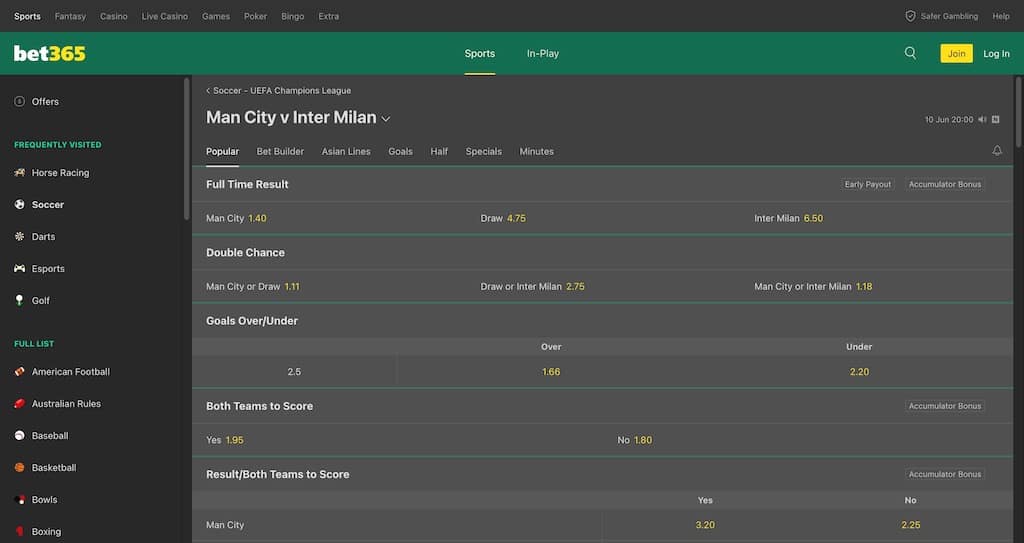 888sport – 888sport has an excellent track record, and is another extremely well-rounded bookie. Its main appeal for Champions League bettors is its range of free bet offers, which include an Acca Club, and a 4/1+ Winner Offer. You'll also find plenty of Champions League Boosted Odd shere, and 888sport also runs Bet Builder Free Bet Offers specifically for the Champions League.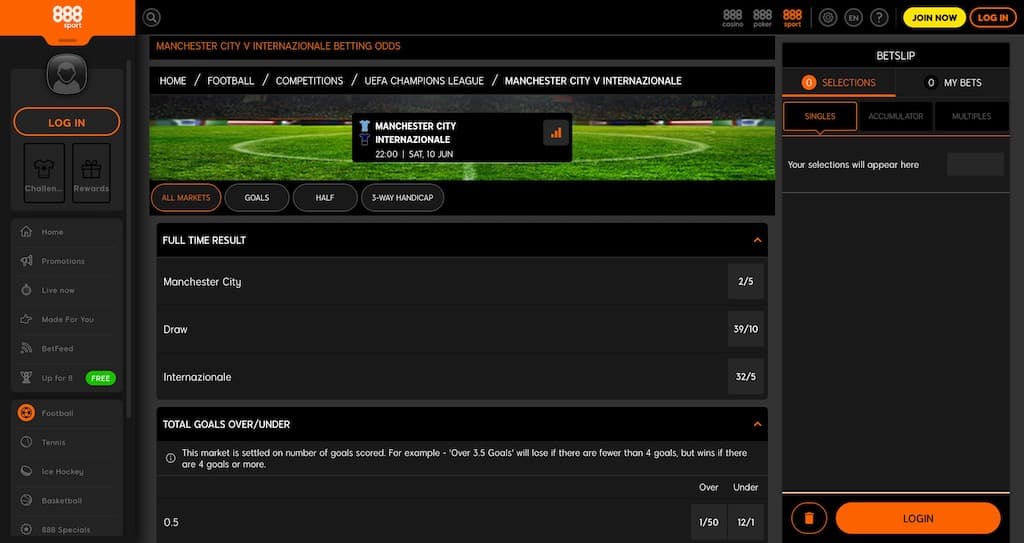 Betfred – Like William Hill, Betfred has an outstanding reputation built on a lengthy track record. It has also done a great job of moving with the times though, and should be one of your first ports of call for the Champions League. The bet builder here is one of the most user-friendly examples of all, and helps you craft same-game Champions League multiples with ease. Not only that, but certain bet builder wagers are insured for up to 50%.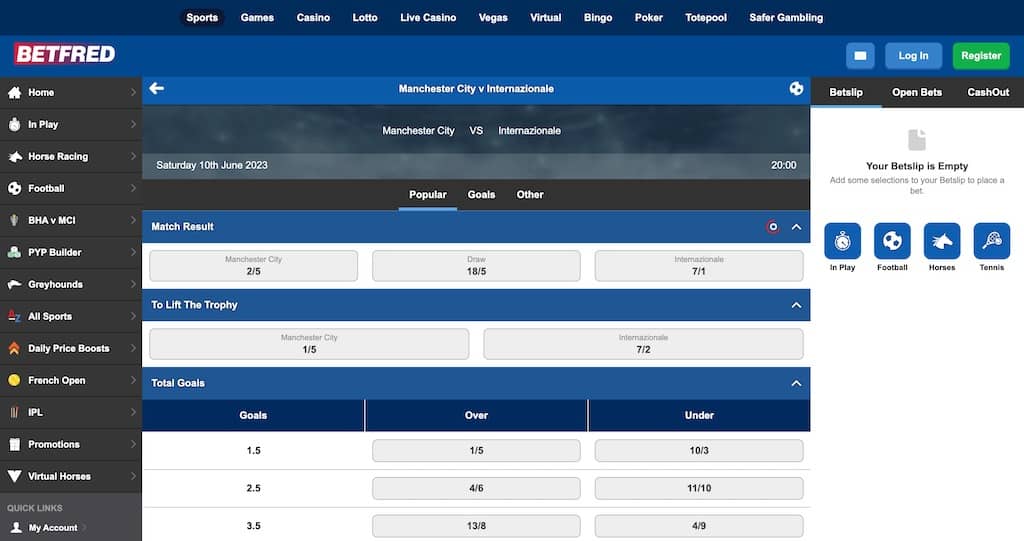 SBK – If you're a fan of on-the-go betting, and simply want to wager on the Champions League using your mobile device, look no further than SBK. This is a mobile-only brand with one of the best apps in the business. It also regularly provides some of the best Champions League odds of all (which it's happy to prove, in the app), and you can even use the social features to get Champions League betting tips from experts.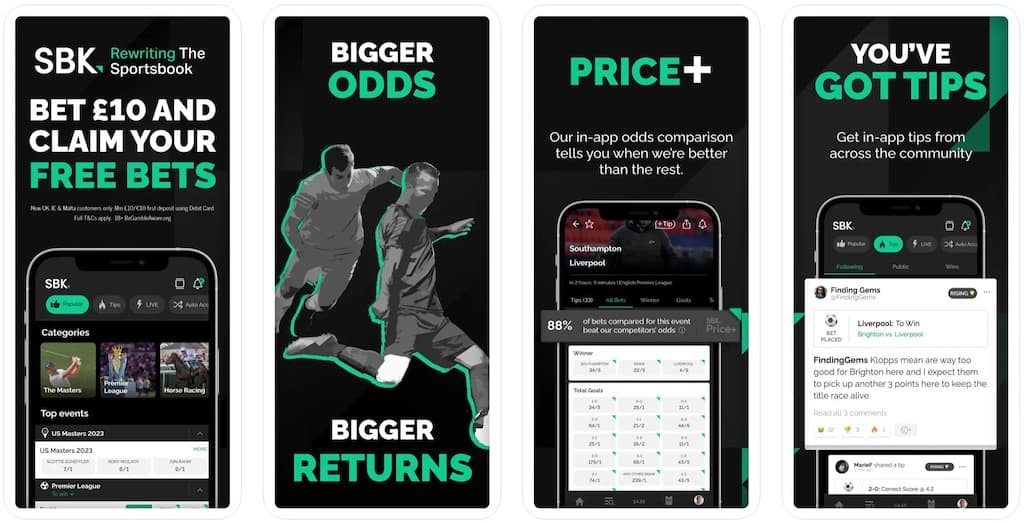 The Most Popular Betting Markets
The bigger the competition, the more bet types a bookie tends to offer. Obviously competitions don't come any bigger than the Champions League, so we're pleased to say that you have a wide array of options here.
These are some of the most popular examples:
Outright Winner – This is probably the most straightforward bet type of all. Quite simply, it involves wagering on who you think will win that year's Champions League. These bets can be placed both before the competition begins, and throughout its duration, right up until the final. If you like outright betting in general, you'll usually find at least a couple of other options. Top Goalscorer is the most popular alternative, and – since it's a harder market to predict – will usually have superior odds to Outright Winner.
Match Result – If you prefer to bet match by match, this is the easiest bet type of all. There are only three options to worry about here: Home Win, Draw, and Away Win. Quite simply, you're betting on the general outcome of one, specific game. You also have a couple of similar alternatives here. In the second leg of knockout games, you might want to bet 'Match Result Including Extra Time', just in case the game is still tied after 90 minutes. Elsewhere, if you have a particularly good feeling for a match, you can try a more specific Correct Score wager instead.
Handicap Betting – Sometimes, you simply can't get good odds on a simple Match Result wager. In these cases, handicap betting can be incredibly useful. These bets involve the match starting with a 'fake' score, just for the purposes of your wager, which one team might overcome. Let's say Real Madrid are playing Chelsea, and you think they'll win easily. In this case, you could take 'Real Madrid -1.5 Goals', meaning that Madrid must win by at least two goals for your bet to come in.
Over/Under Goals – Sometimes, you don't know which team will actually win a match… but you have a good feeling for what type of game it will be. The Over/Under Goals market can be a great shout, in these circumstances. If you think it'll be a high-scoring affair, for example, you might take Over 3.5 Goals. If you think it'll be a snooze-fest, take the Under 2.5, or even Under 1.5 Goals market instead.
Both Teams to Score – This is another straightforward and popular alternative to the Match Result market. It's incredibly simple, with you simply needing to predict whether both teams will score, or one of the sides will keep a clean sheet.
Player Props – Rather than placing team-based wagers, like the past few markets we've looked at, you can bet on specific players instead. These tend to be harder bets to win, but will usually have proportionately better odds. The most popular player prop is simply To Score Anytime. If you're feeling more confident, however, you might back a player to score first, or even last. To Be Carded can also be a fun prop, if there's a particularly rash player involved.
Champions League Live Streaming
As you probably know, assuming you live in the UK, the Champions League viewing rights are locked down tight. BT Sport has held them for years, and won't be relinquishing them any time soon.
As such, there are currently no British sportsbooks allowed to provide Champions League live streaming. If you want to watch the action in a legal and legitimate way, therefore, you'll need a BT Sport subscription.
How to Place a Bet
The actual mechanics of playing a Champions League bet are extremely simple, regardless of your experience level in gambling. Here are the few steps you must take to get your bet down:
Create and fund a betting account, if you haven't already
Head to the main sportsbook area, then select Football/Soccer from the main menu
Find the Champions League in the list of competitions
Click on a specific matchup to see all the available markets
Click the odds next to a specific market to add that selection to your betslip
Set your stake within your betslip, then confirm the bet
Champions League Betting Offers
High quality special offers can help you profit from your Champions League betting in a few handy ways. Here are some of the best offer types to target.
Bet X, Get Y
This is the most common type of welcome offer among UK sportsbooks. If you've had your eye on a bookie for a while, we'd definitely recommend pouncing ahead of a round of Champions League action. You can use the free bets you get from this promo to wager on Champions League matches, and save your cash balance for a later date.
Early Payout
Obviously, you normally need to wait for a match to finish before collecting your winnings. With Early Payouts, offered by bookies like Bet365, this is not the case. Instead, if the team you've backed to win simply goes ahead by a certain margin, your wager will automatically be counted as a winner. It doesn't matter what happens afterwards – you've already got your winnings.
Acca Offers
Accumulators can be a whole lot of fun during the Champions League, particularly during the group stage when there are more games to bet on. There are two main offers that can help you out with these high risk, high reward bet types.
The first is Acca Insurance. This 'insures' one leg of your acca, so – if just one selection fails – you'll get your stake refunded. The second is Acca Boost. This inflates your winnings for an acca, with the size of the boost scaling depending on how many selections you have.
Enhanced Odds
Enhanced Odds are one of the easiest ways to increase your winnings. These are simply markets in which the odds have been artificially inflated, meaning – in turn – your potential profits are also higher.
In most cases, the bookies themselves will boost certain odds, and you can see those boosted markets within the Champions League page on the website. Occasionally, however, you may come across a bookie which lets you boost your own odds instead.
2023 Champions League Predictions and Tips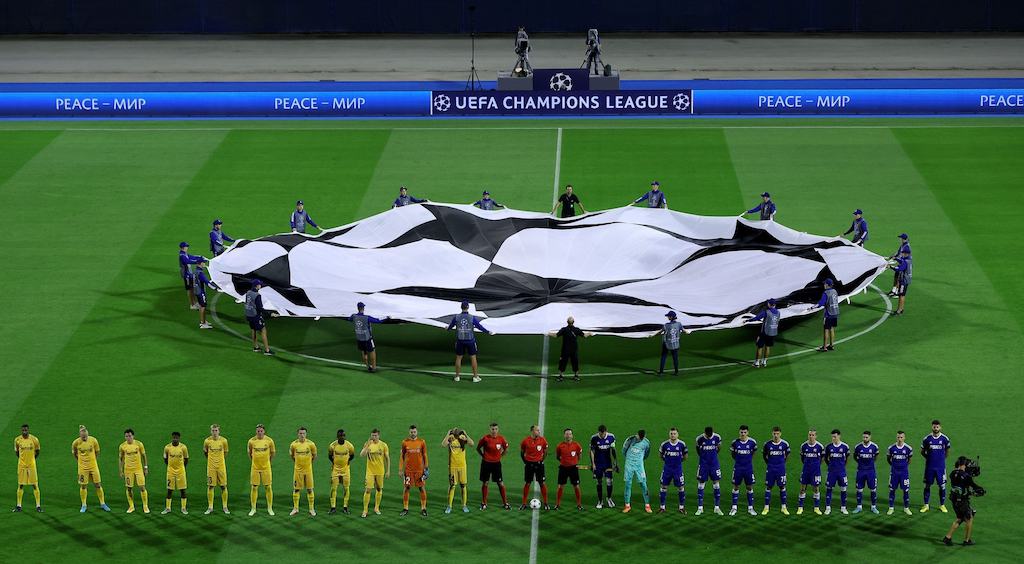 2022-23 was yet another great edition of the Champions League, which showed the competition's ability to constantly surprise. We saw Barcelona knocked out in the group stage, three Italian teams in the quarters, an emotional Milan derby in the semis,and plenty more besides.
Now though, it's time to look to the future. Here are some top tips for the 2023-24 edition of the Champions League.
Back the Big Teams
Obviously, you never know what will happen in football. That's particularly true when it comes to knockout tournaments, like the latter stages of the Champions League.
With that said, certain teams are generally pretty reliable. Backing the likes of Manchester City and Real Madrid to make the semi-finals, for example, is one of the safest wagers in the competition. Regardless of the matchup, these teams find a way to get the job done, and – even in the unpredictable world of football – are smart and sensible picks.
But… Expect the Unexpected
In the introduction to this section, we just listed three examples of outcomes most people wouldn't have predicted. To that list, you can add Club Brugge making the Round of 16, Real Madrid smashing Liverpool 5-2 at Anfield, an inconsistent Milan team not conceding for several games in a row, and so on.
The point is, the Champions League throws up surprises every year. This means two things. Firstly, you should always measure your stakes, since there are certainly no 'sure things'. Secondly, don't be afraid to go against the favourites, since underdogs make noise in this competition every year.
Load Up on the Group Stages
As noted, the Champions League knockout stages are inherently unpredictable. The group stages, however, tend to be a little easier to predict. Most groups will have at least one team which simply isn't operating at the same level as the others, and which may well lose all its games.
We know that the knockout stages feel more exciting. But it can actually be a smarter play to place most of your wagers on safer picks in the group stages, and scale back later in the competition.
Previous Champions League Winners and Scores
If there's one common criticism of the Champions League, it's that we tend to have the same few genuine contenders every year. It's a pretty safe bet, for example, that at least two out of Man City, Liverpool, Real Madrid, and Bayern Munich will make the semi finals.
As a bettor, this is actually great news! It makes your life a whole lot easier, when you can draw on clear trends like this.
In that spirit, here's a full list of the finals from the past 10 years, to help inform your picks next season. You'll immediately be able to see a couple of obvious themes, including the past three finals being low-scoring games, and Real Madrid being an excellent bet to win the whole tournament.
| | | | |
| --- | --- | --- | --- |
| Year | Winner | Runner Up | Score |
| 2022 | Real Madrid | Liverpool | 1-0 |
| 2021 | Chelsea | Man City | 1-0 |
| 2020 | Bayern Munich | PSG | 1-0 |
| 2019 | Liverpool | Spurs | 2-0 |
| 2018 | Real Madrid | Liverpool | 3-1 |
| 2017 | Real Madrid | Juventus | 4-1 |
| 2016 | Real Madrid | Atletico Madrid | 1-1 (Penalties) |
| 2015 | Barcelona | Juventus | 3-1 |
| 2014 | Real Madrid | Atletico Madrid | 4-1 |
| 2013 | Bayern Munich | Borussia Dortmund | 2-1 |
Final Thoughts
The Champions League is already arguably the most exciting club competition in football. If there's any possible way you can ramp up the excitement even further, it's by sticking a few wagers down (responsibly, of course).
After reading this article, you're now armed with all the information you need to start betting on UEFA's flagship competition for yourself. All you need to do now is pick a bookie, create an account, grab your welcome bonus, and start having fun.