William Hill is arguably the best all-round sportsbook on the market right now for British bettors. One of the biggest reasons for their success is that – despite being around since 1934 – they have constantly found new ways to move with the times and stay relevant.
The William Hill Plus Card is the latest excellent example. It's simple yet innovative, and will improve your betting life in an extremely straightforward manner. In this article, you'll learn exactly what William Hill Plus is, how it works, what its benefits are, and – of course – how you can start using it for yourself.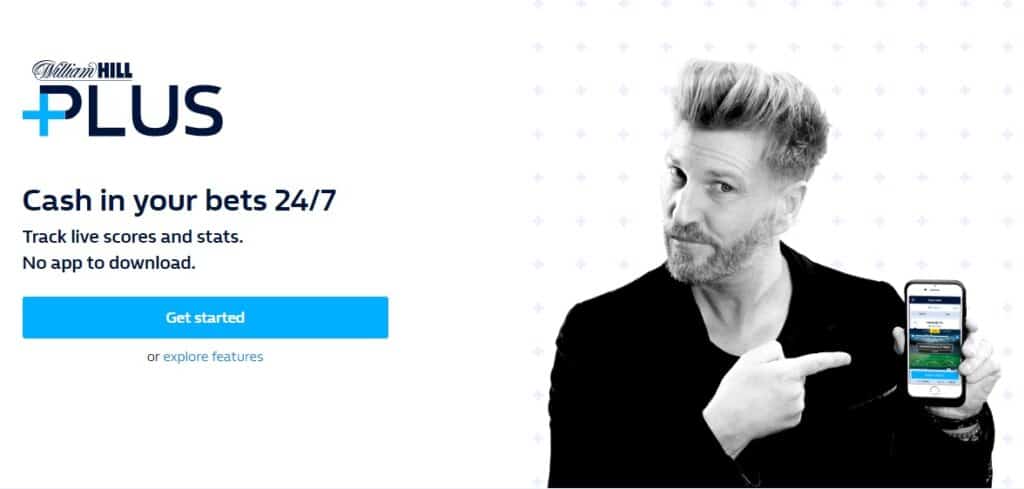 What is the William Hill Plus Card?
Even in the digital age, there are still quite a few betting brands who maintain both online and brick-and-mortar businesses. Annoyingly though, there's usually a clear separation between the two – your online balance remains your online balance, and whatever wagers you win or lose offline are completely removed from this.
William Hill Plus changes this completely. In short, its priary purpose is to get rid of that separation between online and offline. Instead, you simply have a single William Hill betting account, with the balance of that account being stored in your William Hill Plus account.
This balance can then be used for either betting online or in-store. Better still, it can also be used in-person to withdraw any winnings you've made online as cash, or to deposit cash which can then be used online.
The William Hill Plus Card is the tool you use to make all this happen. Once you've signed up for the service, you'll be given a card that's specifically linked to your account. This can be carried around with you like a regular debit or credit card, and is what you will then use – in-person – to activate the aforementioned features.
What are the Benefits of the William Hill Plus Card?
Even from our overview above, you'll already be able to see how useful William Hill Plus can be. Let's take a look at some of the other pros, and touch on a couple of the cons too.
Pros
Remove the separation between your online and offline William Hill betting accounts, thus allowing you to place wagers however you please

Get access to exclusive William Hill Plus promotions, including free bet offers

Follow the progress of any bets you've placed in-person live, via the William Hill Plus App

Cash out wagers you've placed in-person, to lock in profit or avoid additional losses

Get instant access to your online winnings, instead of waiting several days for a

William Hill withdrawal

Transfer any in-person winnings to your online account for convenience, rather than withdrawing them as cash

Use the app to get access to a range of live statistics, and keep up with the latest scores
Cons
Any rewards and bonuses you've gained may be canceled if your William Hill Plus account is inactive for more than 30 days

If you're a new customer, you must wait for 30 days after registering before you'll be able to successfully apply for a Plus Card
William Hill Plus App
The William Hill Plus app is the beating heart of this service. It's absolutely integral to the whole operation, allowing you to monitor your account balance and open bets wherever and whenever you want.
You can also use the app to take advantage of any William Hill Plus offers, and access live statistics and scores. Elsewhere, if you forget to add an in-person wager to your Plus account while you're in the shop, you can do so afterwards by simply entering the betslip number on the Plus app. Perhaps the biggest benefit of the app, however, is that it allows you to cash out any live bets you placed in-person – something that would have been unthinkable for punters only a few years ago.
We should note here that – unlike the main William Hill app – this one is not provided as a separate download. Instead, you simply access the William Hill Plus Card app directly via your mobile browser, like a regular webpage. While this does have a mild impact on performance, it obviously saves a little storage space on your phone. Functionally, you'll find the Plus app incredibly easy to use, with the layout being highly intuitive and straightforward.
How Does the William Hill Plus Card Work?
Like just about everything else with William Hill, the entire system surrounding their Plus Card is extremely well thought-out. Regardless of your previous betting experience, you should have no trouble at all getting acclimated to using your card in very little time indeed.
The actual Plus Card is what makes the entire Plus scheme so easy to use. On a practical level, it works very similarly to a regular debit card. You can carry it with you in your wallet any time you go out, and take it into any brick-and-mortar William Hill betting shop whenever you like. There are then two main things you can do with the card itself.
Process Payments: You can use your Plus Card to make cash deposits into your online account, or withdraw money from that account as cash. To do this, you must simply speak to a staff member, and ask them to process the payment for you, using your card, which will enable a direct link with your online balance.
Place Bets : You can also use your Plus Card to place bets within the shop, but using your online balance rather than cash. There are two ways this can be done. The first is via a William Hill terminal (which are very easy to use), which should simply require scanning your card. The second is – again – to request the help of a staff member within the shop, telling them the bet you want to take, and using the Plus Card to pay for the wager.
How to Get a William Hill Plus Card
There are two main ways to get a William Hill Plus Card: in-person, or online. Of this pair of options, the latter is far quicker, easier, and more convenient. Unless you've got a very specific reason for getting your card in a store, we'd recommend simply doing so using the internet.
Either way, here's a quick rundown of how to go about getting your William Hill Plus Card in both cases.
Online
Head to WilliamHill.com, and click 'Register'

Be sure to enter the promo code C30, to take advantage of the Bet £10, Get £30 welcome offer

Complete all the requirements to get your £30 in free bets, and remember to use them before they expire

Wait 30 days after creating online account

Click 'Plus Card' in the top-left of the home page

Complete the registration process

The card and PIN number should be sent to your home address within four working days

Whenever you want to use the card's in-person features, head to a William Hill betting shop at your leisure. The card should already be linked to your online account
In-Person
You must register online for a William Hill anyway before claiming a

William Hill Plus Card in the UK

in-store

Again, be sure to complete the Bet £10, Get £30 welcome offer after signing up

Wait 30 days after opening your account

Go to a brick-and-mortar William Hill store, and ask at the desk for a Plus Card

Provide your

William Hill Plus Card login

details, and some photo ID

Wait for the staff to complete the registration process, before receiving your card
William Hill Plus Card vs William Hill CashDirect
Long-term William Hill users may well have had a thought already – that this all sounds quite similar to the older William Hill CashDirect. That's true, to an extent, but Plus distinguishes itself in a few key ways.
Technically, the 'CashDirect' name has now been retired by William Hill. The same service is essentially still available though, even without the branding. In short, this also provides a link between your online and offline William Hill betting. As the previous name suggested, it allows you to make in-person cash deposits which then go into your online account. More usefully perhaps, you can also withdraw any online winnings as cash.
The arrival of William Hill Plus has basically made CashDirect defunct. It includes the main functionality of CashDirect, but provides a whole raft of extra, incredibly useful features too, including the William Hill cash out tool.
William Hill Plus is also far easier to use. With CashDirect, if you make a deposit in-store, you are given a print-out with a code, which then needs to be typed in manually on your computer to add the money to your online balance. With William Hill Plus you can simply use your card in-store to process all of this immediately.
Our Verdict
It's no exaggeration to say that – for some bettors – William Hill Plus will be a complete game-changer. If you're one of the many punters who still likes to use betting shops alongside placing wagers online, this will make life a whole lot easier.
Linking your online account with a simple card which you can take to the store with you brings a whole raft of benefits. Most importantly, you can make cash withdrawals from your online balance, and cash out wagers which were placed in-person.
Perhaps the best thing of all about the William Hill Plus Card, however, is how ridiculously easy it is to use. Signing up online could hardly be easier. After that, simply take the card along with you to any William Hill location, then – to unlock the majority of the main features – you can either scan it on a betting terminal or ask a staff member for help.