It goes without saying that every single punter is looking to make money. While there's no such thing as a certainty in betting, as in life, arbing betting is about as close as it gets. Carried out correctly, it can guarantee you profits regardless of the actual outcome of a betting event.
In this article, we'll tell you everything you need to know about arbing. We'll explain exactly what it is, how you can do it for yourself, and tell you some of the very best arbitrage betting sites out there right now.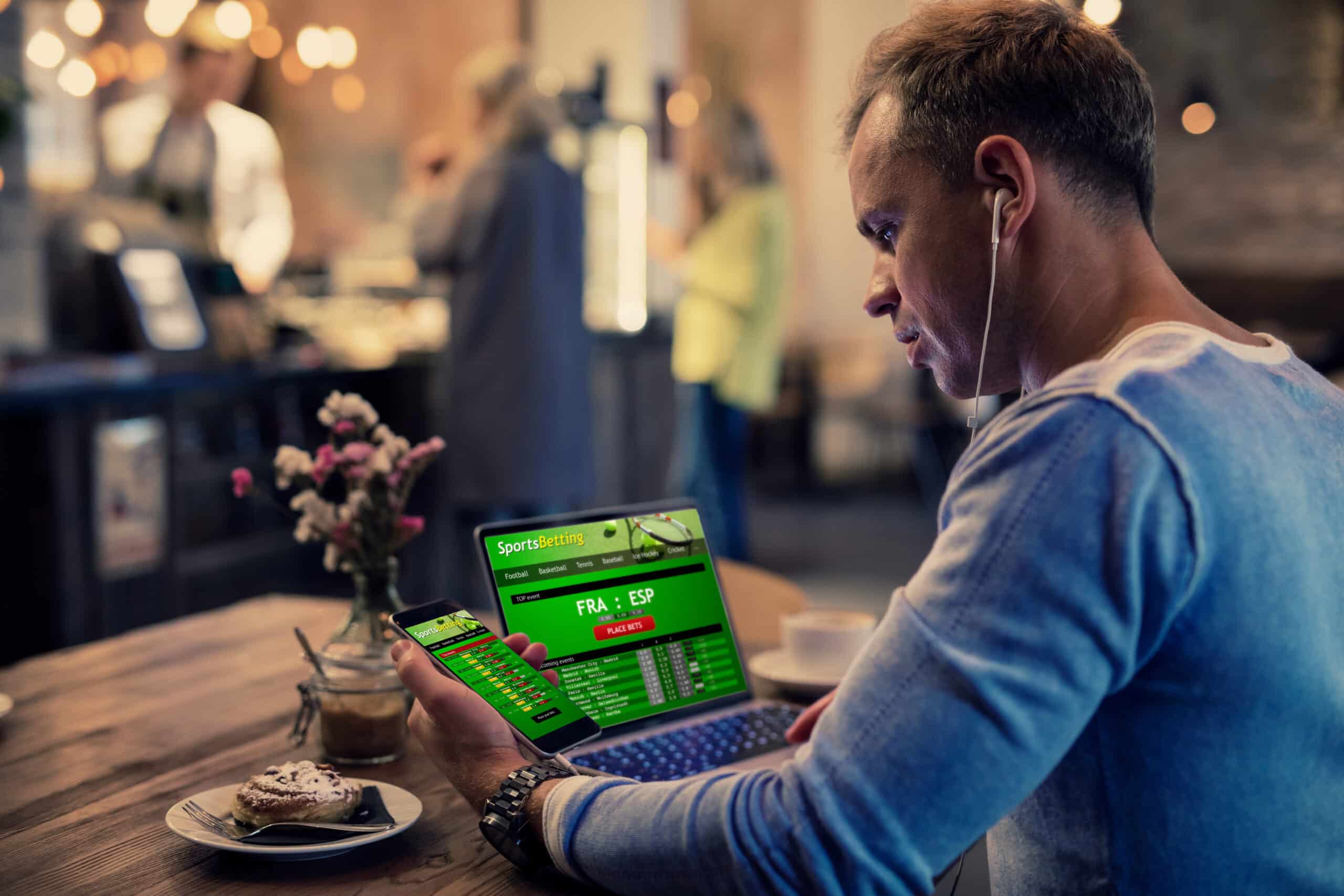 What is Arbitrage Betting?
Arbitrage happens all the time in stock markets, where an asset is bought by an investor in one market, that he sells simultaneously in another market at a higher price. The buying and selling prices are calculated in such a way to guarantee the investor a profit.
In arbing, meaning arbitrage betting – which has borrowed this concept – a bettor places a wager on either side of the same market. The investor is guaranteed a profit if the odds on the back bet are higher than the odds offered on the lay bet.
If you want to engage in arbing, choose your arbitrage betting sites carefully. Ideally, while you can place the back bet with a bookmaker, you should place the lay bet with a betting exchange. This is crucial, as it allows you to get the precise odds you need.
How Does Arbitrage Betting Work?
In arbitrage sports betting, you place bets on both outcomes in a two-outcome market and are guaranteed to win one of your bets. Here's a quick-and-easy example to show you exactly how it works.
You place a back bet at one of the best bookies for arbing (listed above)
Head to a betting exchange and look at the odds offered on the lay bet (i.e. the market for the outcome not happening)
Decide on the amount you must place on the lay bet, at the offered odds, to guarantee a profit. You can use an arbitrage calculator (widely available on the internet) to help you find the optimum amount
Regardless of the outcome, you collect your winnings
For instance, in a match between Manchester United and Leeds United, you may fancy Man U to score a hatful of goals, and therefore place a back bet on the Over 2.5 Goals market. You can then place another bet (with a betting exchange such as Betfair) against that same market.
Let's assume that you placed the back bet of £10 at odds of 6/5, and a lay bet of £11 at odds of evens. If Manchester United do score 3 or more goals, and your back bet wins, you get a £22 return. Your actual profit can be calculated as £22 (winnings) – £10 (sportsbook stake) – £11 (exchange stake) = £1.
In the second scenario, Manchester United score 2 goals or fewer, and you get returns of £22 when your lay bet wins. You can calculate your profit as £22 – £10 – £11 = £1 (minus the commission paid to the betting exchange).
As you can see, you make a small profit here regardless of the outcome. Do remember though, that betting exchanges will charge commissions of between 2% and 5% on most successful wagers, and you must factor this into your calculations.
Best Sites for Arbitrage Betting in the UK
Not every sportsbook will be suitable for arbitrage betting. These are the best bookies for arbing in the UK, which will indeed allow you to carry out the strategy successfully.
Betfair
Established in 2000, Betfair started off as a betting exchange, and later expanded to also become a sportsbook operator licensed by UKGC and MGA. It has since grown to become the world's biggest betting exchange, and Betfair further enhanced its traditional bookmaking services when it merged with Paddy Power in 2016. Betfair is an arbing-friendly outfit, with hundreds of racing and football options offered daily. Live Streaming and high betting limits also make for a superlative betting experience.
Smarkets
A relatively recent entrant into the betting industry, Smarkets is a UK-based betting exchange and bookmaker established in 2008. It has quickly earned a reputation for being a reliable and trustworthy platform, though.
If you are looking for an arbitrage betting site, then Smarkets is a top-notch option. It has even given the market leader Betfair a run for its money as a betting exchange, with its lower commission rate of 2%. Apart from a variety of sports, Smarkets also offers betting opportunities in politics and other diverse areas. Elsewhere, Smarkets is generally known to be very punter-friendly with a minimum deposit limit of £10, excellent odds, and fast withdrawal processing.
Matchbook
Founded in 2004 and licensed by the UKGC, Matchbook is an arbing-friendly sportsbook that also features a betting exchange, which truly helps it to stand out from traditional bookies. Matchbook does not actually have the most extensive sportsbook, with its horse racing betting section – for example – being limited to races in Ireland and England. There is a free bet welcome offer worth £15 though, and with a low commission rate of 1% – Matchbook compares favourably with bigger betting exchanges such as Betdaq, Smarkets and Betfair.
Betdaq
Headquartered in Gibraltar, Betdaq was founded in 2000 and is the world's second-largest betting exchange, with a commission rate of 2% that compares very favourably with the 5% rate at Betfair. Betdaq offers free bet bonus offers, and has no maximum limits on bets. For these reasons and more, fans of arbing betting will love Betdaq; a site owned and operated by a company that is publicly traded on the LSE.
How to Find Arbitrage Bets
As you can see from our example above, successful arbing will guarantee you at least some profit. One of the biggest challenges of executing this strategy is actually finding the arbing opportunities, and these are the three main ways in which you can do so.
Manual
Though it may involve a lot of work, making it a less popular option, you can find arb betting opportunities manually (in other words, by doing your own research). While this method may lead to lower profits, we do recommend that – at least in the early stages – you try to manually identify arbing opportunities.
This can be a great part of your 'training' in arb sports betting. Manually hunting for arbing opportunities will allow you to get a good understanding of how betting sites work, and how to spot a good opportunity. Best of all, since you won't technically know about any opportunities you're missing out on, you won't feel under pressure to hurry into any wagers.
Arbing Software
After you have sufficiently understood the arbing betting process through manually hunting arbing opportunities, you can try using software to detect them instead.
There are many free tools out there, as well as paid software, that you can use for comparing the odds for various sports events offered by numerous betting exchanges and bookmakers. These will alert you about potential arbing opportunities, and many tools also calculate the maximum possible profit percentage, and how long you have to place the wager before the opportunity slips away.
Social Media
The final way to get help in your arbing sports betting activity is by becoming a member of one of many arbing forums or message boards, where you can get tips from other prospective arbers. Belonging to such platforms will also open the opportunity to join an arbing team, in which all members benefit from the collective effort of hunting arbing opportunities, and even from the availability of additional funds and numerous betting accounts of the various members.
Arbitrage Betting Advantages
Arbitrage sports betting has become increasingly popular among punters for a few key reasons. Below, we have collected a few of this strategy's most attractive features.
Guaranteed Winnings – This is the clear main advantage of arbitrage sports betting. If you do it correctly, you are guaranteed a profit, regardless of the actual outcome of the market you are betting on. To actually do it correctly, however, you must be fast to exploit arbs – something that you get better at with experience.
Comparatively Straightforward – Many sports bettors dream of making big money on sports they enjoy, and are knowledgeable about. One of the main ways in which big-time, successful punters win is by handicapping. Handicapping games consistently is tougher than it appears, and a very small proportion of gamblers manage to beat the odds and win big. For most people, arb betting is actually a much better alternative, as it allows you to win without being great at handicapping, as long as you are adept at monitoring odds and acting fast.
No Shortage of Opportunities – Because it guarantees profits, the uninitiated might think that arbing opportunities would be few and far between. In reality though, you will find hundreds of potential arbitrage sports betting wagers, every day, throughout the betting industry. This is usually because – while bookmakers try to maintain unison with each other whenever they move odds on betting events – there are always stragglers who fail to keep up. These odds disparities offer gamblers arbing opportunities to capitalise on.
Arbitrage Betting is Legal – Bookmakers might frown on arb betting – which often violates the terms and conditions of their sites – but the activity is definitely not illegal. Many betting exchanges such as Betfair actually encourage arbitrage betting, as their betting markets derive significant liquidity from it.
Levels the Playing Field – Punters are constantly seeking a more level playing field, in an area in which bookmakers enjoy the advantage. Arbing helps with this dramatically. While bookmakers are – at a basic level – attempting to lay odds of poor value, arbers try to back odds that represent good value.
What are the Risks of Arbing?
Arbing – by its very nature – is almost entirely risk-free. There are still a couple of disadvantages to this strategy though, which you should be aware of before getting involved.
Bookmakers Could Restrict or Close Your Account: One of the major risks of arbitrage betting is that bookmakers who suspect you of arbing could limit your account, restrict your stakes, or even close your account. Fortunately, for you, a reputable and licensed betting site cannot actually touch your balance or profits. Also, if you have an account with a bookmaker that promised a minimum bet guarantee, you may be able to continue arbing even after you are gubbed, albeit with significant restrictions
Human Error: Arbing requires you to focus intensely over a long duration of time, and the effort could easily lead to human error. For instance, you may not move quickly enough when you see a price difference, or you may fail to ensure that you set the right stakes. You could even fail to match the odds quoted by different bookmakers, if you truly took your eye off the ball.
Fast Changing Odds : The risks of arbing include not being able to cover both sides of the wager due to fast-changing odds. In some cases here, you may simply have to accept a loss, while ensuring that the loss is kept down to the minimum possible by picking up the lay bet at undesirable odds.
Differences in Odds Calculation by Various Bookmakers: Different bookmakers may have different rules for the ways they calculate bets. You could run into problems, therefore, if a bookie does not calculate their stakes in the way you expected them to do, or if the odds change in a surprising way. Such a situation can happen in sports such as baseball, tennis, and hockey, among others.
Error in Odds Calculation: Bookmakers have been known to cite a technical error in the creation of odds for an event as an excuse to cancel bets for the event. Low-rated bookmakers do this more often than licensed, respected ones. One way of avoiding such a risk is to desist from placing a bet if you think the odds for your selected event are suspiciously out-of-whack with the competition.
Best Sports for Arbitrage Betting
Arbing can be done on most sports, but some are definitely more suitable than others. These are some of the best markets to target as you get started in arbitrage betting.
Football – Football is the most popular sport worldwide. With massive competitions taking place throughout almost the entire year, there is a large variety of bets and – therefore – many arbing opportunities. Bookmakers also typically set higher betting limits for football, thanks to its popularity, and – due to a huge range of viewing options, helpful statistics, and analytical coverage – it's easier to recognise football arbitrage betting than in any other sport.
Tennis – Tennis arbing has become increasingly popular, in part by virtue of the dynamic nature of the sport. Tennis has many twists and turns, which – in turn – lead to the odds changing especially often. Video broadcasts of matches also arbers to easily keep track of the latest goings-on, and take advantage of tennis arbing opportunities.
Hockey – Hockey matches are held often, not just in North America, but in Europe too. Bookmakers offer a wide range of bets on the sport, and – while not quite as dynamic as tennis – hockey odds are still volatile enough to make hockey arbing worthwhile.
Baseball – Baseball offers a good selection of live events, which often take place simultaneously. Bookmakers offer high stake limits on baseball games, and its slow-paced nature gives you time to react to odds changes, making baseball arbing a solid option for punters.
Volleyball – Volleyball – by its nature – offers many arbing opportunities. It's not the most popular sport with arbers, but this actually works in the market's favour as an option for arbitrage betting. With fewer people engaging in volleyball arbitrage betting, bookmakers pay less attention to bets on the game, and are therefore less likely to track arbing activity. Punters can thus fly under the radar while engaging in volleyball arbing.
Bookmaker vs Betting Exchange
Which are the better arbitrage betting sites – bookmakers or betting exchanges? More and more arb betting enthusiasts are heading to betting exchanges as a viable alternative to bookmakers, as betting exchanges offer better (or, at least, more flexible) odds than bookmakers. This is because betting exchanges, unlike bookmakers, do not depend on betting odds for their income. They simply match backers with layers, or – in other words – those who bet on odds with those who offer the odds.
Betting exchanges earn revenue by charging a commission, typically ranging from 2-5%, on top of any profits their users make. By contrast, bookmakers factor their profit margins into the odds they offer customers, which effectively means the odds offered by a bookie do not reflect the true probability of an event.
Higher odds are a clear advantage bettors enjoy at a betting exchange. They must also contend with a few disadvantages, however.
The bettor at a betting exchange can guarantee earnings by trading the market (in other words, laying a bet when the price is shorter than when the punter backed the bet, or vice versa). However, the amount you can stake on a bet at a betting exchange depends on how liquid the market is. You cannot expect to earn a bigger return than the amount any other punter is willing to risk paying out. So, you may have to reconcile yourself to earning less, unless you are ready to wait for somebody else to offer the same wager (at similar odds).
Arbing Tips
Arbing might sound fairly straightforward, but there are definitely still measures you can take to improve your chances. These are our top tips for improving your arbing betting experience, and earning bigger profits:
Target Two-Outcome Events – When you try to apply an arbing betting strategy to an event with three or more possible outcomes, things can get complicated. Admittedly, focusing on events with only two possible outcomes could limit your arbing opportunities, but your betting experience will be vastly easier to handle.
Avoid Errors in Calculations – As we have pointed out elsewhere in this article, one of the biggest risks you run in arbing is making careless mistakes in your calculations, which could defeat the whole idea of guaranteed profits. While it's important to move quickly when you spot an arbing opportunity, you should still pause long enough to check the calculations for possible errors closely before you take the final leap.
Betting Exchanges Can Be More Useful Than Bookmakers – The use of a betting exchange allows you to vary your arbing strategy by laying an outcome first before backing it at a bookmaker. Though this can prove more complicated than traditional arbitrage betting, it can add to your profits.
Ensure Your Accounts are Funded – Ensure that your accounts at the arbitrage betting sites are well-funded at all times. That will help save precious time when you spot an arbing betting opportunity that requires you to move fast to take advantage.
Operate as a Member of a Team – Rather than going it alone, we'd recommend operating within an arbing team if possible. You will not only have more people looking for arbing betting opportunities, but also a greater pool of money for betting. Additionally, you may have more betting accounts, with every member of the team – if they're careful – able to open many accounts. By doing this, and spreading the activity between accounts, each one will probably last longer before a bookmaker limits or closes it.
Final Thoughts
As we have shown, arb betting guarantees profits regardless of the outcome of betting events. While the margins are low, arb betting – when done correctly – can fetch steady returns over a long period of time. It calls for great concentration and patience, but will eventually deliver profits.
You can begin your arbing adventure by manually identifying opportunities, then graduate to using software tools as you learn more. An important first step is to identify the best bookies for arbing, and you will also find that betting exchanges are very useful indeed in this strategy. Arb betting does carry its own risks – as noted earlier – but, when done correctly, it can be a fun and lucrative strategy.